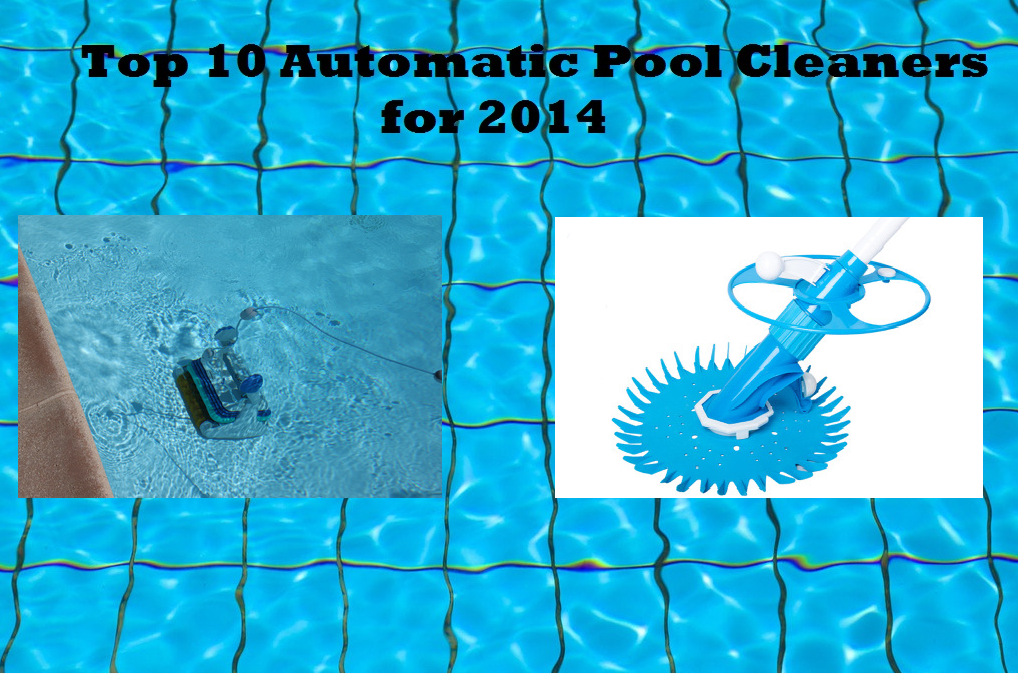 With new types, models, and upgrades of automatic pool cleaners every year, it's hard to know the one best for you and your pool. So we've picked our Top 10 for 2014. To see more, read on.
Suction Cleaners
The PoolCleaner by Poolvergnuegen
A very efficient and inexpensive suction cleaner, the PoolCleaner runs off your pool's existing pump and plugs straight into the pool skimmer or a designated suction port. Despite the fact that it runs off relatively low pressure, the PoolCleaner's large intake opening and self-adjusting skirts and turbine vanes allows it to suck up both small dirt particles and larger debris such as tree nuts and leaves.
The internal steering system periodically reverses the left wheel to change the unit's direction from 90 to 540 degrees, thus enabling it to handle all different pool shapes. The PoolCleaner comes in a 2 wheel version suitable for most small to average sized pools, but if your deep end's greater than 2 metres, the 4 wheel version is better.
The New Kreepy Krauly by Pentair
If the old model of the incredibly durable and much-loved Kreepy Krauly (now called the Kreepy Krauly Classic) had a fault, it was its tendency to get tangled. The New Kreepy Krauly has been updated and redesigned to avoid that problem.
Also new is the addition of adjustable dive floats – the old Kreepy Krauly was so good at climbing walls it would occasionally lift itself clear out of the pool and then get hung up: the dive floats allow you to dictate how high the new version climbs. Additionally, the new version has an improved and more efficient ability to get itself out of corners.
What hasn't changed, though, is the Kreepy Krauly's spectacular ability to suck up debris, its durability, and its economical price. Suitable for all small or average sized pools.
Zodiac MX8
Thanks to its wide cleaning path and large vacuum inlet, the Zodiac MX8 is a hugely efficient suction cleaner. This is a great choice for solar, 2-speed, and variable speed pool pumps since the MX8's patented Flex Power Turbine allows it to operate at low pressure without sacrificing suction power from its Cyclonic Vacuum.
Very efficient at wall climbing up to the waterline, it also comes with a removable/snap on variable inlet assembly for focusing the cleaner between sucking up either large or small debris. Extremely maneuverable, the MX8 is guided by an on board navigation system that guides it on the optimum course around pretty much any shaped or sized pool.
Pressure Cleaners
Polaris 3900 Sport
The Polaris 3900 Sport is equipped with a 3-jet suction technology that delivers one of the most powerful vacuums on the market. Additionally, its 6.35 cm inlet is large enough to suck up large debris quickly and easily, and its huge 5 litre capacity, dual chamber filter bag makes for far less frequent emptying of the system.
It also comes with a sweep hose that blows debris from corners, and prevents water from being sprayed out of the pool. The all-wheel drive system and wide tyres provide excellent traction with the result that it climbs walls better than other pressure cleaners.
Suitable for pools up to 4.4 x 9 metres (though extra hose can be added for larger pools), the Polaris 3900 Sport does require a separate booster pump in order to operate.
Jet Vac by AquaQuip
If you're looking for a pressure cleaner that can take on and comfortably deal with very large debris, the Jet Vac is well worth considering. Its vacuum intake is a massive 11.5 cm – more than big enough to suck up large leaves, palm fronds, twigs, gum nuts, stones, and even drowned rodents!
The Jet Vac is equipped with a 3.5 litre debris bag, and also features a drive train driven by automatic forward and reverse cycles means that it doesn't get stuck in corners. Like the Polaris Sport 3900, though, the Jet Vac does require a separate booster pump.
Polaris 360
The problem with most pool pressure cleaners is, efficient as they are, they require water pressures of around 30 pounds per square inch (PSI) in order to operate, and therefore need a separate booster pump to make them work.
The Polaris 360, however, only requires 15-17 PSI and is capable of running off the return jets of your regular pool pump filtration system without the expense and bother of buying and installing an extra booster pump. Despite working at lower pressures than its booster pump driven rivals, the Polaris 360 can handle large debris as well as regular dirt and sand, and is suitable for all average size pools.
Robotic Cleaners
Zodiac V4 4WD
An advanced, top of the line robotic cleaner, the Zodiac V4 4WD is fitted with Zodiac's powerful Vortex Vacuum technology enabling it to suck in large debris such as rocks, twigs, eucalyptus leaves and gum nuts, as well as fine debris such as sand and algae down to around 200 microns in size.
It includes Zodiac's latest Lift System that pumps water from the cleaner the minute it's taken out of the water, together with an ActivMotion sensor so it knows where it is in the pool and can track to avoid tangling the cord. Its four wheel drive train allows it to handle obstacles with ease, and climb pool walls to the water line. And it's packed with features, such as a 7 day programmable timer, automated settings for common pool shapes, cleaning cycle intensity settings, and a filter full indicator to tell you when the canister needs emptying. It also comes with a remote control.
Suitable For pools up to 15M x 6M.
Hayward Sharkvac
The Sharkvac is one of the most economically efficient robotic cleaners on the market, using about the same amount of energy as a regular light bulb. It's also quick, cleaning most standard sized pools in 60 minutes or less, and contains onboard technology that prevents it from becoming stuck on main drains.
Like the Zodiak, it has a nice top access debris chamber which is easy to empty and clean. It is compatible with all pool surfaces, and its scrubbing brushes do a great job on not just catching debris but also scouring the pools floor, walls, and water line.
The Sharkvac is an upgrade to the proven technology employed in Hayward's Tigershark range of cleaners, and is suitable for pretty suitable for pools up to 6 x 12 metres.
Dolphin Liberty
If you have an irregular shaped pool, or a pool that contains obstacles such as pillars, islands, bridges, or anything that might hinder the power cable, this is definitely a robotic cleaner for you. That's because even the best robotic cleaners run the risk of getting their cords tangled or snagged if asked to do too much in the way of obstacle course work.
The Dolphin Liberty, however, is a cordless battery powered robotic cleaner – which means there's nothing to get snagged or tangled. Suitable for pools up to 15 metres in length, the Dolphin Liberty comes with a built in tracking system that "learns" the most efficient course around you pool, an ultra-fine filter bag system that can handle fine dirt and algae as well as medium-sized debris, both automatic and remote controls, and a thorough scrubbing system. Its battery recharges in around 3 hours.
And Now For Something Completely Different
Solar Breeze Pool Skimmer
The dirt and debris that needs cleaning from the bottom and sides of your pool doesn't just get there by itself – most of it floats on the surface of the water for several hours before it sinks. And that's where the Solar Breeze comes in.
The Solar Breeze is an awesome, solar-powered, environmentally friendly, robotic surface skimmer that removes 90-95% of surface debris. It operates entirely independently without any cords, hoses, or electrical connections of any kind. Instead, it simply uses free energy from the sun to skim leaves, dirt, bugs and debris from the surface of your pool and store them in its debris tray that can hold roughly 2 skimmer baskets worth of gunk.
Plus it has a chemical dispenser that slowly dissolves and distributes chlorine tablets as it goes. A truly innovative and energy efficient piece of kit!