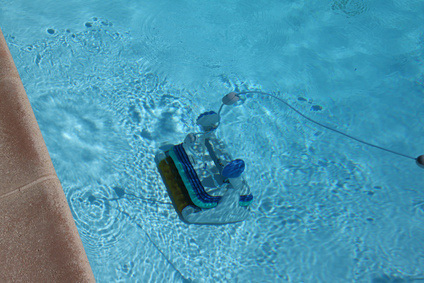 Robotic pool cleaners are the future of pool cleaning and are, by far, the best type of cleaners available. They are completely self-contained units, and require no hoses. Some need to be plugged into a power point but others are battery powered and require no cords or hoses.
These robotic pool cleaners contain a motor that propels them around and also creates the suction for the cleaning. All of the debris and crud that these robotic pool cleaners pick up go right into a self contained debris bag – that need to be emptied on a regular basis.
Robotic cleaners also do a much better job of cleaning over other types of cleanesr. They're not limited to just picking up small leaves and dust – they can pick up large leaves and even small twigs. They also clean the entire pool and don't miss spots.
How Do Robotic Pool Cleaners Work
Most types of pool cleaners run using the main filter and pump system; however Robotic pool cleaners, on the other hand, are completely separate of this. They have two motors; one that propels the bristled cleaning tracks forward on it and the second one that sucks pool water in and runs it through a filtering system. In addition to the motors they also possess a microchip in them and sensors.
The microchip processes all of the information provided to it by the sensors. For instance, if the sensors detect a wall, the microchip will then relay instructions that the cleaner needs to climb it. Additionally, robotic cleaners can learn the shape of your pool and optimise their cleaning patterns to suit your pool.
Why Buy Robotic Pool Cleaners
While the low prices of the other types of pool cleaners may lure some buyers in, understand that paying a bit extra for a robotic pool cleaner will ensure that you get the pool cleaned effectively and in no time at all. No one wants to fuss around with the hoses on a suction automatic pool cleaner, nor does anyone want to deal with the ineffectiveness! Robotic pool cleaners work, and they work well!
Benefits of Robotic Pool Cleaners
– Self-contained (ie no hoses).
– Require little to no maintenance.
– Clean entirety of the pool – without missing spots.
– Can be left in the pool during use.
– Quickly and efficiently clean.
– Use Less Power.
What Pools They're Suited To
Robotic cleaners are perfect for pools that have a large amount of debris. They're also much better suited to large pools or free form shaped pools- regular cleaners will struggle to clean large pool quickly and shape of free-form pools is difficult for cleaners requiring a hose.
Pros And Cons of Robotic Pool Cleaners
Pros:
– They are completely self contained meaning no unsightly hoses or anything to deal with
– Clean the entire pool including sides and around bends
– Can be left in pool while people are swimming in it
– Programmable timers make for simple and effective cleaning
– Robotic pool cleaners will clean any pool much faster than other pool cleaner types
Cons:
– You'll need to empty out the filter bag regularly
– Much more expensive than other cleaners
– Some models need to be plugged into the power
Robotic Pool Cleaners – Popular Models
If you are looking at purchasing one of the robotic pool cleaners for your pool, then consider one of these popular models below. Check out their features and prices to see which cleaner best suits your needs!
Pool Cleaner Model

Main Features

Price

Polaris F9300 Sport robotic Pool cleaner

– A 18 meters cord
– Comes with a caddy
– Extra large canister for debris
– Powerful suction

$1,179.00

Waterco R120 Robotic Pool Cleaner

– 3 hour cleaning cycle
– 15.5 meters cable
– 1 year warranty
– Exceptional climbing abilities
– Works on almost every pool type

$999.00

Aquabot Breeze XLS Robotic Pool Cleaner

– 15 meters cord
– Works on incline walls
– Massive debris basket for fewer changes
– Powerful brushes to clean off dirt and crud

$579.99
When it comes to cleaning your pool, it is essential to have the right cleaner. Robotic pool cleaners provide owners with the confidence that their pools are going to be cleaned not only in less time, but thoroughly as well.
Suction and pressure cleaners are great for much smaller pools with sides that don't really need to be cleaned. They are cheaper, but a bit more cumbersome and difficult to handle and don't clean as well.
We would love to hear about your experiences with Robotic Pool Cleaners. Please leave your comments below and share the article with anyone you think may be interested.
Recommended Products
These are affiliate links. If you use them, they cost you nothing extra. We make a small commission. You can read our disclosure here.
Photo Credits: Blog Photo Attribution: By Leonora Enking