You never tire of swimming laps back and forth in your pool, but you can sense your kids are getting restless. To help them get some exercise and make pool time more fun, you want to treat them to a pool basketball hoop.
This article will present an assortment of the best pool basketball hoop options for 2022.
We've also included a short guide on what to look for when buying a pool basketball hoop. Whether you're looking for floating pool basketball hoops, poolside hoops, hoops for aboveground pools, or inground pools, there's something on this list for you!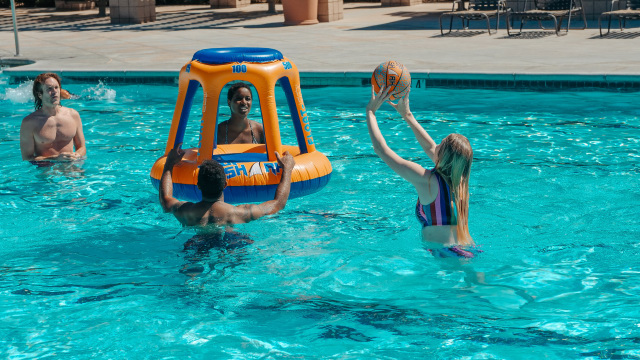 Floating Pool Basketball Hoops
Floating hoops are exactly as the name suggests, basketball hoops that float in your pool. These rings can be inflatable or made of plastic and come in small and large sizes.
The cost of floating pool basketball hoops starts at $10 for an inflatable version and goes up to about $100.
Pros:
Inexpensive
Easy to take in and out of pool
Great for safe dunking
Cons:
Not as stable as fixed hoops
Can fall over in choppy water
Don't stay in the one place
Swimline Super Hoops Floating Basketball Game with Ball
You probably have a bevy of pool products by Swimline, so why not a floating pool basketball hoop too?
Unlike some floating basketball goals that are made entirely of inflatable plastic, Swimline's floating hope has tough PVC construction.
The tubing is covered with foam to prevent discomfort when picking up this hoop and tossing it into the pool or removing it from the water at the end of a long day.
The heavy-duty basketball net is tri-colored, featuring a patriotic red, white, and blue color scheme.
Included with your purchase is a floating orange basketball. The entire hoop is lightweight so it's easily portable.
Wave Runner Swoosh 360 Swimming Pool Basketball Hoop Set
With its bright, attractive colors and vinyl construction, the Wave Runner Swoosh 360 pool basketball hoop set is the perfect pool accessory for hours of fun in the water with the whole family.
The diameter of this inflatable is 36 inches, and the height is 35 inches. Wave Runner uses heavy-gauge vinyl so that even if the kiddos play rough, the inflatable basketball hoop won't pop.
Okay, so technically this accessory doesn't have a hoop, but rather, two inflatable holes for throwing a basketball. The lower hoop is perfect for younger kids who are still sharpening their sports prowess.
Older kids who want more of a challenge can try throwing the included inflatable basketball through the taller of the two hoops.
Wave Runner even adds water skipping ball for more fun in the pool. Plus, you get an inflation needle in the box for quickly adding air to the inflatable. You'll be ready to play in no time!
GoSports Splash Hoop 360
The GoSports Splash Hoop 360 is a floating pool basketball game akin to the Swimline hoop. It features a heavy-duty frame with foam around it.
Boasting quick assembly, the GoSports Splash Hoop 360 is bright with its red and white color scheme.
Built for fun, the Splash Hoop 360 allows you to set a time so you can try to shoot as many hoops in the allotted period as you can. Then the hoop buzzes when the time elapses.
As if that wasn't cool enough, this pool basketball hoop includes two water basketballs and a ball pump to inflate the basketballs.
Fun Knuckles Swimming Pool Basketball Hoop Set
The kids will have a blast when you inflate the Fun Knuckles swimming pool basketball hoop set.
The collegiate orange and blue inflatable hoop have a print on the base that reads Hoop Shark complete with a shark fin for the A.
Sizable bore valves make it easy to inflate the Fun Knuckles pool basketball hoop set. When the time comes to deflate the hoop at the end of the swimming season, the same bore valves make for fast deflation.
The quality materials and geometry in this hoop's design lend it great durability, and a colorful, printed basketball included with your purchase is a great value for the money.
Intex Floating Hoops
Another beloved name in pool products, Intex produces its own floating basketball hoop for the pool.
This Amazon's Choice product is entirely inflatable. The appealing yellow and green color scheme will have you thinking summer while the center basketball hoop will get you into a sports state of mind.
The orange basketball is inflatable as well.
Did the kids play too hard, and they popped one of the inflatables? Intex adds a repair kit with your purchase for just such an occasion.
Poolside Basketball Hoops
What is a poolside basketball hoop? It's a basketball hoop for the pool that is designed to stand on the edge of your pool.
You may have seen short basketball hoops before and thought they might be for small kids. But no, these basketball hoops are designed to go on your pool deck or pool surroundings. They come complete with a backboard and often a net so you can get that satisfying "swish" sound when you land a 3 pointer.
Poolside basketball rings are usually made from plastic. It's best to avoid metal ones as they are likely to rust.
Poolside basketball hoops cost start at about $80 and go up to over $150.
Pros:
Stable and strong
Have a backboard and net
Long lasting
Portable and easy to move
Cons:
More expensive than floating rings
Need a pool deck or edge
SwimWays Poolside Basketball Hoop
How about some fun beside the pool? A poolside basketball hoop like this one from SwimWays is 10 pounds so it's sturdy as it sits on your pool deck.
The navy blue plastic pool rest and sturdy backboard can handle some long-distance and short-distance throws. The pro-style basketball, while not inflatable, will make kids of nearly any age feel like basketball superstars.
The SwimWays poolside basketball hoop is compatible with aboveground and inground pools alike and requires no installation.
GoSports Splash Hoop PRO
Another great poolside basketball hoop is the GoSports Splash Hoop PRO.
Bolstered by the weighted base (that requires you to fill it with water), you can rest assured that this basketball hoop isn't going anywhere.
The construction of the backboard and hoop are sure to impress, as GoSports uses tough, resistant materials. The rim is 14 inches, and the backboard is 31 inches by 23 inches.
GoSports includes a ball pump and two inflatable water basketballs in addition to the hoop. The kids will be ready to slam dunk and be the most popular children on the block when they have everyone over for a fun pool party!
Poolmaster NBA Pro Rebounder-Style Poolside Basketball Game
Are you a fan of the NBA? Then you can't miss this Poolmaster Pro rebounder-style poolside basketball hoop. It's emblazoned with your favorite basketball team logo front and center on the backboard!
You can select from the Chicago Bulls, Dallas Mavericks, Golden State Warriors, LA Lakers, Miami Heat, New York Knicks, Phoenix Suns, San Antonio Spurs, and the Toronto Raptors.
The all-weather hoop with a hard-bodied backboard measures 34 inches by 25.5 inches. Weigh the base with sand or water to keep it from tipping so you can play competitive basketball like what you see in the NBA!
Dunn-Rite Splash and Shoot Clear Poolside Basketball Hoop
Playing poolside basketball has never looked so good as when using the Dunn-Rite Splash and Shoot clear poolside basketball hoop.
The height-adjustable hoop features a base that you can fill with 200 pounds so it never goes anywhere, even in wind or during rough play.
Also lending this basketball goal durability is the 20-inch overhang. The overhang lingers over the pool water so that if someone misses a shot, the ball won't bounce out of the swimming pool as easily.
The backboard is built from reinforced framed polycarbonate and the rim is stainless steel with a vinyl coating. The rest of the hardware is stainless steel for ultimate durability.
A matching white and teal basketball is included.
Lifetime Poolside Basketball System
Your kids will feel like they're shooting hoops in the driveway basketball court with an authentic court like the Lifetime poolside basketball system.
With its classic basketball rim, the Lifetime basketball system includes a 5/8-inch solid-steel ring. Reinforcing that ring are half-inch braces all around. Then the hoop is finished with an all-weather net made of nylon.
The round steel pole that is the base of this basketball system features a weather-resistant powder coat that's sure to help it last season after season. All screen-printed graphics feature UV-protected ink so that even after several years, your basketball hoop looks great!
With a telescoping height adjustment, your young kids and adolescents alike can get in a good game of basketball. You can set the height from four feet to 6.5 feet.
The base is 27 gallons and fills with sand or water depending on your preferences. The backboard measures 44 inches and is built from high-density polyethylene. Lifetime calls the backboard "virtually unbreakable."
Aboveground Pool Basketball Hoops
For those with an aboveground pool without a deck, you may have thought your only option was a floating basketball hoop.
Aboveground pool owners, rejoice! These basketball hoops are compatible with your pool so you can entertain the kids when they're tired of playing with water rings or water balloons.
These smaller basketball hoops are the right height for aboveground pool basketball. They sit next to your pool and are constructed of plastic and metal.
Pros:
Very stable
Full size hoop
Has backboard and net
Cons:
More expensive than floating hoops
Harder to set up
Not easily moved
PEXMOR Pool Basketball Hoop
Impress all your friends and extended family when they come over for a swim with the PEXMOR pool basketball hoop.
This height-adjustable hoop raises from 42 inches to 54 inches. Its PVC backboard is 32 inches and made of shatterproof and impact-resistant PVC. PE edge protection further solidifies the backboard.
The basketball hoop includes dual front wheels for transporting the weighted base with ease.
PEXMOR treats the rim with weather-resistant nylon. If the multicolored red, white, and blue net happens to fall apart, then the two net replacements included with your purchase mean that everyone can get right back to playing.
Play Platoon Basketball Hoop
The Play Platoon basketball hoop will provide oodles of fun. Designed for kids of all ages, the hoop includes a weighted base that you fill with water. Then place the hoop on your pool deck and it won't lean.
The kid-friendly white and red plastic is sure to hold up to roughhousing. The nylon net is perfect for shooting inflatable basketballs, of which two are included.
The rim measures a spacious 12 inches while the backboard is 20 inches by 13.7 inches.
What to Look for When Buying Pool Basketball Hoops
We just gave you 12 awesome pool basketball hoop options to explore. How do you possibly choose one? Here are some pointers that will come in handy.
Affordable Price
On the lower end of the spectrum, you can buy a pool basketball hoop for about $10-$20. These are likely inflatable sets. If you want a hoop that looks like what the pros use, those can cost $50 to $150 and over.
Only you know how much money you can afford to spend on a pool basketball hoop. Regardless of your budget, rest assured that there's a hoop option at nearly every price point.
Quality Materials
Even if you're not spending a fortune on a pool basketball hoop, you still want a high-quality product. Inflatable vinyl should be heavy-gauge and wear-resistant so it doesn't pop at the slightest provocation.
The metal parts that comprise your basketball hoop should have a powder coat or some sort of weather-resistant feature so the metal doesn't corrode or rust when it gets wet (which, it will get wet often!).
Plastic hoop parts shouldn't snap, puncture, or otherwise easily be damaged.
Height Adjustability
If you have young kids now, they won't stay young forever. Seemingly in the blink of an eye, they'll be preteens.
A height-adjustable basketball kit for the pool allows you to get more bang for your buck. You can incrementally adjust the kit over the years so your kids can continue playing as they grow up.
Included Basketball
Almost every pool basketball hoop we reviewed included a basketball. In most instances, the basketball is sized to the hoop and is usually inflatable so the kids can play with it in the pool even if they're not throwing baskets.
If your basketball kit does not include a ball, then measure the diameter of the hoop before you dig out the kids' basketball from the garage. They don't always take a standard size basketball.
Assembly
The less assembly required, the better, especially when you have to sweat in the hot summer sun trying to finagle screws and nuts.
Inflatable basketball hoops will always require some degree of assembly. A lot of the hoops we reviewed include their own inflation tools. You may wish to use those or an automatic pump for faster inflation. Just don't over-inflate or the hoop will pop!
For non-inflatable pool basketball hoops, once you take the time to screw everything into place, you shouldn't have to worry about re-installation again.
Repair Parts
Things happen, especially when you have kids. If your inflatable basketball hoop has a huge puncture in it, then what? Well, you can quickly patch it up if the manufacturer included a repair kit.
Non-inflatable pool basketball hoops might come with extra screws or a few replacement nets. These parts are nice to have handy in case something goes wrong mid-game!
How Tall Is a Pool Basketball Hoop?
Pool basketball hoops are children's toys, so they're usually sized for kids. The average height of a pool basketball hoop might be between 1 and 6.5 feet.
What Size Is a Pool Basketball?
Going back to our point from before, a pool basketball included with a hoop is usually sized match to the hoop. There's no one size standard. The ball can measure anywhere from six to nine inches in diameter.
Do Pool Basketball Hoops Use a Standard Size Ball?
Some poolside basketball rings do use a standard size basketball. However, it's more common for pool basketball hoops, especially floating rings, to use a smaller ball. Some of the balls are made from lighter lower quality vinyl or plastic, whereas others resemble the quality of a proper basketball.
How Do You Play Basketball in the Pool?
Playing basketball in the pool does not have to be all that different from shooting hoops in the driveway. Players can go solo or be in small teams of two or three people.
The person who has the ball tries to score a point by throwing it through the hoop and into the basket. Other players can defend the ball or intercept and catch the ball if those techniques are allowed.
You could use two hoops, one at each end of the pool or just one hoop. You may also use the entire pool or perhaps divide the pool in half.
Moving around in the pool versus on land reduces impact resistance, so playing basketball is not as hard on the joints, bones, and muscles!
For other swimming pool games, you may check out our article 50 Fun Swimming Pool Games for Adults or Kids.