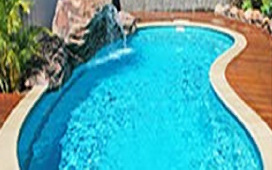 There are quite a few different pool cover types on the market. Most are suitable for kidney shaped pools.
Kidney Shaped Solar Pool Covers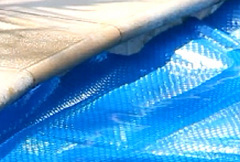 These "bubble" covers are the most common blanket available and can be cut to the size and shape of your pool using ordinary household scissors. You don't need a professional to install this type of cover.
Kidney shaped pools with solar covers work fine when using a cover roller too. Just make sure the straps of that connect the cover to the roller are adjusted so they pull the cover evenly onto the roller. Due to the shape of the pool, you'll probably need to help the cover onto the roller a little when you first start rolling.
Kidney Shaped Rigid Pool Covers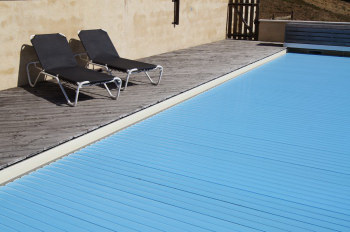 Slat or rigid covers are normally fitted inside a pool using tracks. They are mostly automated as well and can be opened and closed by pressing a button or some can be opened or closed using an app on your smart phone.
Rigid covers don't come in a kidney shape but it is possible to fit them over the top of the pool rather than inside the pool. The tracks need to run parallel to each other.Fitting these covers on top of the pool isn't ideal though.
When it comes to slat covers, fitting and measuring is also best left to the professionals.
Kidney Shaped Safety Nets, Mesh/Leaf Covers, Winter or Shutdown Covers
These can all be fitted to kidney shaped swimming pools. However, these covers generally need to be made to size and/or fitted by a professional. It's also best to get a professional to measure your pool as it can be a bit tricky to get the measurements correct if you have a kidney or free form shaped pool.
How to Measure Your Kidney Shaped Pool for a Pool Cover
Measuring a kidney shaped pool for a solar pool cover, is no different to measuring any other shaped pool. Simply measure the widest and longest parts of your pool.
You'll need a pool cover that is slightly larger than this (20cm bigger). The additional 20cm is to allow the pool cover to roll up the side of your pool a little. Some pool covers also shrink a small amount in the first few months.
E.g. if your pool measure 9x5m at the widest parts of your pool, then you need a pool cover that is 9.2 x 5.2m.
If you have any comments or questions about fitting a pool cover to your shape of pool, don't hesitate to contact us or leave a comment below.
Recommended Products