In this article we will give you a quick run down on the different brands of LED pool lights available to the Australian pool owner and also the costs of LED pool lighting.
If you have already done your research and know about the different light features, skip ahead to the brands of lights section.
If you've just started considering upgrading your lighting, then I recommend you read our pool lighting lighting guide. This article will give you everything you need to know about planning and upgrading your lights.
How Much Does an LED Pool Light Cost?
If you've visited more than two stores or websites, you already know the prices of pool lights varies enormously. Lights available on sites such as eBay are priced as little at $160 where as some branded lights are priced at up to $750 each.
So what do you get when you pay more money? Here's some of the features of premium models:
RGB or Multiple Colour
To rephrase Henry Ford, basic models come in any colour you like, as long as it's white. You don't need to settle for white light though. More advanced models come with special LEDs that can produce 15-30 different colour shades of light. From red to blue to green to yellow and everything in between. The light colour is controlled by a touch of a button.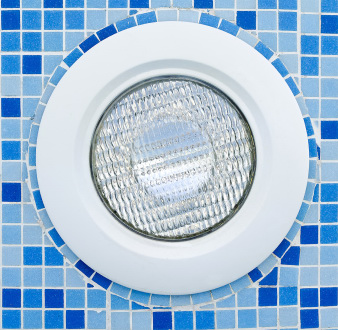 Resin Sealed or Potted
Traditional pool lights like halogens are basically a sealed cavity which housed a halogen globe (much like regular lights in your house) . The cavity is sealed from the water with an o-ring that sits between the lens. After time, the seals wear and the light will leak.
Not anymore!
Some modern LED pool lights are completely encapsulated in a solid resin material. Which in non-geek terms means it's impossible for water to leak into the electronics.
Light Output – The best measure of this is "Lumens Efficiency". You can't rely solely on looking at the wattage of the light to know how bright it is because some lights put out a brighter light than others – even if they are the same wattages.
In other words, the better models are more efficient which means they will be brighter AND use less energy.
High Grade Optical Lenses for Better Light
When you pay more, you should get a better quality of lens. The light will travel further and also give you a nicer quality of light.
Variable Input Voltage
Another geeky term but with big benefits to the non-geek….and the geeks. Basically it means the light will accept a range of different voltages. And how does this benefit you? Well it means you probably won't need to buy a new transformer when you upgrade your existing light.
Which will save you between $30 and $70. Or possibly more if you need an electrician to wire in the new one.
Longer Warranty
Sometimes you do get a long warranty, sometimes you don't. Not much to say here except pay attention when you do your research.
Note: Although you often get some of these features the more you pay, it's definitely not always the case. Do your research!
What about Installation?
If your pool light is wired into the mains (i.e. of you turn your light on/off from a regular light switch located in the house), then you'll need an electrician to come out and install it. If you already have wiring in place from your old light, the electrician will will probably only charge you $140 to $300 to fit a new light.
If you don't already have wiring in place pr your old wiring needs to be replaced, then you're in a world of pain. Or should I say, your wallet will be.
Normally, if you don't already have underwater pool lights installed in your pool, then it will be very expensive to install new ones. As this involves digging up the yard to run cables, partially draining your pool and drilling a hole in the side of your pool. Sounds painful doesn't it!
Brands of LED Pool Lights
There's a load of well known and also not so well known brands on the market. Let's take a look at some of them.
Aqua Quip LED Pool Lights
Aquaquip lights are one of the big names in the pool industry. They've been around since 1975 and continually improve their designs. They have a light that will fit all pools including fibreglass, concrete and also models that can be retrofitted in your existing pool.
EV02 Series – these lights are a flush-mounted model and unless you have an existing flush mounted light, aren't suitable to be used as a replacement light.
QC Series – these lights are surface mounted LED lights. They come with a universal bracket which makes upgrading from your existing pool light easy. The bracket enables you to use the existing screw holes.
Cost: $250 to $450 from selected pool stores and some online pool stores.
Spa Electrics
Is a designer and manufacturer of high quality pool lights. They've been around for over 30 years. They still design and manufacture here in Australia.
GK7 Retro Series: Said to be one of the brightest LED pool light on the market. With this light you can easily upgrade from your old halogen to LED technology. A universal fitting bracket is available for a painless change over.
Quantum WN Series: This light features 7 different colours and two colour changing programs. It also comes with a quick release plug which allows the light to be quickly removed. Available in 3 colours and also comes in RGB (colour changing) model.
Cost: $270 for the GK7 Series to $650 for the Quantum WN Flush Mount Colour Changing Series.
Waterco LED Pool Lights
Another large Australian company. They manufacture a large range of pool products including pool lights.
Britestream – this range of LED lights has a light suitable for most pools. From niche mounted (flush mounted) to surface mounted. These lights have 7 different colours which can be changed by pressing a button. The manufacturer claims the light will last 70,000 hours.
Cost: $320 to $420 available from selected pool stores and some online pool stores.
Fusion LED Pool Lights
Electra 647S – this light has 16 different colour modes and comes with one of the longest warranties available – 3 years. It also comes with a retro-fit bracket which makes it simple to upgrade to LED from your existing halogen pool light.
Cost: from $337 available directly from Fushion Lighting's online store and from selected pool stores.
Pentair Pool LED Lights
Pentair has been around for about 150 years. They are in many different market segments including pool products. I had a hard time getting much information about Pentair's pool lights.
Intellibrite ® 5G – this was the about only model I could find some information for. This light is an LED model and has 5 different colour options. It's a surface mounted light.
Cost: I was unable to find any cost information. A lot of pool stores in Australia don't stock Pentair lights. They do stock some of their other pool equipment though and also the popular brand of pumps by Pentair – Onga.
eBay LED Pool Lights
There are several different models available on eBay. Most of the models have the advanced features you normally pay a lot more for when buying a brand name. Some of the eBay lights are good quality, some are not. Although the lights here may be a lot cheaper, you may find it's worth paying a little extra for a product that will last – particularly if you have to get wet to install a new pool light!
If you're buying your light from here, I suggest you find a seller with a good reputation and warranty.
Cost: $140 to $270
Pool Light Cost Comparison Table
| | | |
| --- | --- | --- |
| Brand | Model | Cost |
| Aqua-Quip | EV02 & QC Series | $250-$450 |
| Spa Electrics | GK7 & WN Series | $270-$650 |
| Pentair | Intellibrite ® 5G | Unavailable |
| Waterco | Brightstream | $320-$420 |
| Fushion Lighting | Electra 647S | from $337 |
| eBay | Varies | $140-$270 |
We would love to hear from you if you have some experiences about pool lights. Just leave a comment below and please share this article if you know someone who may be interested.