Deciding what to put under Intex pools is something you should give lots of thought to before installing your pool. Choose the right material and you will prevent possible problems and increase the life of your inflatable above ground pool.
Whether your Intex pool is on concrete, grass, gravel, pavers or a deck, we've got a solution for you.
Why It's Important to Choose the Right Material to Put Under Your Portable Pool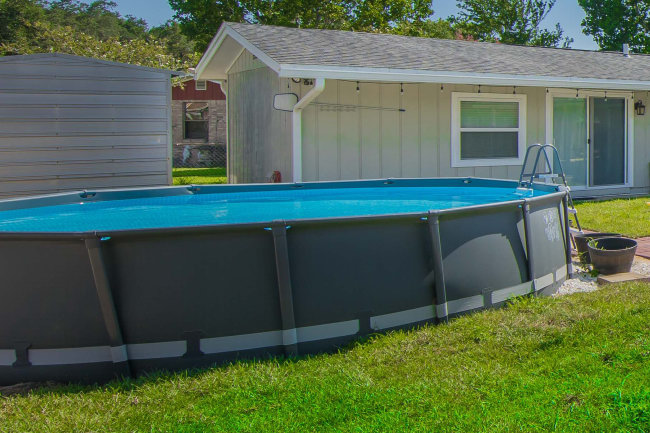 When it comes to choosing what to put under your Intex or other inflatable pool such as Bestway and Summer Waves pools, there are several choices. Each under pool material has its pros and cons.
Here's a few of the benefits of choosing the right material to put under your above ground pool:
Protects the bottom from abrasions and punctures
Prevents Mould/Mildew
Smoother under your feet
Makes cleaning easier
Stops damage from grass and insects
Where to Put an Intex Pool?
Before deciding on what to put under your above ground pool, you need to decide on where to put your Intex pool. Popular options are grass, concrete, pavers, gravel, dirt and on decks.

Concrete is probably the best option since it is usually 100% level and smooth. Also, grass can't grow through concrete and animals and bugs can't damage or burrow through it either.
Grass or dirt is also another great option, as long as it has been properly leveled and you've killed off the grass first.
You could put your pool on pavers, however the weight of the pool may compress the pavers and move them out of shape. Which will mean you'll need to fix them when you remove your pool.
What to Put Under Above Ground Pools?
After you've decided where to put your pool, it's time to decide what under pool mat you will use for your Intex pool. The right material can extend the life of your pool.
Here's a list of the most popular materials to put underneath an above ground pool, whether it's on grass, pavers, gravel or concrete.
Interlocking Foam Tiles
Carpet
Intex Ground Cloth
Flooring underlayment
Carpet padding
Sand
How to Choose What to Put Under an Intex Pool
There are five main things to look out for when deciding which material to use under your pool.
Breathable
Resistant to Punctures
Thickness and Feel
Easy to Install
Cost
Having a breathable material will help prevent mildew and mound which is caused by trapped moisture.
Some materials are naturally tougher than others, such as commercial under pool pads. This is more important if you plan to put your pool on grass or dirt.
Having the right material just feels nicer on your feet. Some people don't mind it but having stones sticking into my feet isn't my preference. Going for a thicker material or combining two materials together will produce a better feel.
A material that is easy to get to lay flat is also beneficial. This will mean that the bottom of your pool will be wrinkle free making it easier to clean (when vacuuming).
Lastly, when deciding on what to put under an above ground pool you want to consider how easy the material is to work with and the cost. Although carpet could be free (if you're lucky), it's not easy to cut and could be quite a lot of effort to install.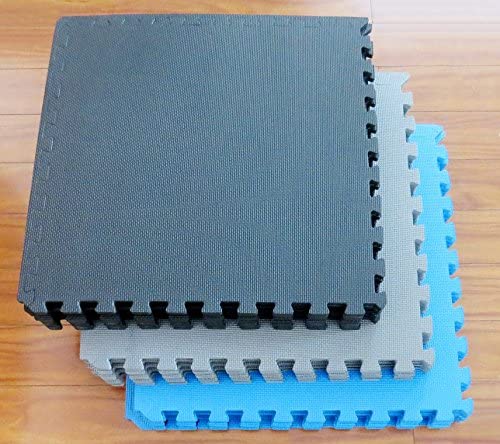 Interlocking foam tiles can be found here and at Walmart, Home Depot and many other stores.
They provide thick padding and will feel great under your feet. Provided you install them on a level surface, the bottom of the pool will feel nice and smooth.
They are fairly easy to cut to size and they are lightweight and easy to handle.
Pros
– Feel great under feet
– Provide excellent protection from sticks and stones

Cons
– Not breathable
– Can be expensive
>> Click here to check the price and read more reviews.
Carpet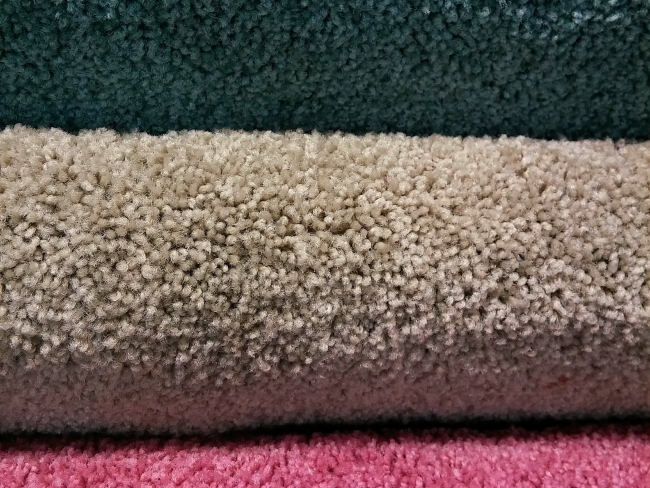 Is putting carpet under an above ground pool a good idea? Carpet is actually a great solution. It will provide good protection against stones and sharp objects piecing the bottom of your pool whilst providing some comfort under your feet.

If you're lucky, you might also get it for free too!
Pros
– Can be free
– Excellent protection against sharp objects
– Breathable
Cons
– Not as soft as foam tiles
– Harder to cut to size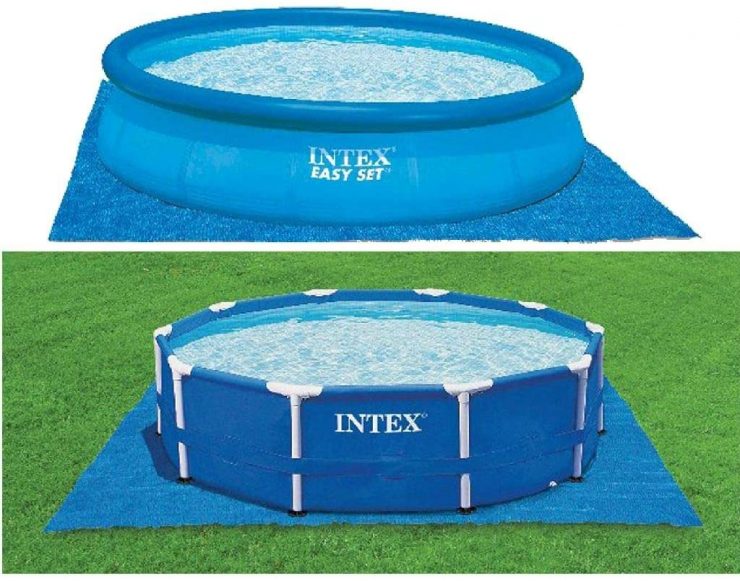 Most Intex pools come with a ground cloth. The cloth that comes with Intex pools is more of a tarp. It will provide some protection against abrasions or punctures but according to reviews, is very thin and may not last too long.

Many Intex pool owners opt for a better quality aftermarket solution.
Pros
– Low cost protection for your pool
– Cut to the size of your pool
– Ready to be installed with minimal effort
Cons
– Lower quality
– Offers only minimal protection
>> Click here to check the price and read more reviews.
Aftermarket Pool Pads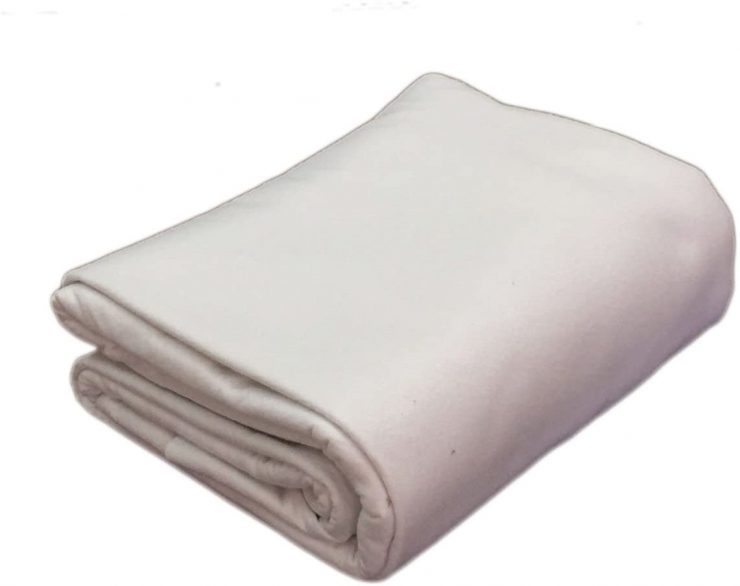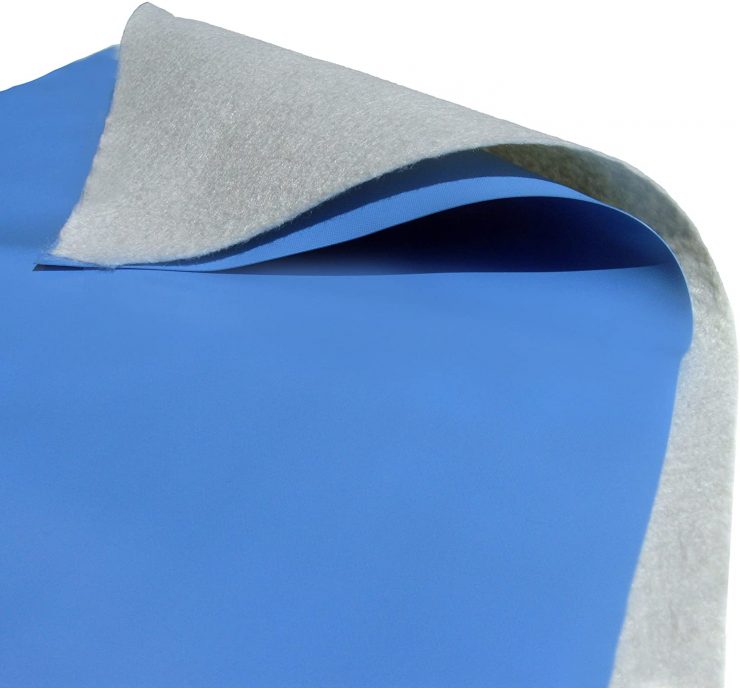 Intex isn't the only company that makes padding liners for above ground pools. In fact there are many of them offering high quality products suitable to go under your pool.
They are often manufactured from extremely tough materials which are resistant to pests, grass, roots, animals, insects and other stones.
The other advantage of using a professional pool pad is some of them come precut to the size of your pool, which saves a lot of time and mucking around during installation.
Pros
– Extremely tough and stronger than other options
– Many come cut to size
Cons
– More expensive than other options
Check prices of pool pads here:
Liner Life Pre-Cut Swimming Pool Liner Pad
Blue Wave Liner Pad for Above Ground Pools
Flooring Underlayment & Carpet Padding
Flooring underlayment, also known as padding is a spongy flexible foam sheet that comes in rolls. It is usually installed between laminate flooring and the subfloor.
Carpet padding is thicker than flooring underlayment. It's also a cheap option to put under your above ground or Intex pool.
If you're not sure what to put under your inflatable pool, this could be a good option. It's cheap and easy to work with. However both are quite thin and won't provide a lot of protection.
You'll likely need a few layers otherwise you'll feel rocks or stones under your feet when swimming. Foam tiles are a better choice if you want to avoid this.
Pros
– Very low cost
– Easy to cut and work with
– Widely available
Cons
– Provides minimal protection
– Not breathable
– Thinner than foam tiles
Sand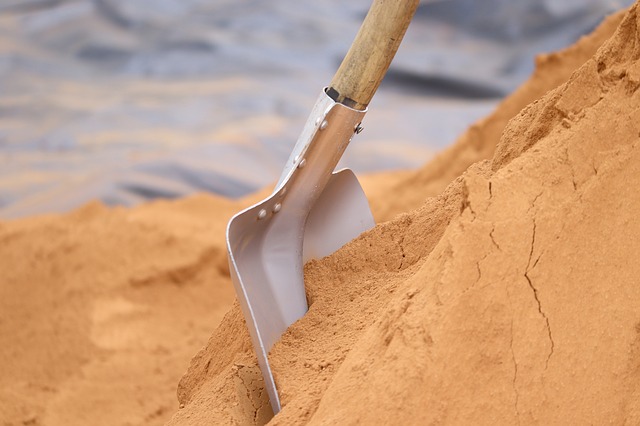 Should you put sand under your above ground pool? For portable pools like the Intex Easy Set Pools, sand is not recommended.
Although it's easy to put down and level and it may seem like an ideal material, it can easily erode and get partially washed away in heavy rain. Animals and bugs also have been known to tunnel through it.
If this happens it could cause your pool to shift or at best, you will feel "holes" or dips under your feet when swimming where the animal has been digging.
Pros
– Easy to lay and level
– Low cost material
Cons
– May move or erode over time
– Animals and bugs can tunnel through it
Installation Tips
Should I put a tarp under my Intex pool?
At the bare minimum, yes you should put a tarp underneath your Intex pool. Inflatable pools, Bestway and Summer Ways pools will also benefit from a tarp.
Although a tarp will help protect your pool there are far better choices such as foam tiles or proper commercial under pool pads.
What to put under paddling pools?
Paddling pools and kiddie pools can be treated the same as other pools. Choose a material that feels nice under your feet and protects the bottom of the pool such as carpet or foam. A thicker material may minimize injuries if your child slips over.
Having a breathable material isn't so important for paddling and kiddie pools since they are often only temporary.
What can I put under my inflatable pool?
Inflatable pools or blow up pools such as kiddie pools, paddling pools and Intex Easy Set pools will be good with carpet, interlocking foam tiles, commercial pool pads
What to put under an above ground pool on grass?
Before putting an above ground pool on grass you will want to make sure you kill off the grass with weed killer. Some grasses and plants are particularly hard and capable of penetrating the bottom of your pool.
After you have killed off the grass, you can then use carpet, foam tiles, a commercial under pool pad or any of the other options mentioned in this article.
What to put under an inflatable pool on concrete?
Concrete is a great material to put your inflatable pool on since it is usually 100% level. You will however need to put a material under your inflatable pool to protect the bottom of the pool from abrasions such as a tarp or flooring underlayment.
Concrete is also a very hard surface and will feel much nice on your feet if you use something with padding such as carpet underlay or foam.
What should I put under Bestway and Summer Waves pools?
Bestway and Summer Waves pools can use the same materials under them as Intex pools. Any of the materials listed in this article will be suitable for your inflatable, Summer Waves or Bestway Pool.
Summary
Now you should have a good idea of what to put under Intex pools. You may also be wondering, which chlorine you should use for your above-ground pool, find out here: Which Chlorine To Use For An Above Ground Pool
There are several options available and you should take into account the cost, the thickness, if the material is breathable and the ease of installation before making a decision.

The location of your pool will also influence your decision. If your pool is on concrete, a softer material will be great, however, if you have your pool on dirt or grass then you will want to make sure the material is tough enough to prevent things from piercing it.

What materials have you used to put under your above ground pool? And how have they worked for you?