It's not unusual for people to keep their phones with them at all times. It could simply be a security thing. Or, maybe they need it close for medical reasons. Whatever the reason, knowing whether your Samsung phone (specifically the Galaxy Series) is waterproof or swim-proof is important if you're wanting a swim in a pool.
Starting from the Samsung Galaxy 8 onwards, all of the Galaxy series are water-resistant to depths of 5 ft (1.5 m) for up to 30 minutes. And, this includes the newest model, S22. However, each model's water resistance is valid against freshwater use.
Although Samsung advises against pool use with their phone, with proper care post-swim your phone should be okay.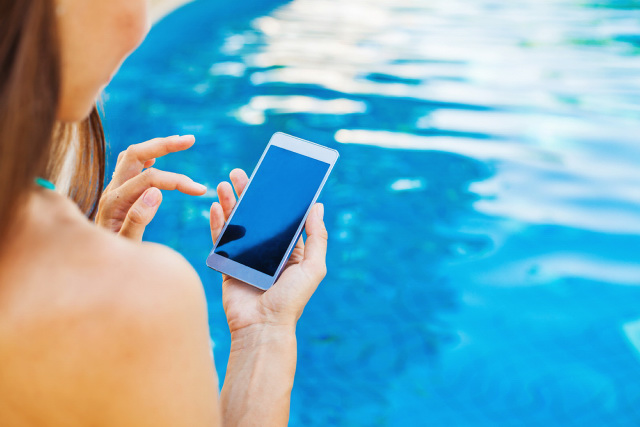 Are Samsung Phones Waterproof?
Before jumping into whether Samsung phones are waterproof, it's important to clarify the terms used when talking of resistance to water.
Waterproof is when there is no chance that water can leak into the device. Whereas, water-resistance allows water to seep into the device. But, it is incredibly slow in doing so and doesn't easily take water damage.
Sometimes, companies use swim-proof or splashproof to describe their devices but this is just an alternative way to describe water resistance.
So, what's Samsung's official stance on their Galaxy Series?
| | | |
| --- | --- | --- |
| Galaxy Model | Waterproof | Water resistance |
| S8 & S8+ | No | Up to 5 ft (1.5 m) of fresh water for up to 30 minutes |
| S9 & 9+ | No | Up to 5 ft (1.5 m) of fresh water for up to 30 minutes |
| S10e, S10, S10+, & S10 5G | No | Up to 5 ft (1.5 m) of fresh water for up to 30 minutes |
| S20, S20 FE, S20+, & S20 Ultra | No | Up to 5 ft (1.5 m) of fresh water for up to 30 minutes |
| S21 5G, S21+ 5G, & S21 Ultra | No | Up to 5 ft (1.5 m) of fresh water for up to 30 minutes |
| S22 5G, S22+ 5G, S22 Ultra | No | Up to 5 ft (1.5 m) of fresh water for up to 30 minutes |
As you can see, none of the models above are waterproof, according to Samsung. However, they have enough water resistance to get wet.
There's also a specific mention that each Samsung Galaxy (SG) model's water resistance is in freshwater and not pool water.
So, let's dive into each SG model (and their variations) to see which one suits you and your needs better.
Are SG S8 and SG S8+ Waterproof?
The Galaxy 8 and 8+ came to the market in April 2017. Both screens are gorilla glass but the 8+ has a 2-inch bigger screen than its sibling. And, SG S8+ has a better battery life as well.
Both Samsung Galaxy S8 and S8+ are resistant to water to depths of 5 ft (1.5 m) for up to 30 minutes. However, Samsung doesn't classify either model to be waterproof.
Named after desserts, these models need Nougat (Android 7) to work properly. As a current S8 owner, this model has held up remarkably well. Especially for how reckless I am with my things.
Are SG S9 and SG S9+ Waterproof?
Samsung brought the S9 and S9+ models to the market in March 2018. Again, made of reinforced gorilla glass, the 9+ has a 3-inch bigger screen. As well, as having a bigger RAM and dual cameras on the back.
Samsung Galaxy S9 and S9+ are both resistant to water to depths of 5 ft (1.5 m) for up to 30 minutes. Like the S8 and its sibling, Samsung doesn't describe either S9 model as waterproof.
With their technological improvements, these models need Android 8 (otherwise known as Oreo) to operate to the best of their ability.
Are SG S10e, S10, S10+, and S10 5G Waterproof?
Coming to the market in April 2019, Samsung released these four models of the S10. Each model's screen size increases from 5.8 inches of the S10e to 6.7 inches of the S10 5G. Other differences include additional features and improved storage (S10 5G having a 1 TB option). Preference is key here when choosing your wanted S10 model.
The S10e, S10, S10+, and S10 5G models are all resistant to depths of 5 ft (1.5 m) for up to 30 minutes. Just like previous SG models, Samsung doesn't classify any of these models as waterproof.
With these improved models, the S10 models need Pie (Android 9) to function properly.
Are SG S20, S20 FE, S20+, and S20 Ultra Waterproof?
These 4 models released in February 2020 have improved features than their predecessors. The S20 is the smallest with a 6.2-inch screen. Whereas the S20+ and S20 Ultra have more cameras than the other two models. The S20 FE is a Fan Edition that encompasses all SG fan-favorite features.
The 4 models (S20, S20 FE, S20+, and S20 Ultra) are all resistant to the water of up to 5 ft (1.5 m) depths for up to 30 minutes. Again, Samsung doesn't describe the S10 series as waterproof.
No matter the model you choose, these SG S10 models all need Android Q (Quince Tart) to operate efficiently.
Are S21, S21+, S21 Ultra, and S21 FE Waterproof?
Coming to the market in January 2021, the first three models of the S21 series showed improvements on their predecessors. However, the S21 FE was released later in January 2022. Each of the 4 models increases in size screen from 6.2 inches to 6.8 inches. And the Ultra includes an S pen too.
Each of the SG S21 models isn't waterproof, according to Samsung. However, they can withstand depths of up to 5 ft (1.5 m) for up to 30 minutes.
The S21, S21+, and S21 Ultra all rely on Android 11 (Red Velvet Cake) to operate properly. Seeing as the S21 FE was a later release, this needs Samsung's latest OS named Snow Cone (Android 12) to make use of all of its fan-favorite features.
Are S22, S22+, and S22 Ultra Waterproof?
The newest SG series, S22, came to the market in February 2022. Again, each model exhibits different features with the Ultra being the most feature forward model.
The S22, S22+, and S22 Ultra are all resistant to depths of up to 5 ft (1.5 m) for up to 30 minutes. However, Samsung doesn't describe the S22 series as waterproof.
Being the newest Galaxy series on the market, they all come with Android 12 (Snow Cone). This makes sure that each model operates properly and efficiently.
Does Samsung Warranty Cover Water Damage?
Although Samsung offers a 2-year manufacturer's warranty, it doesn't include liquid damage. If your SG phone develops a fault after water exposure, the warranty is then void.
However, Samsung does mention to contact them if your phone has taken water damage as they may be able to help sort out repairs.
Aside from the warranty, Samsung phones have an LDI (Liquid Damage Indicator) strip, which helps you discover if your phone has water damage. This strip is under the SIM/SD tray and will change color if there's moisture buildup.
If the strip is solid white with pink/purple Xs, there's no moisture present. If it's a solid pink/purple color, then liquid has leaked in and you may need to contact Samsung for support.
Will Pool Chlorine Damage Samsung Phones?
Before continuing, it's important to mention that Samsung makes a point of stating that they test their phones in freshwater. So, where do you stand with using your phone in a normal chlorine pool?
From the S8 to S22, it's safe to swim with your phone for up to 30 minutes to depths of 5 ft (1.5 m). However, if you don't clean your phone afterward, chlorinated water could cause damage to the inner mechanics of your device.
Even though it's extremely rare that pool chlorine water itself can cause lasting damage to your Samsung Galaxy, post-swim care will ensure that you preserve your phone's lifespan.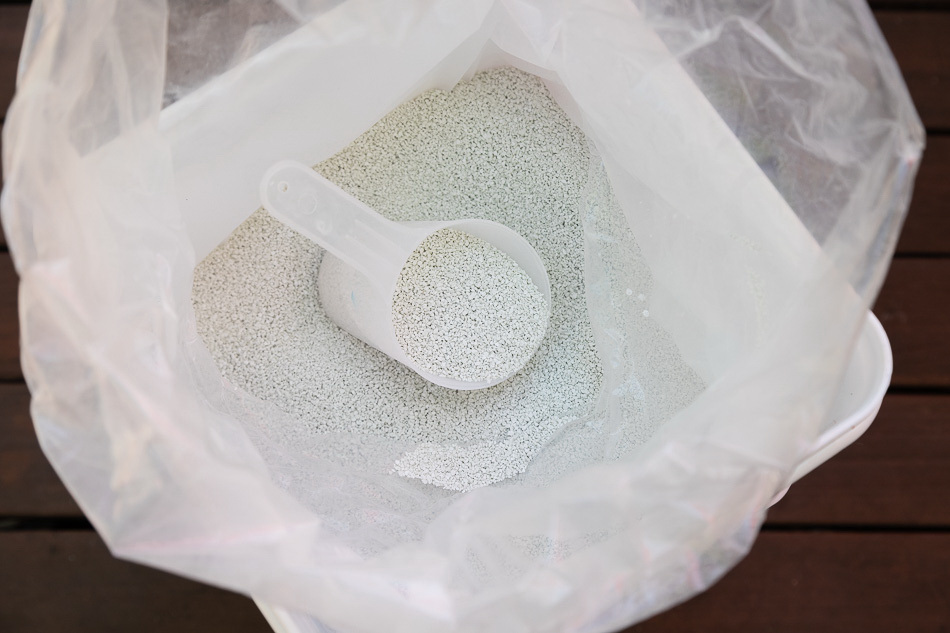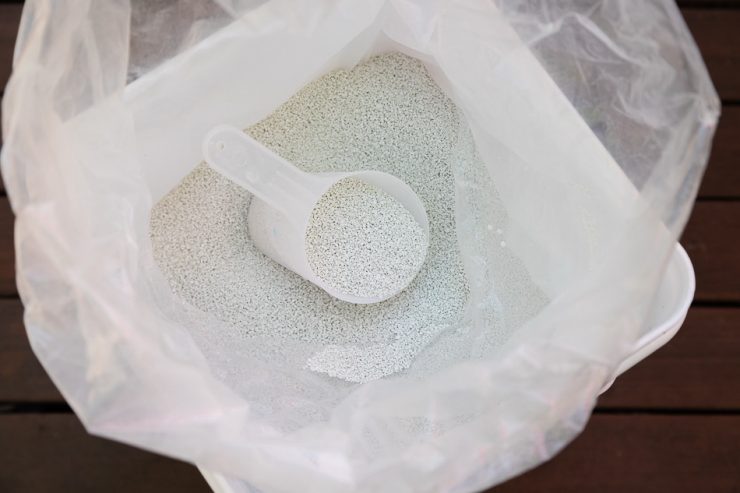 After all, pool chlorine is there to sanitize your pool by removing dirt. Although SG phones are water-resistant, they're not water-proof so this water is able to leak into the phone. Even if it's very slowly.
Will Saltwater Pool Systems Damage Samsung Phones?
Even though saltwater pools aren't as common as the typical chlorine pool, this type of pool is becoming more and more popular. This is partly because of the addition of salt to the water to complete the sanitization. If you're curious to see if switching to saltwater pools is for you, check out our comparison guide here: Saltwater Vs Chlorine Pool | Are Salt Pools Better?
From S8 to S22, it is safe to swim with your Samsung phone in saltwater pools. However, the addition of salt increases the chances of damage. So, post-swim care after saltwater pool use is crucial to prevent lasting damage.
How saltwater pools operate is by separating salt into its two elements, sodium (salt) and chlorine, by electrolysis. The chlorine sanitizes (just like a chlorine pool) and whatever chlorine is leftover binds back with salt and recycles through the system.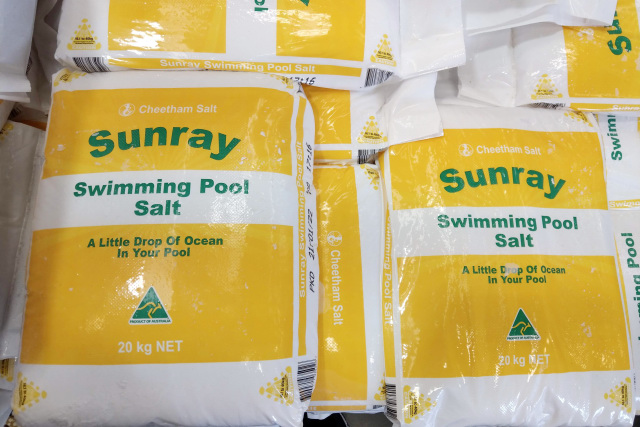 That free sodium (salt) is corrosive and can wreak havoc if left to dry on your phone. Salt crystallizes and erodes metallic elements particularly well. If this saltwater manages to settle inside your phone's ports, it can cause severe damage to your phone.
What To Do If I Swim With an SG Phone?
Obviously, not bringing your phone into the pool is the best way to keep your phone safe. However, that's not what everyone wants or should do.
Some people need the security of having their phone with them or want to accurately track their swimming. And then there are those that might need their phone on them for medical reasons.
If it's possible, layer your phone with protective measures to help prevent water resistance. Some of these options are below. And, then the other option is to get into a habit of cleaning your phone after pool use.
Cleaning an SG Phone After Swimming
Samsung provides the following steps to prolong your SG phone's life.
Before doing anything, power off your phone and remove any case or protective cover. Depending on the material of the case/cover, you might be able to rinse it under fresh, clean water. Make sure to unplug your phone from any cable.
It's important to avoid getting any additional moisture on your phone so don't use any liquid cleaning solution. If you do need a cleaning solution for the device, dampen a cloth with distilled water and disinfectant and wipe down the front and back of the phone. But, don't use firm pressure and avoid excessive wiping.
When it comes to choosing the ideal cloth, the best option is a lint-free microfiber cloth. Gently wipe the phone all over to help dry it.
Never use compressed air to clean out dirty ports.
Never apply bleach or liquid solution directly to the phone.
What Can I Use To Swim with an SG S Series Phone?
With a water resistance of 5 ft (1.5 m) depth for up to 30 minutes, it's understandable to want to get protective products to prolong your Galaxy S phone's integrity. The following products are perfect to use for all the models mentioned above (S8 to S22).
Waterproof Pouch
Hiearcool Waterproof Phone Pouch
This universal pouch has an Amazon rating of 4.6 stars out of 48,629 reviews. It's a universal pouch and can protect any phone that is 7 inches or under. It comes as a 2-pack and detachable lanyards. However, it's important to note that it isn't waterproof but is resistant to depths of 100 ft (30 m) which is the reason for some low ratings from customers.
Microfiber Cleaning Cloth
AIDEA Microfiber Cleaning Cloths
These microfiber cloths come in a 12-pack and have an Amazon rating of 4.7 stars out of 4,320 reviews. They come in 3 different colors, are eco-friendly, and are lint- and fade-free after washing. However, some shoppers found that their cloth was thinner than they were expecting and retained lint after washing.
Final Thoughts
Being the most popular Android phone on the market, Samsung Galaxy phones are continuously improving in capabilities and integrity. However, from S8 onwards they all have the same water resistance.
Post-swim care, despite the pool type, is vital to keep your phone from sustaining water damage. Luckily, there are products to help your phone do just that!
It's interesting to note that in comparison Apple has made improvements in features and integrity as well as water resistance. Curious to find out how Apple compares? Check out our iPhone water-resistant guide here: Can I Swim with an iPhone? Is it Waterproof?