Now that you've gotten your pool set up and running smoothly, your attention turns to maintaining your pool. One of the most important elements you need to monitor and care for is your pool filter.
These filters operate under high pressure to function properly, but they are at risk of exploding if defective or improperly maintained. This could result in thousands of dollars in repairs or treatment so understanding how to prevent this potential catastrophe will ease your mind.
So, read on to learn how easy it is to prevent your pool filter from exploding.
Do Pool Filters Explode?
Pool filters do explode and can cause damage to property and serious injury or even death. Since 1982, the Consumer Product Safety Commission has recorded at least 23 incidents of pool filter explosions.
This is why it's vital to regularly check on your pool filter and do the necessary upkeep to prevent any accidental (and potentially dangerous) explosions.
What Causes Pool Filters to Explode?
The main causes of why pool filters explode include wear and tear of clamps and bolts, defective elements, flawed design, or improper care.
1. Wear and Tear On Pool Filter Clamps
As you know, pool filters are divided into two halves. This is to enable easy access for maintenance and repair for the owner or professional. The two halves are secured together with clamps and/or bolts to create a perfect seal.
Without this hermetic seal, the filter wouldn't be able to reach the necessary pressure to work properly. However, with the consistent loosening and tightening of the clamps and bolts over time, and the buildup and release of pressure, these items will fatigue resulting in weakened fasteners.
Combine the weakened fasteners with the filter's high pressure and you have a potentially fatal explosion waiting to happen.
2. Defective Pressure Release Valve
Most pool filters today have a pressure valve to bleed excess pressure and/or an overpressure safety valve. If your filter's pressure valve is defective, incredible pressure can build up within the filter, causing an explosion.
Usually a pool filter will maintain a steady pressure well below it's engineering limits, but if there is a fault in the system or excess air, this can cause excessive pressure. And too much pressure can mean a deadly failure in the pool filter.
This is why it's key to regularly check your pool filter to make sure everything looks undamaged and there are no cracks or wear and tear as well as testing the pressure valves.
3. Flawed Design
Pool filters are generally made as two halves for ease of owner maintenance. However, this design leaves too much room for error and has resulted in many explosions over the years.
The filter needs to be hermetically sealed to work seamlessly, but it relies on clamps and bolts to secure the halves together. As mentioned above, these key elements can wear down over time, be defective, or not secured properly after servicing. It is a flawed design and has been the cause of many accidents and deaths.
There are safer designed models, but they take more time and effort to carry out a regular service. They even may need specialized tools to effectively maintain the pool. It's because of reasons like these that manufacturers still produce riskier designs.
4. Improper Care
Lack of routine maintenance with your pool and its filter can be the single culprit to an explosion. There is a lot to be mindful of when carrying out the weekly service of a pool.
Some owners can slack here and not check for damages or that the filter lid is securely fastened back onto the bottom half. Not keeping a vigilant eye on the condition of the bolts and exterior components (like the pressure gauge), for instance, will only help increase the chances of a malfunction in the filtration system or massive explosion.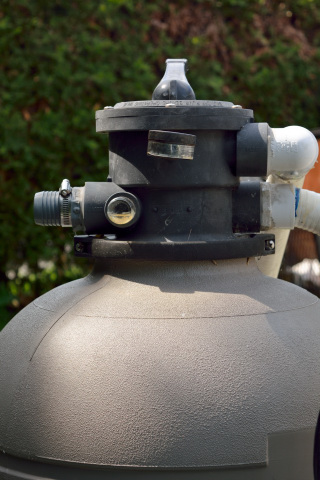 How Dangerous are Pool Filter Explosions?
Pool filter explosions can be incredibly dangerous causing major damage to your property and possibly fatally injuring yourself or others.
Depending on how big the blast is, a pool filter can shatter windows, break roofs, or even get lodged in nearby trees and shrubbery. This could result in thousands of dollars in repairs for your property and the pool too.
Since 1982, there have been at least 23 pool filter accidents reported, according to the Consumer Product Safety Commission (CPSC). However, even this is underestimating the true filter accident figure.
Pool filter manufacturers only need to report accidents if they've lost too many personal injury or wrongful death lawsuits concerning the same model in a 2-year span.
Reports over the years have included people suffering from broken facial bones, eye loss, severe brain injuries, and even death because of a filter explosion.
Although this can be shocking to realize, it's crucial to understand just how important it is to properly care for your pool filter. And to fix any issues you see before they can worsen.
How To Prevent a Pool Filter From Exploding
Preventing your filter from exploding and causing serious damage can be simply done. Implementing these following 7 tips into your weekly maintenance routine will help elongate your filter's lifespan and save you potentially thousands in repairs and treatment fees.
1. Monitor The Pressure
The average filter pressure of a pool can range between 10-25 PSI. The 'normal' range for your pool will depend on different factors such as the pump power, filter size, and cleanliness of the filtration system.
Check the gauge every week when you rinse out the pool's circulation system to stay on top of your filter's health. And if you notice the pressure higher than normal, you should investigate the cause.
2. Test the Air Pressure Bleed Valve Regularly
Testing the air pressure bleed valve is functioning could prevent serious injury. With the pump running, simply open the valve, usually located on the top or side of the filter. You should hear air coming out or see water coming out. It's working if this happens.
If you're noticing your filter pressure gauge is reading 10 PSI above what's normal for your pool, opening the air relief valve can help normalize the filter pressure.
Air can get sucked into the circulation system if the pool water level is too low (lower than mid-skimmer). Or when the pump has been turned off and on again. For example, re-opening your pool after winter for summer.
3. Ensure Pressure Gauge Functions Correctly
You can check if the release valve is working correctly by turning off the pump and watching to see if the gauge drops. It should drop to zero with the pump off. If it doesn't, you'll need to replace it.
Another way to discover if your gauge is faulty is to check the flow out of the return jets. If the water flow is normal but the gauge is reading extremely low, it could be a defect with the gauge.
4. Replace worn bolts/nuts
Although this can seem like common knowledge, it is important to replace any and all worn-out bolts and nuts and clamps. Pool filters tend to have a lifespan of about 5-10 years, depending on the level of maintenance and routine replacements.
With the weekly service of the pool filter, those all-important bolts and nuts and clamps will eventually wear and shift over time. These bolts and clamps are the only thing holding the filter lid on. So, if you've noticed wear and tear on your nuts and bolts or clamps, replace them as soon as you can.
Worn-out bolts and nuts leave room for air to leak into the pool filter too. Air leaks and too much air pressure is detrimental to the filtration system and the pump.
5. Make sure there are no air leaks
As mentioned above, air getting into your filtration system can cause havoc on any component of the system. If you're able to see a significant amount of bubbles coming out of the return line of your pool, there may be an air leak.
Air in the system can cause a dangerous buildup of pressure.
On your filtration system, there is the suction side (pool to the pump) and the discharge side (pump to the pool). If there is a lot of bubbles in the strainer pod, you'll know the leak is on the suction side.
We have a full article on how to bleed air from your pool filter and how to fix air leaks here: How to Bleed Air From a Pool Filter (answered!)
6. Double Check the Filter Lid Is Secured Properly
It's important to get into the routine habit of double-checking that the filter lid half is located properly and secured back onto the bottom half. Make sure all the clamps and bolts are sealed tightly. Make sure the lid is seated correctly.
Without this tight seal, the high pressure will cause the two halves to move and separate from each other. Not only will this affect the filter pressure level, but air will also easily leak inside doubling the potential for explosion. And will affect the effectiveness of the overall filtration system.
7. Regular Cleaning
Maintaining your pool regularly is crucial in prolonging the life of your pool. Creating a weekly service of your pool including its filter will save you energy and cost in the long run.
It's recommended to clean your filter once a week (at the very least twice a month). Once a week is more than enough upkeep as a slightly dirty filter can actually benefit your pool more than a fully clean one. As dirt gathers on the filter, it can help trap other dirt particles that would've normally passed through.
How Can I Clean My Filter?
Depending on what filtration system you have will decide which approach is best for cleaning the filter.
If you have a sand filtration system, you might consider rinsing and backwashing your pool. Or perhaps it's time to renew the sand in the filter for maximum performance. Learn more on how to backwash your sand filter here.
If you have a cartridge filter, you might consider using muriatic acid to clean out the cartridges. Why not check out how to clean cartridges with muriatic acid here.
Sometimes you might want to just quickly clean out your filter. Maybe you've noticed some debris has found its way into the filtration system and needs to be dealt with now.
This filter cleaner is compatible with all filters including cartridge, D.E., and sand. (It also works well with saltwater systems too)….
Click here to check the price >>
It's rated 4.3 stars on Amazon and 61% of reviewers gave the cleaner 5 stars. Many pool owners have found it perfect for cleaning their filters. However, others have noticed they would need more time and product to properly clean their filters.
Click here to check the price >>
This cartridge cleaning tool is specifically designed to work with all types of cartridge filters. It releases a power spray to deeply clean in between the pleats of the cartridge.
This tool has 4.3 stars on Amazon out of 2,357 reviews (65% gave it 5 stars). Some buyers applaud its powerful spraying capabilities as well as its durable metal design. However, other reviewers have noticed that their standard garden hose sprayer has more power than this tool. One customer's cleaning tool arrived already corroded.
Final Thoughts
Realizing that your pool filter can explode can be a scary thing especially when it could cause so much damage to your property and yourself. Never mind the excessive costs in repairs, replacements, and potential hospital fees.
Preventing your filter from exploding all comes down to monitoring the pressure that passes through it. There can be a whole host of reasons why the filter pressure may rise but the tips above will help keep peace of mind when caring for your pool and its filter.