You've chosen what filter type to use and what other pool equipment you want to include with your pool. But, what do you use to sit all of that equipment on? And what's the best way to set up your pool equipment?
The most common pool pads to use include poured concrete slabs, pavers, stone, anti-vibration mats, and plastic pads. Important things to consider with pool equipment placement include location, ease of electricity, ventilation and UV protection.
Choosing which type of pad to use and the best practices can be a little daunting so read on to find out what the perfect pick is for you and your pool.
Best Pool Equipment Pads
No matter what pad you pick, most pool equipment needs a base of at least 4'X4′. Some might need a base of 5'X12′ or larger. Knowing how much space you need is an important factor to consider before choosing your pad.
1. Concrete Slab Pad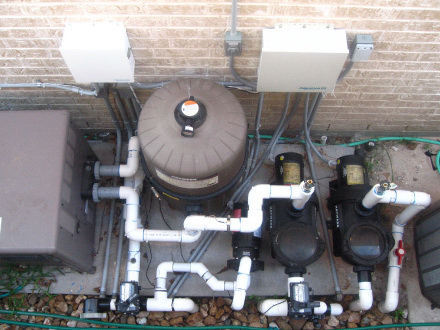 Pros:
Creates a smooth level finish
Won't shift from vibrating pool equipment
No rogue weeds or plants

Easier on feet

Looks neat and tidy
Cons:
Cost
Requires some surface preparation and ground leveling
Need another substrate for pipes
If you use a concrete pad for your pool equipment, make sure the slab is at least 4 inches thick. Because it's solid concrete, you don't need to worry about cracks or a shifting pad while your pool equipment is working away. However, if you want to be sure, you can use reinforcing steel in the concrete.
Nutgrass is a common complaint amongst pool owners, cropping up around above-ground pools in a lot of areas. Pool pads are no exception. Poured concrete is a solid pad preventing all rogue plants from growing up through the pad, meaning no shifting and cracking pads.
Anecdotally, one pool owner mentioned the ease of walking on concrete over rocks/gravel barefoot. Sometimes unexpected issues crop up mid-swim after all.
The major con to choosing poured concrete slabs is the cost. Depending on the size of the slab you'll need will influence your decision massively, as well as where you live. If you do opt for this pad, contact multiple contractors to find the best quote.
That being said, it's vital to keep your buried pipes separate from the concrete slab. And don't run the pipes up through the concrete. If you ever experience a leak and have to dig up a pipe, a pipe that is encased in concrete is tricky to remove. It could mean you'll need to break up the concrete pad.
2. Paver or Brick Pad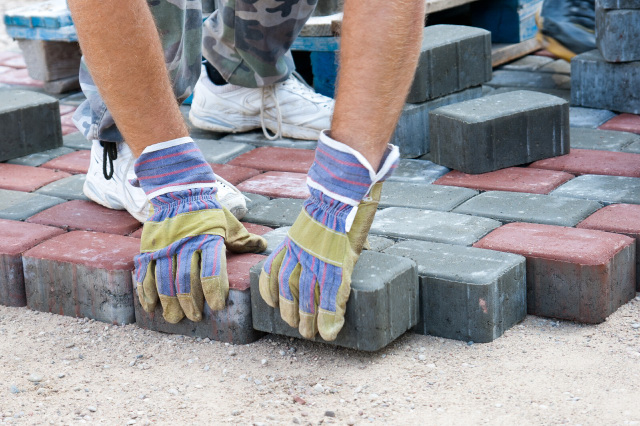 Pros:
Ease of access to pipes
Cheap and or potentially free
Doesn't affect equipment longevity
Cons:
Can shift over time
May need additional under layering
Multiple slabs can cause issues
Ground needs some prep (leveling)
Even though pavers can be equally as solid as poured concrete slabs, they do allow for easier access to the pipes. And are easier to remove for maintenance and repair.
You may not even have to worry about buying pavers if you have a level patio to place the pool equipment on. Or you may be able to pick up some pavers for free.
As long as it's solid and doesn't easily shift, it shouldn't affect the longevity of your equipment over picking poured concrete slabs.
However, if your pavers or patio stone are loose or aren't on a strong foundation, the vibration of your equipment will shift the pavers. Also rain can shift pavers if they are not concreted around the edges. And this could lead to pressure cracks in pipes or the filtration system.
If you're creating a paver landing yourself, you'll need to invest in a stabilizing layer underneath. This layer could be sand or fine gravel. Although it's not a major con, it is another cost to factor in.
Using multiple pavers to accommodate the size of your equipment gives another opportunity for it to sink, settle, and tilt. Again, it's crucial to have all the pavers in line and settled before you place pool equipment on them. The discrepancies in levels will result in unwanted stress on different components of your equipment, affecting longevity.
3. Grass Pad or Ground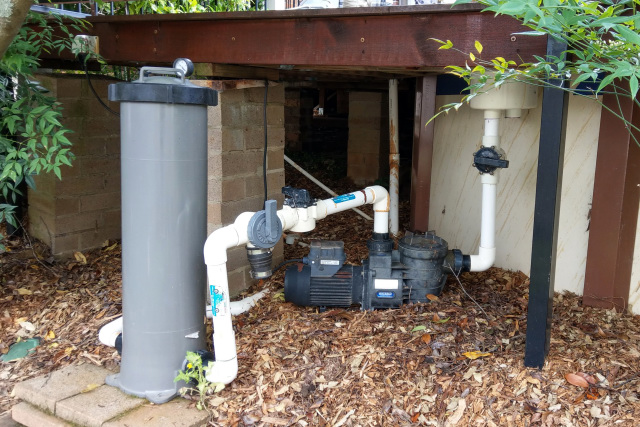 Pros:
Cons:
Vulnerable to shifting
Unmounted equipment can damage easily
No water drainage
Opting to use grass as your equipment pad greatly reduces the cost of setting up your pool pad, depending on how compact your grass is. And when using grass as the base, it gives you the easy choice of picking where is the best for equipment placement.
However, the disadvantages of only using grass as your pad far outweigh the benefits. Unless you can 100% guarantee your grass is compact enough to withstand vibration, you'll quickly come across leakages and stress cracks as the powerful equipment shift the ground underneath when functioning.
You'll have to deal with shifting soil under the ground as the earth moves to make way for insects and growing plants too. And the drainage may be a problem in heavy rain. the last thing you want is your pool equipment sitting in a large puddle.
The biggest con in using grass is that your equipment is unmounted and not screwed down onto a hard base. Again, this will cause damage to your equipment as it shakes while in use, potentially resulting in leaking pipes and expensive replacement costs.
4. Anti-Vibration Mat Pad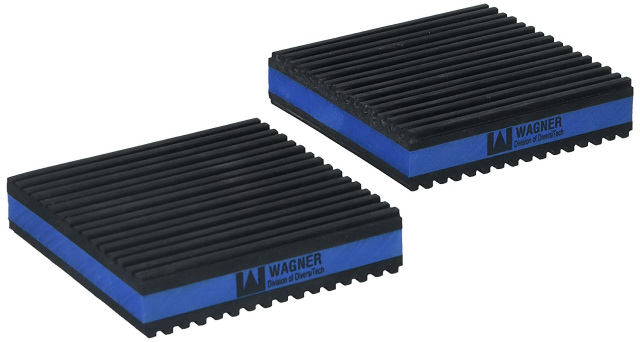 Pros:
Fairly inexpensive
Reduces vibration noises
Frost- and heat-resistant
Designed for water drainage
Cons:
Wear over time
Needs a solid under layer like paving, a deck or concrete
Depending on the quality of the anti-vibration pad you choose, they're relatively cheap to buy. It's best to aim for a pad that is thick enough to properly insulate the pool pump's vibration and which won't easily degrade over time.
Seeing as the anti-vibration pad absorbs the equipment's vibration, it also helps reduce the damage that can happen from a rattling pump or filter.
Most anti-vibration pads are made of rubber with a ridged design allowing for proper water drainage and being able to withstand a wide range of temperatures. They can tolerate temperatures as low as -22 F and as high as 176 F.
Because the pool pump and filter need to be secured to the base they're on, you'll need to have a solid base (concrete, stone, paver) to fortify your pool equipment.
Choosing a mat thick enough to properly handle the vibration without easily wearing it over time, it's best to opt for at least 3/4 inch in thickness.
Diversitech MP4-E E.V.A. Anti-Vibration Pad is a 4″x4″x7/8″ mat that has a rating of 4.4 stars on Amazon, with 70% of 1997 votes giving it 5 stars.
It has helped solve issues from a rattling bed due to a passing train to insulating high-power washing machines and pool pumps. However, some buyers have noticed that whatever the mat is supporting needs to be heavy (about 200lbs, one mentioned) to properly absorb the vibration.
Click here to check the price >>
5. Stone or Pebble Pad
Pros:
Low cost option
Aesthetically pleasing
Great water drainage
Cons:
Needs a solid layer underneath
Pressure cracks
Can't bolt equipment into loose stones
Understandably, the cost of which rock type you choose as the pad depends on your own preference. Many pool owners have opted to use river pebble rock as their pad base.
Choosing stone as your pool equipment's base will give it a very neat and polished finish. And it will be a good substrate for water drainage when backwashing or for clearing rainfall water.
Again, to properly secure the equipment you'll need to have a solid under layer to bolt everything down to which may add to the setup cost. This could be pavers, concrete or bricks.
Over time, the vibration pressure of the pump and filter may cause cracks and stone breakages which will offset the stability of the equipment resulting in stress cracks and leakages.
6. Plastic Pad
Click here to check the price >>
Pros:
Low cost
No under layer needed
Anti-vibration
Water drainage
Cons:
Wear over time
May be vulnerable to UV and heat
The cost of a plastic pad over getting pavers and concrete most likely will be cheaper, depending on what pad you choose and where you live. Certain plastic pads are specifically designed to be self-leveling and drillable so you'll only need the pad to secure your equipment.
Although not primarily made for anti-vibration, some pool owners have noticed a considerable noise reduction after placing their equipment on plastic pads. And the ridged design created a perfect place for water to drain properly and reduce the chances of shifting or slipping.
Depending on the pool usage, the plastic pad may wear down a little quicker than other pads you may pick. It may also be vulnerable to high heat and prolonged UV exposure. This can be easily avoided by choosing one that is resistant to both.
Best Practices for Pool Pads
Getting the most out of your equipment relies on more than just what pad you choose and its maintenance. Implementing the following practices will ensure you get the most out of your pool experience.
Best Pool Pad Size
When picking where to place your pool equipment, you need to keep in mind the space it'll take and how close it is to the pool. As mentioned above, most equipment needs at least a 4'x4′ base.
That's the minimum. And that doesn't include having enough space on all sides to work on the equipment if needs be. It's better to have too large of a pad than too small.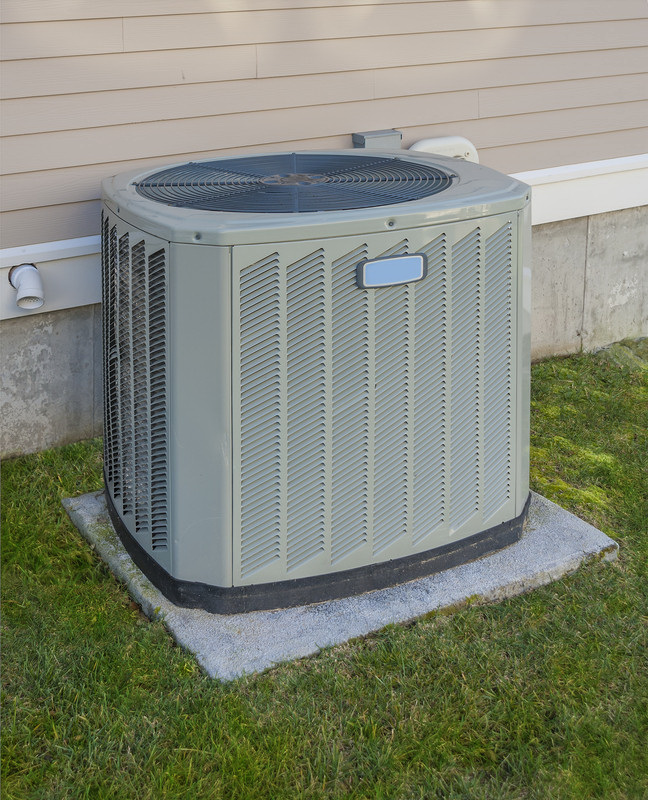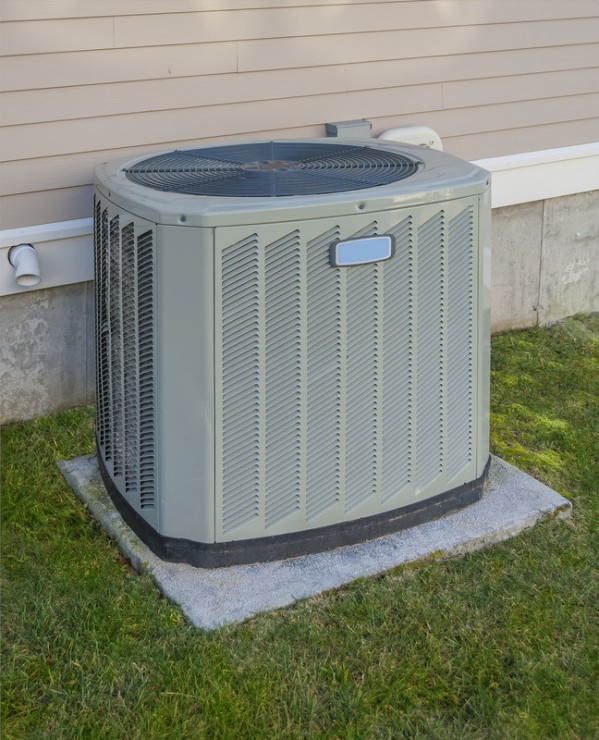 Pool Equipment Positioning
The positioning of each component of your equipment should go as follows: pumps on one side, the filter in the center, heater on the other side, and pipes from the pool coming up from the earth beside the pad.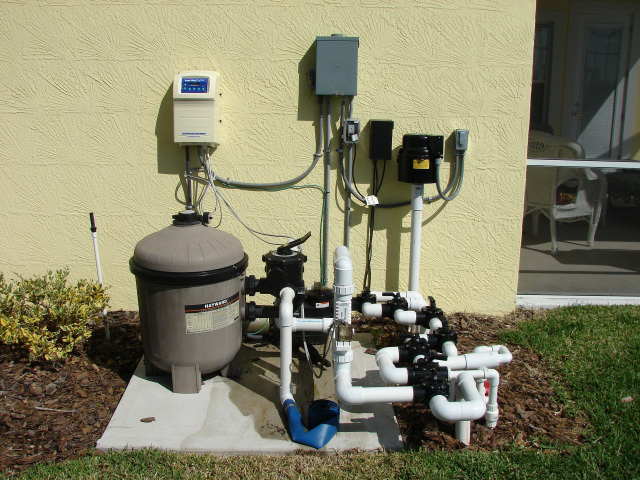 Pool Pad Location
Make sure that the pad you pick is raised above ground level. This helps reduce groundwater runoff interfering with the pool equipment.
Additionally, you'll need to pick a location that has a sturdy wall or post that you can secure the control panels. Or you'll need to build something to support this equipment.
When considering a location, keep in mind the noise the pool pump will make. If you locate the equipment near the house, choose the side of the house away from bedroom windows or main living spaces. It's best not to put equipment near windows too as windows allow more noise in.
Generally, the closer to the pool the better. You'll need a smaller pump and less in the way of pipes.
Electricity
The ease of access to electricity is one of the most important considerations to factor in when positioning your pool equipment. This is why most pool owners keep their pools close to the house.
Be mindful that you'll need at least one 125V GFCI outlet by your pool equipment although many automated systems have that built into their panels.
If you do need to install one, this Leviton GFCI outlet is rated 4.7 out of 2,945 reviews. It's the slimmest on the market and carries out regularly self-tests for a ground connection. However, some customers have found that screws were cheaply made and easily broke when securing the outlet.
Click here to check the price >>
You also may want an overhead light for any late-night maintenance that might need to be carried out.
The further away from an established electrical connection your pool equipment is, the bigger the cost it will be to get an electrician to create those important connections.
Ventilation and UV Protection
Having good airflow, particularly around your heater, is vital for an efficiently working pool system. Heaters take in huge amounts of air and need good airflow when blowing the hot air out of the exhaust, as is the case with gas heaters.
If you're considering including a heater in your equipment, find out everything you need to know here.
This airflow may not be an issue if your equipment is left exposed to the elements. However, in areas of hotter climates like Arizona, pool equipment will be exposed to high amounts of the sun. Over time, this UV exposure will wear through the PVC pipes of your equipment.
This is another reason why some owners decide to cover their equipment, along with aesthetic reasons too. Enclosing your pool equipment in 3-sided fencing or shrubs can help with reducing the noise coming from the equipment.
If your pool pump is still being too loud, there could be something sinister going on. Check out why your pump is noisy here.
If you choose to cover everything, make sure there's plenty of ventilation to aid the heater.
If you don't want to cover everything but want to protect the pipes, you can spray paint them to prevent discoloration and damage from UV.
Final Thoughts
Even though there's plenty of options to pick for your pool equipment's pad, the most common choice is a concrete slab pad despite the cost. It is the least likely of the bunch to crack and suffer wear and tear. And it's the easiest to mount equipment on.
But obviously, it is up to you what pad type you want and what practices to implement to get the most out your pool and its equipment.
Related Reading: How to Hide Pool Equipment in Your Yard