The kids have been begging you for a pool slide for several summers now. You want to be Superdad and make their summer, but if you're going to get a pool slide installed, you need to do it right. What pool depth is required for a slide?
If your swimming pool slide is designed for small kids, the depth of the water should be at least two feet (61 cm). Larger slides will require a more substantial pool depth between three and four feet (91 and 120 cm). Pool slides that don't slow the user down with twists or bends may need to be 10 or more feet (about 3m).
In this guide, we'll tell you everything you need to know about pool slides and related swimming pool depths. We'll even delve into whether pool slides are safe and what a slide costs, so make sure you keep reading!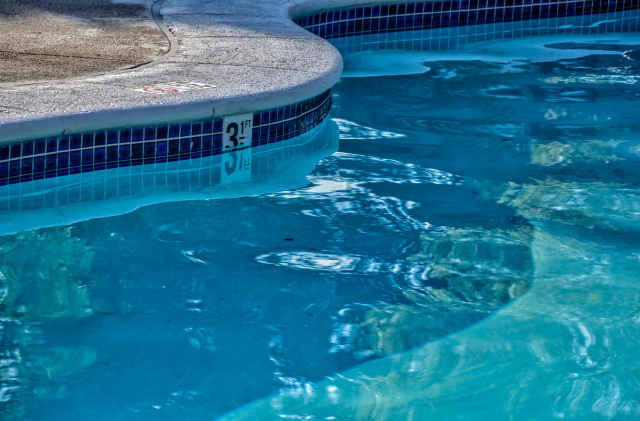 3 Manufacturers' Recommendations for Pool Depth for a Slide
Do you wish you could hear some recommendations on pool depth for a slide from the pros? There's no need to call for a consultation yet. We did some digging and found pool depth recommendations from three swimming pool brands, Allied Aquatics, In the Swim, and River Pools and Spas.
Let's see what they had to say.
Allied Aquatics
The Frisco, Texas swimming pool service and repair company Allied Aquatics says that before getting a pool slide installed, the water should be 42 and 54 inches (107 and 137 cm).
You'll also need plenty of space to the sides and the front of the slide's exit. This will require you to get the slide installed nearer the center of the pool so it's not too close to the pool walls. If the slide is near the shallow end, a kid who uses it can collide with the hard bottom of the pool or the walls.
This can lead to scrapes, bruises, and even broken bones, which will ruin your summertime fun in a jiffy!
In the Swim
Discount pool supplier In the Swim on their blog recommends a pool water depth of between 36 and 48 inches (91 and 122 cm) depending on the type of pool slide you choose.
It's important to know that all pool slide manufacturers will have different requirements. There must be the right amount of space around the slide and the water shouldn't be too deep or too shallow.
River Pools and Spas
Finally, there's the advice of River Pools and Spas in Warsaw, Virginia. They go into a lot of detail on pool depth depending on the type of slide you choose.
For instance, if you have young kids and you opt for a small pool slide and the space between the water and the slide's end is at least three inches (7.5 cm), then the pool water depth needs to be no more than two feet (61 cm).
A pool water depth of three feet is the minimum for larger slides with the people measuring 48" (122 cm) or more in height. Some experts call for a pool depth of three and a half feet (107 cm) and others even four feet (122 cm).
For slides that twist but have a level that brings the user to a slower stop, a water depth of three (91 cm) to four feet (122 cm) suffices. Slides that don't cause any deceleration should be in waters as deep as 11.5 feet (351 cm), says River Pools.
Factors Affecting Pool Depth for a Slide
When it comes to the ideal depth of water needed for a pool slide there are several factors that come into play.
Weight & height of the user
Height & Design Will Affect Pool Depth for a Slide
The first two factors, the height and design of the slide will largely determine a safe depth of the pool required. These two factors are related to each other.
A slide that is straight and high will mean the user will go faster and go deeper into the water. On the other hand, a slide that has bends or twists in it will slow the user down, which means they don't exit the slide as fast. A slide like this can exit into shallower water.
The higher the slide, the faster the rider will go. The water envelope, the area in which the slide user lands, will need to be wider, longer and deeper. As an interesting side note, an Olympic diving pool is at least 16.5 feet (5m) in depth. Your pool won't need to be that deep!
Most pool slide manufacturers will have recommendations for each model of slide they have. You should follow these in conjunction with any local laws and regulations.
How the Weight of the Rider Affects Pool Depth for a Slide
A small child will not sink as far and has less danger of hitting the bottom than an adult. However small children may be propelled further forward than an adult.
The water will need to be deep enough to accommodate the larger user though and therefore should be deeper.
Adequate space in front of the slide and to the sides also needs to be considered.
Perhaps you're tossing up between a jumping rock and a slide. Check out our article on jumping rocks here.
Are there Local Laws for Pool Depth for a Slide?
Most states will have laws and regulations regarding the depth of a pool required for a slide. The laws are not the same for each state and sometimes you may not even be able to find anything. These can however be quite tricky to find.
Where to Find the Ideal Pool Depth Information for a Slide
Firstly, all good slide manufacturers publish the recommended pool water depths and area you will need to install their slide. Often they will have a detailed drawing with measurements on it. Be aware that this information will be different for each model of slide.
In addition to this, you should check with your local state or council planning department. All states have building standards and codes. You may be able to find the information here, however that can be tricky as you'll find there are pages and pages of information.
An easier way than sifting through pages of regulations is to ask a local swimming pool contractor or builder. They should be able to advise you of the local laws in your area
How Much Does a Pool Slide Cost?
Hmm. You're glad to know what the pool water depth should be for your pool slide, but you still have more questions. Namely, how much is it going to cost to get a slide installed?
That depends on the type of slide you buy as well as how much work is required to install it. It can be anything from $100 for a blow up slide to $4000 for a permanent slide.
According to Houzz, you might pay up to $30,000 if you want a fancy pool slide that rivals the ones you'd see at your local water park.
Here is an article on our blog that showcases pool slides in a variety of styles and plenty of price points. Make sure you give it a read!
My Pool is Not Deep Enough, Can I Still Add A Slide?
When families are getting a swimming pool built, many will decide at that time if they want a pool slide. But what if your pool is already built and you've found it isn't deep enough for a slide? Can you still get a slide?
In most cases you will be able to have some sort of a slide. It may not be as grand as the waterpark you envisaged but it will be something.
For shallower pools, we recommend blow up or inflatable pool slides like these ones:
WOW Watersports Slide N Smile – Floating Pool Slide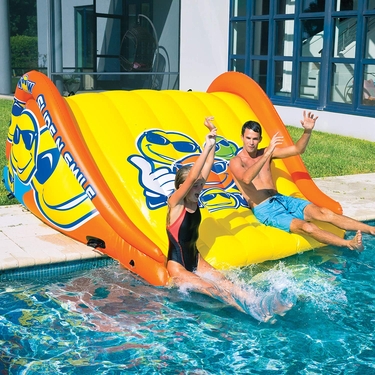 >> Click here to check the price and read more reviews.
If you don't have a deck or have an above ground pool, you could use a floating pool slide like this:
Intex Water Slide, Inflatable Play Center
>> Click here to check the price and read more reviews.
Are Pool Slides Dangerous?
Pool slides can be dangerous if they are not installed correctly or do not have the required pool depth and room around the slide. There are also other hazards to consider.
To prevent slips, falls, and injuries around your pool slide, you must establish some ground rules for the kids. Here's what we recommend.
The kids cannot use the pool slide unless mom or dad is outside with them. This way, if an injury occurs, you're already close by and can do something about it.
No running on the pool deck and especially not by the slide.
One person should use the pool slide at a time.
Use the slide the correct way. The kids should put their feet in front of them and sit up. They should not ride down the slide on their stomach, their back, or on a pool float.
Don't use the pool slide if other swimmers are in the way.
Don't roughhouse near the pool slide or the ladder.
What Is the Max Weight Limit for a Pool Slide?
Why do we recommend restricting the number of kids on the pool slide at once? Not only is doing so a safety concern, but pool slides have weight limits. It doesn't matter if that weight comes from one adult or four kids, it's not to be surpassed.
The average weight limit for a swimming pool slide is between 250 and 300 pounds (113 – 136kg), but it can vary depending on the slide. Larger, heavier-duty slides (the ones that usually cost $20,000 and up) might have equally heavy limits on weight while smaller slides could cut the rider's weight at under 250 pounds (113kg).
We always recommend reading the manufacturer's instructions for your own pool slide rather than assuming the weight limit. Make sure that you pose a good example for your kids too. Even if you want to try the pool slide, if you're outside of the weight limit, then you should refrain.
Final Thoughts
The water depth for a swimming pool slide should be at least three feet (91 cm), even four feet (122 cm), according to professional pool installers. High-end pool slides don't come cheap, but the years of memories and fun you can create with your family make them worth it.