Installation is simple. Below we'll tell you how to measure for your pool and how to install a cover yourself.
How to Measure Your Pool
Step 1
To measure your pool, simply measure the widest and longest edges.
For shaped pools, treat as rectangular
Step 2
Add 15cm to both measurements to obtain the minimum pool cover size needed.
e.g. If your measurements were 10 x 5m. Then you need a cover that is at least 10.15×5.15m in size.
Step 3
Order your cover. Use the size selector menu on the order page to select the closest size. Don't worry if the cover is larger than your pool
How to Install Your Pool Cover
Step 1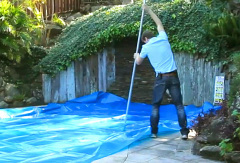 Lay the cover bubble side down on the water & smooth out with a pool broom.
Step 2

Cut the cover using the pool as a template with sharp scissors. Cut it a little big so the cover rises(curls) up the side of the pool by about 7-10cm.
Step 3
With the broom, smooth and push the cover up against the edge of the pool. If necessary, trim a little more off the cover so the cuts are straight and even.
You're done! Now you can enjoy warmer and cleaner pool water.
Recommended Products
These are affiliate links. If you use them, they cost you nothing extra. We make a small commission. You can read our disclosure here.
Photo Credits: Teaser Photo Attribution: By Michael Hicks