As you explore your swimming pool options, you'll undoubtedly come across what is referred to as plunge pools. You might have a lot of questions, such as what are plunge pools? Are they right for you?
A plunge pool is a small swimming pool with an average size of 10 x 22 feet and a depth of around 6 feet. They can be made from concrete, fiberglass or vinyl liner. They are designed for leisure and cooling off rather than swimming.
If you're still curious about plunge pools, we recommend you keep reading. In this ultimate guide, we'll tell you everything you need to know, from plunge pool size to their cost, maintenance, and more. You won't want to miss it!
What Is a Plunge Pool? How Big Are They?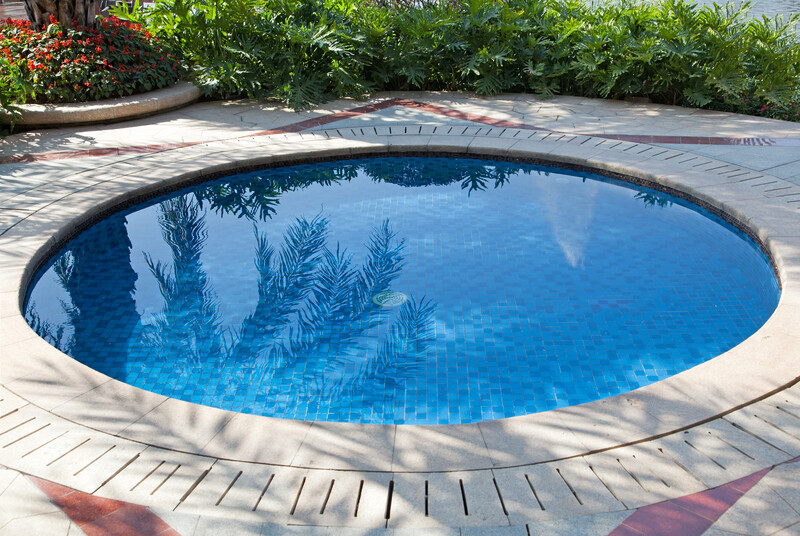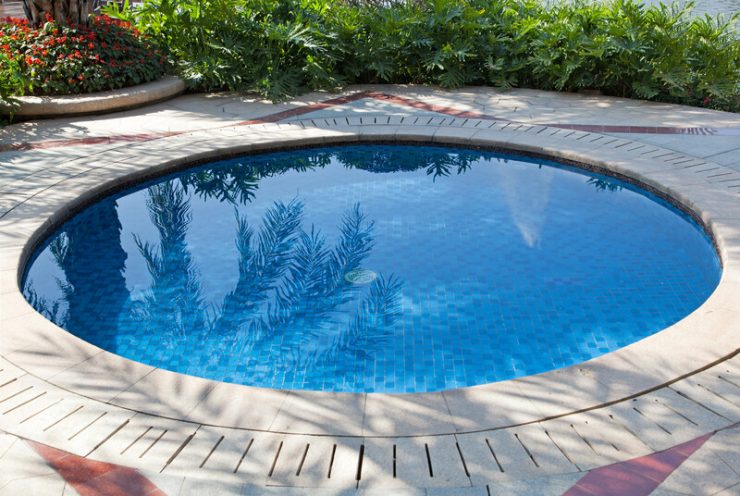 First, let's make sure you're clear on what a plunge pool is.
Plunge pools, which are sometimes called dipping pools, are small swimming pools a little like hot tubs but normally larger. The average width of a plunge pool is about 10 feet, and they might be 22 feet long or shorter. The pool's depth is usually no more than six feet. Although, you could have a plunge pool as small as 6.5 feet x 9 feet.
Compare that to the size of an average swimming lap pool, which is 30-50 feet long, and you can see where a plunge pool is quite a deal smaller. Still, the pool is not small enough that it's only meant for one person.
Some hot tubs can accommodate up to eight people at once, so you should certainly have room in your plunge pool for you, your spouse or partner, and however many kids you have. The quarters are closer than in a lap pool, but that only fosters a sense of family togetherness even more.
What Can You Do in a Plunge Pool?
These pools are an ideal spot for quickly jumping in and beating the heat on a scorching hot summer day. You can also relax and sit in the pool, chilling out and enjoying the beauty of summer.
Do you prefer to be more active in your swimming pool? No problem. Plunge pools are fantastic for low-impact aquatic exercises.
What's the Difference Between a Plunge Pool and a Swim Spa?
Swim spas usually come prefabricated, are smaller, and have swim jets installed, allowing the user to swim continuously in place. Plunge pools are larger than swim spas, can be concrete, fibreglass or vinyl liner construction, and are designed for leisure rather than actual swimming.
Now that you better understand plunge pools, let's delve into the differences between dipping pools (plunge pools) and swim spas.
Plunge Pools are Larger
As we illustrated in the last section, lap pools are a great deal bigger than plunge pools, about 20 feet in length versus 30-50 feet. Compared to swim spas, plunge pools are more comparably sized. A swim spa is anywhere from 11 to 19 feet long and about eight feet wide.
Plunge Pools Don't Have Jets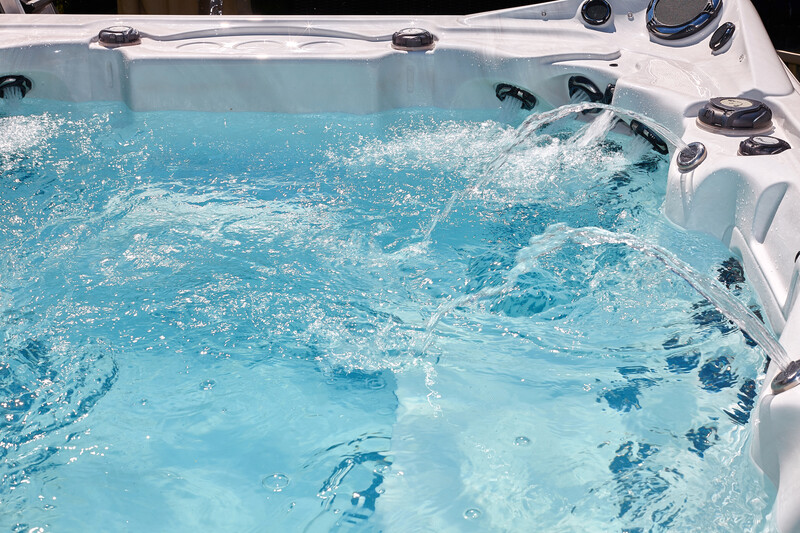 Swimming machines or swim spas use a motor to create a current. Users can then swim continuously whilst they're staying in one place.
That's not the case with a plunge pool, although some might argue that motorization for swimming in place might make plunge pools (dipping pools) more useful.
Plunge Pools are for Leisure
If you want to float, lounge, sit poolside or cool off, a plunge pool is for you. However, if you're looking to swim laps, then you'll need a swim spa. Or you'll need to get swim jets installed in your plunge pool.
Plunge pools are not usually designed for the serious swimmer, although they are often large enough for young kids to swim and have fun in.
What's the Difference Between a Plunge Pool and a Hot Tub?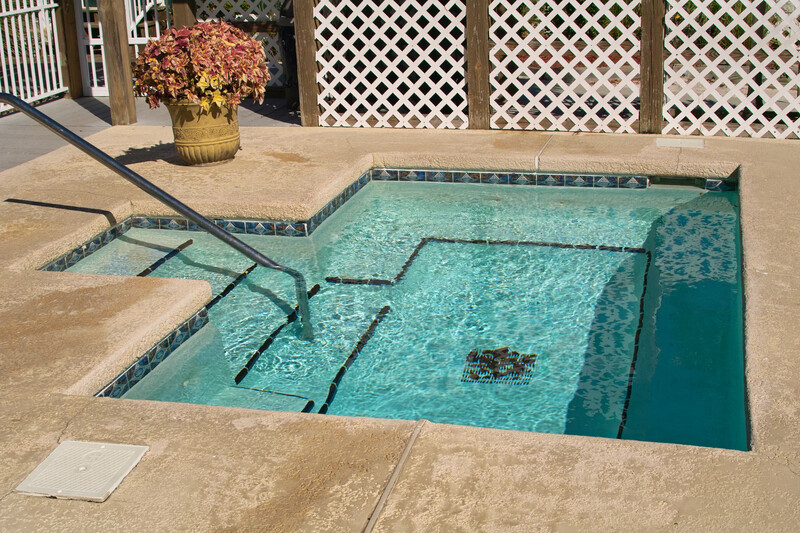 Although we've compared plunge pools to hot tubs, we want to be clear that the two are disparate. Here are some of the plunge pool differences:
Not heated as warm
Tend to be larger and deeper
No jets
Usually Inground
Plunge Pools aren't Heated as Warm
The main difference between them is temperature.
Hot tubs, as the name implies, are always kept at a customizable warm temperature. Plunge pools are generally not heated up the same as a hot tub as it would be very expensive for one thing. It wouldn't be very cooling either!
Plunge pools can be heated like a regular-sized swimming pool, but otherwise, the water temperature is dictated by the weather.
If you've had a stretch of very warm days, then being in the plunge pool might feel like bathwater. When the warm weather passes, the temperature of the water will cool down a bit.
Plunge Pools are Larger in Size
Plunge pools are usually larger than a hot tub and also deeper. Hot tubs are designed for minimal movement. Mostly sitting and relaxing. Since a plunge pool is larger, you can splash around a little more and duck under the water.
Plunge Pools Don't Have Jets
The other difference between hot tubs and plunge pools is the lack of jets in a plunge pool. Remember, a plunge pool is like a regular swimming pool but on a smaller scale. It has no massaging jets unless you pay extra for them.
Plunge Pools are Usually Installed Inground
Hot tubs are usually bought as one unit and sit on a deck or other surface. Plunge pools are usually inground. That is, a hole is dug in the yard and the pool is installed like a traditional pool.
Related Reading: Can a Plunge Pool Be Heated?
How Much Does It Cost For a Plunge Pool? (Concrete and Prefab Options)
If you're thinking of buying a plunge pool, you can't possibly decide until you review the prices of these pools.
| | |
| --- | --- |
| Type | Cost |
| Average Plunge Pool | $20,000 |
| Small Plunge Pool | $10,000 – $15,000 |
| Concrete Plunge Pool | $20,000 – $35,000 |
| Vinyl Lined Plunge Pool | $10,000 – $18,000 |
| Fibreglass Plunge Pool | $10,000 – $22,000 |
| Plunge Pool Heater | $1,600 – $3,600 |
Costs of Installing a Plunge or Dip Pool
According to 2021 prices courtesy of HomeAdvisor, a plunge pool costs anywhere from $10,000 to $50,000 with a national average of $20,000.
Concrete is among the more expensive materials. HomeAdvisor quotes the price of a concrete dipping pool as $20,000 to $35,000.
A vinyl-lined plunge pool costs only $10,000 to $18,000 while one made of fiberglass is arguably better quality at a similar cost of $10,000 to $22,000. Prefab swimming pools are often made of fiberglass with a singular shell, so you'd shave the costs of your plunge pool by going prefab.
Are Plunge Pools Cheaper Than Lap or Inground Pools?
Plunge pools are cheaper than traditional inground or lap pools. HomeGuide quotes the price of an in-ground pool at $28,000 to $55,000, but that price can vary depending on the pool material you choose.
For instance, a small 10×20 pool made of fiberglass will cost around $23,000 while a concrete pool of that size would be around $26,000.
| | |
| --- | --- |
| Type | Cost |
| Plunge Pool | $10,000 – $35,000 |
| Inground Pool | $28,000 – $50,000 |
Cost of Plunge Pool Vs Inground Pool
If you wanted a much larger pool, such as an 18×36, a fiberglass pool would set you back about $59,000, which is above HomeGuide's average. A concrete 18×36 pool would be far costlier at around $84,000.
Your budget for a plunge pool can be significantly smaller than for an inground pool, full size above ground pool or lap pool. Which homeowner doesn't love the idea of saving money?
Related Reading: How To Open An Inground Swimming Pool In 8 Steps
Where Can You Install a Plunge Pool?
For many homeowners, the idea of an above-ground or in-ground swimming pool is infeasible due to their yard size. One of the biggest perks of a plunge pool, by far, is its installation versatility.
If you have a small backyard, either due to its size or because it's filled with additions such as a grill or a children's playset, you can still find room in the yard for a plunge pool. Uniquely shaped or designed yards can usually squeeze in a plunge pool as well.
Can you install a plunge pool indoors?
If you have the space for it, a plunge pool can be built and installed inside a home. However, you must add a dehumidification or ventilation system as part of the installation, as this will prevent moisture damage from wrecking your interior. You'll pay an extra $20,000 to $30,000 for dehumidification, so make sure you budget accordingly!
Can You Swim in a Plunge Pool?
Adults and kids will be able to use a plunge pool for swimming if there are swim jets installed. Even with swim jets, usually, only one person will be able to comfortably swim. Without swim jets, a plunge pool will be too small for swimming laps. Smaller kids will be able to swim a little.
It's no secret by now that plunge pools don't afford users a lot of room, especially with multiple people in the pool. With limited length, it will be difficult for a swimmer to do laps or to do any significant swimming.
If you're interested in doing laps in your pool, installing swim jets or purchasing a swim spa specifically designed for swimming might be the go. You'll be able to swim in place, so you can log the swimming miles even if you're not achieving the distance.
Smaller kids will likely find plunge pools just as fun to swim in as a full-size pool. They'll be able to swim to the bottom and across the pool.
On the whole, plunge pools are more aimed at relaxation rather than swimming laps.
Plunge Pool Heating Options
We established earlier that you can heat a plunge pool should you want to. Heating will greatly extend your pool season. Although if you live in a cold area that gets snow, you'd still likely have to shut down your pool ahead of the winter.
So how do you heat your plunge pool? Let's explore your options.
Solar
Gas
Electric
Heat Pump
The options for heating a plunge pool are the same as a regular pool.
Probably the best option out of these is a heat pump. Given that plunge pools are smaller, you'll find it's cheaper to heat and that it also heats up much faster than a full-size pool.
Related Reading: Pool Heating Cost
The Pros and Cons of Plunge Pools
We're sure you're closer than ever to make up your mind about whether a plunge pool is right for you. This section of pros and cons will help in your decision.
Pros
If you've always assumed that a pool was too expensive for you, you might find that plunge pools offer the perfect balance of budget and size. Plunge pools might cost less than $20,000, if yours is vinyl. An average full-size pool starts at $28,000 but can quickly get much more expensive depending on the material you select, as we reviewed earlier.
The appeal of plunge pools is undeniable. Since you're saving so much money on the cost of your pool compared to a full-size pool, you might spring for a nice pool deck, gorgeous landscaping, or even LED lighting in your pool, so it's even more stunning.
We'll talk more about plunge pool maintenance in the next two sections of this guide, but you'll be pleased to hear that it's not as intensive as maintaining a full-size swimming pool is. The reason? There's simply less to a plunge pool, which means less time spent on maintenance. With that extra time, perhaps you'll take a dip in your new plunge pool!
We also quite like the range of installation options afforded to you with a dipping pool. You can get an in-ground or above-ground plunge pool, not to mention one of these pools would look great inside your home.
Cons
It's Not for Swimming or Volleyball
If you've always wanted your own swimming pool for lounging, tanning, and floating, then a plunge pool is an ideal solution. However, if you're the active type who loves diving, swimming, and playing pool volleyball, you're better off budgeting for a full-size swimming pool. These activities are not conducive to the small size of a plunge pool.
The depth of plunge pools is often less than a full-size pool. Often it may only be 6 feet or so. You'll have to remind your guests, especially the kids, that they cannot dive into your plunge pool. It's just not safe.
If you always envisioned yourself throwing awesome pool parties that are the talk of the neighborhood, a plunge pool is not for you. You can't stuff a dozen or more people into one of these pools without it feeling claustrophobic.
What Maintenance Is Needed for a Plunge Pool?
Do you have swimming pool or hot tub maintenance experience? Then you'll find adjusting to your plunge pool maintenance schedule will be a lot easier. Maintenance is much less compared to managing a full-size pool, and perhaps a little more than a hot tub. As we said earlier, though, there's less to a dipping pool, so that makes maintenance faster.
Here are the tasks you'll have to commit to if you want your plunge pool to stay clean.
Skimming
Leaves, insects, dirt, and other debris can still land on the surface of your dipping pool, although since it's smaller than a traditional pool, you'll find it takes a lot less time. A large skimmer on a long pole is extraneous for a plunge pool. Instead, we recommend a handheld skimmer that's also usable in hot tubs and spas.
Vacuuming
When debris sinks to the bottom of your plunge pool, you can't use a hand skimmer anymore. Instead, it's time to plug in your pool vacuum.
You could use a full-sized pool vacuum but you might find it easier with something smaller. Try the Intex 28230EP handheld rechargeable spa and pool vacuum. The handheld vacuum features a telescopic shaft that's 94 inches long for reaching all the tough corners of your plunge pool.
Pool Chemistry Testing
Few pool owners enjoy lugging around giant jugs of chlorine. Plunge pools have a much smaller volume of water in them, so you'll need far less chlorine. When you'll chlorinate the pool is dictated by your pool chemistry, which you still must every few days.
The Pool Master is a favorite pool chemistry set of pool owners everywhere. You can use the test to determine your plunge pool's total alkalinity, acid demand, pH levels, bromine, and chlorine.
Cleaning
Then there's all the general work your plunge pool requires, such as cleaning the liner or pool surface, and the external heating system components. You might only have to do this once or twice per season, especially if you cover your plunge pool when it's not in use.
How Much Does It Cost to Maintain a Plunge Pool?
Maintaining a full-size swimming pool requires a lot of time and hard work, but it doesn't have to break the bank. According to 2021 costs from HomeAdvisor, the average pool owner will spend between $109 and $347 per season to maintain their pool.
Since your plunge pool is smaller than average, you can slash those costs even further.
Conclusion
Plunge pools, aka dipping pools, are similar to hot tubs in size and are a great relaxation destination. They're perfect if you like splashing around and not training for the 200m olympic freestyle.
The installation flexibility, low costs, and simple maintenance make plunge pools a viable option for many homeowners. We hope this guide helped you decide whether to own a plunge pool!