No swimming pool is complete without decking out your swimming pool outdoor living area with outdoor furniture. Here you'll find the latest outdoor furniture from Luxo Living. We've put together our top picks to ensure your pool really is an oasis this summer.
From sun lounges to resort-style daybeds, outdoor furniture means you'll love spending time by your swimming pool when you're not in it. All your time on pool maintenance will be rewarded when you're stretching out on a comfy outdoor sunbed on your swimming pool deck to enjoy your hard work.
Daybeds
The Rolls Royce of pool deck furniture is your own daybed. With these daybeds, you'll feel like it's holidays at home every day – after you've cleaned the pool of course.
So here are our top three daybeds to furnish your pool deck and provide you with hours of lounging enjoyment.
Saetia 5 piece Wicker Daybed with Coffee Table
The foldable sunshade lends itself to resort living and we think it's a great feature.
Due to its generous size, we recommended this daybed for a larger pool deck space.
Modern and sleek in design, it's big enough for the whole family. But here's hoping everyone else will be splashing in the pool, leaving you to stretch out and nap.
Click here to purchase your wicker daybed and coffee table set.
Saona Daybed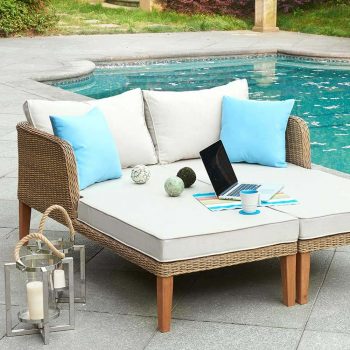 This day bed oozes charm and wouldn't be out of place in a country estate pool. But since most of us don't live in country estates, it would be just at home in a quaint backyard swimming pool.
Click here to buy this country-style daybed.
Chatsworth Daybed
Competitively priced for an affordable daybed. Made from attractive Eucalyptus hardwood which is environmentally friendly and sustainable. A big thumbs up from us.
More lounge-like than daybed but it does convert down into a day bed so you have the best of both worlds.
This daybed would be right at home in a tropical outdoor pool space.
Click here to get your tropical-inspired daybed.
Sun Lounges
Of course you need sun lounges! What pool is complete without them? So here are our top 3 sun lounges.
Martinique Sun Lounge
Bring the tropics to your backyard with this sunbed. Like the Chatsworth daybed above, this sun lounge is made from Eucalyptus hardwood. Environmentally friendly and sustainable.
With padded cushioned comfort, lounging is effortless, not to mention that a black cushion is easier to keep clean than lighter colours.
Click here to buy your timber sun lounge.
Boracay Wicker Sunbed
Relaxing poolside couldn't be easier with this sunbed. Made from durable PE Wicker (Polyurethane) this sun lounge would suit any style of pool.
Click here to buy your wicker sunbed.
This sunbed also comes in a package including two sunbeds and a coffee table here.
Click here to purchase this wicker set with two sunbeds and a coffee table.
Palawan Wicker Sunbeds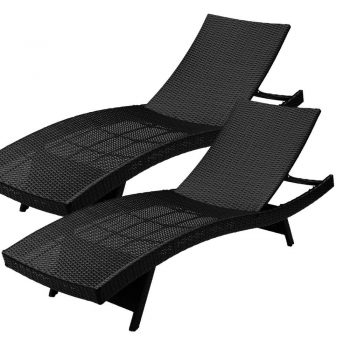 Simple and stylish, these sun lounges are perfect for throwing a towel on and stretching out. Their minimalist design makes them easily adaptable to many pool design styles.
Click here to buy this Sunbed set.
While comfortable on their own, you can also add a cushioned pad.
Click here to get a cushioned pad.
Deck Chair Set
Cape Cod Adirondack Timber Chairs and Side Table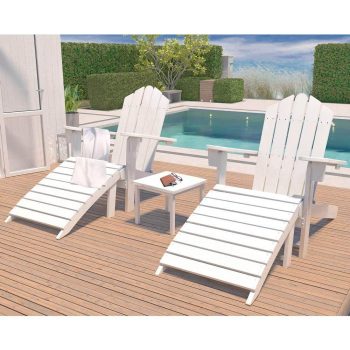 Pack a punch with this stylish set. Watch the sunset with a drink in hand while the kids finally tire themselves out after a day of swimming pool fun.
These chairs fold away so you can bring out extras for guests or pack them away in winter. But because they look so good, you probably won't want to.
Click here to buy this Timber Chairs and Side Table set.
Poolside Bar
Riviera Wicker Bar
If you love to entertain and pool parties are a feature of your social calendar, a poolside bar is a must.
With seating for 8, guests will have somewhere to relax and socialise when they're not enjoying a dip in the pool.
We can just see this bar lit up at night with outdoor lighting reflecting off the pool and just enjoying time with friends.
Click here to get your own poolside bar.
Waterproof Outdoor LED Ball Lights
Complete that pool party vibe with outdoor LED balls that float in your pool! They have 10 hours charge time and you can control your colour selection by remote control.
They come in different sizes starting at 20cm up to 60cm.
Click here to purchase your outdoor LED ball!
Outdoor Lounge
Velo Outdoor Sofa and Coffee Table
Do you have a corner of the pool outdoor area that would be perfect for a corner lounge?
This Palm Springs style outdoor modular sofa adds glamour while being a practical addition to your pool deck.
Click here to buy your Palm Springs inspired outdoor sofa.
Something for Everyone
Outdoor living couldn't be easier with these pool deck furniture finds. There is something here for every pool. We hope we've given you some inspiration to furnish your swimming pool outdoor living area this season.