So you're considering a new timer for your pool pump. Should you get a mechanical or digital pool timer?
Mechanical pool timers are best for pool owners that only need to switch their pool pump on and off at the same time each day. Digital pool timers are best for pool owners to remotely turn their pumps on and off and have a variety of custom switching programs.
To decide on which pool timer might be for you, it's important to first understand how pool timers work, what pool timers are, in general, are and for us to then analyze the two types in detail.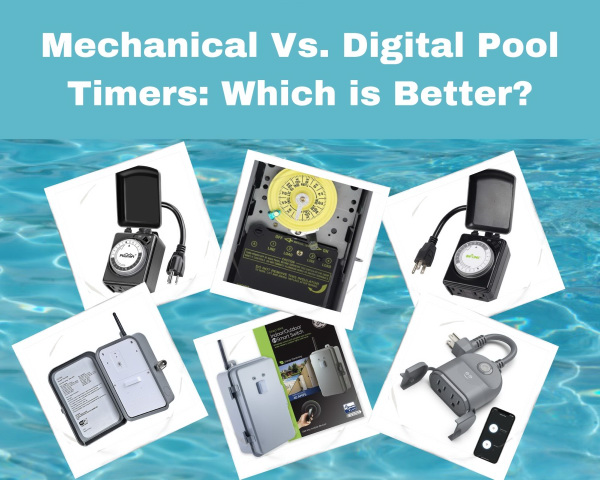 How Do Pool Timers Work
You can think of pool timers as the middle-man between your pump and the electrical socket since it connects the pump to the timer (which then connects to the socket) instead of directly to the socket.
Pool timers keep your pool clean and sanitized by controlling the pump to turn on and off at a preset time.
Why Would You Get a Pool Timer
Though you may think pool timers take on quite a small role, they're beneficial on multiple fronts:
They automate turning the pump on and off, thus saving you lots of time and effort
They keep your pool clean if you're away by automatically turning the pump (and filter) on at certain times. As humans, we can be forgetful and this isn't good for the cleanliness of your pool.
They will save you significant money since it will only keep your pump on for the necessary amount of time, no more, no less
Maintaining your pool pump, which, along with the filter, helps keep your pool clean, can be a time-consuming and costly process (in fact, depending on where you live, running the pool pump can cost $2.05 per day or nearly a thousand dollars per year).
To prevent sacrificing your wallet for your pool, you should consider using a pool timer, which automates the pump by turning it on and off at a set time, thus reducing your energy bill and extending the lifespan of your pump and filter, all while keeping your pool clean.
However, there are several types of pool timers, each with its pros and cons. Let's take a closer look at them today to see which might best fit your pool's needs.
What Are Mechanical Pool Timers?
Mechanical pool timers are exactly that, mechanical. Think of a mechanical wristwatch, which is usually full of gears, that will run forever. As opposed to digital, which contains electronic components and very few moving parts.
For mechanical timers to work, all you have to do is set the dial, and adjust the on/off tabs to either turn the pump on or off. The exact way you set your timer depends on the specific timer model.
Mechanical timers are far simpler to operate and tend to have fewer features. They're also not as versatile as a digital timer.
Here are a few popular mechanical pool timers on the market:
BN-LINK Compact Outdoor Mechanical 24 Hour Programmable Dual Outlet Timer
Intermatic T104R 208-277-Volt DPST 24 Hour Mechanical Time Switch w/Outdoor Case
Plusmart 24 Hour Outdoor Lights Timer Waterproof, Programmable Mechanical Timer
What Are Digital Pool Timers?
Digital pool timers are pretty much the opposite of their mechanical counterparts. Instead of those delicate gears, digital pool timers are nowadays fitted with functions such as Bluetooth and smart home technology.
As such, they often offer a wide range of functions that can even allow you to control multiple areas of your home using your phone from halfway across the world.
Of course, with high functionality, there usually comes a heftier price tag and difficulty in fixing if an issue does occur. They're also more complex to set up and operate.
Here are some popular digital pool timers currently on the market:
Model
Price
Pros
Cons
GE Z-Wave Plus 40-Amp Indoor/Outdoor Metal Box Smart Switch
$150 – $200
– Metal enclosure with a lockable door ensures weather resistance

– LED lights allow easy monitoring of the device

– Wireless control of timer using Alexa
– Z-Wave signal is sometimes weak

– Wireless functionality requires close proximity with the device
Geeni Outdoor Duo Wi-Fi Smart Plug
Under $50
– Controls a variety of devices, such as lighting and sprinkler systems, along with your pump

– Wireless control anywhere around the world
– Connectivity problems may occasionally occur

– Both outlets cannot be turned off simultaneously
DEWENWILS Outdoor Smart Wi-Fi Outlet Box
$50 – $100
– High power load (up to 2 HP) making it ideal for heavy-duty machinery including pumps, water heaters, and fountains

– Wireless control over Wi-Fi

– Several sensor modes to choose from
– Connectivity problems may occasionally occur

– Small wiring terminals

– It is dependent on the phone app, which is not very user friendly
GE Z-Wave Plus 40-Amp Indoor/Outdoor Metal Box Smart Switch
Geeni Outdoor Duo Wi-Fi Smart Plug
DEWENWILS Outdoor Smart Wi-Fi Outlet Box
Mechanical Vs. Digital Pool Timers
Now that we've looked at mechanical and digital pool timers individually, we can compare them side by side and see the advantages of each. You can then see which type may apply to your situation best.
Both mechanical and digital pool timers have features unique to them. Overall, mechanical timers are cheaper, easier to use, and resistant to power surges, while digital timers have many more features. Which one you choose will depend on both the situation of your pool and your personal preference.
Here's a table summarizing the differences between the two timers.
Type
Pros
Cons
Cost
Mechanical Timer
– Simple to use

– Easy to install

– Long-lasting

– Relatively inexpensive

– Easy to repair
– Simple programming only

– Can't control remotely
– $15-$150

– You can buy a very good timer for around $100
Digital Timer
– Wide variety of customizable programs

– Can control remotely

– Can automate other parts of the home
– Can't repair

– More expensive

– More difficult to program
– $20-$300
Advantages of Mechanical Pool Timers
Longer Lasting
Mechanical pool timers might be old-fashioned, but they're very durable and can last for at least 5-10 years, if not longer, depending on the model.
And if you go for a known brand like Intermatic, there are spare parts available and it's quite easy to fix these timers.
Easier to Use
Mechanical pool timers are often easier to use due to their traditional design. Because they often don't have as many functions as their digital counterparts, mechanical pool timers are easier to set up and use, as there aren't as many parts to manage.
For example, while a digital pool timer might have several timers such as a random timer, a digital timer, days of the week, and a countdown timer, each with various on/off tabs, a mechanical pool timer might only have one on/off the tab.
Ease of Installation
Because mechanical pool timers typically have fewer features than their digital counterparts, they are usually easier to install. In most cases, you can simply plug the timer into the outlet on one end, and the pump on the other.
Digital pool timers, on the other hand, tend to be slightly more difficult to set up due to their plethora of features.
Dimensions of the Timers
Mechanical pool timers are often smaller than their digital counterparts. Because they have fewer features, mechanical pool timers usually don't have as much circuitry as digital pool timers, thus allowing them to be more compact.
Cost of the Timers
You'll usually pay less for a mechanical pool timer Vs the digital counterpart. Of course, you probably don't wish to spend a fortune on a pool timer since you're goal of having one is to save money in the first place, hence a mechanical pool timer should always be an option for you to at least consider.
Advantages of Digital Pool Timers
Many More Features
Of course, the number one reason you would probably choose a digital pool timer is its large variety of features. From being able to be controlled wirelessly around the world to being able to use them to control several appliances at home, digital pool timers are no doubt the winner when it comes to features.
More Customizability
Because digital pool timers have more features, they usually also provide more customization options than their mechanical counterparts.
For example, a digital pool timer might allow you to set your on/off time to multiple times a day, with the flexibility to change them at any time and from anywhere.
They may also allow you to run the timer for longer or shorter periods on certain days.
This, in turn, gives you much more control over your pool timer and pump than what you'd get from a mechanical pool timer.
Should You Buy a Mechanical or Digital Pool Timer?
Now that we've taken a more in-depth look at the differences between mechanical and digital pool timers, it's up to you to decide which fits your situation best and which features you prioritize over.
If you're tight on budget, prefer simplicity over features, and will only use the pool timer for your pump, then a mechanical pool timer might be best for you.
If you think there might be situations where you'll need the pool timer for things beyond your pool or if you're planning on traveling somewhere and would like to control your pool remotely, a digital pool timer is a way to go.
Final Thoughts
I hope you've been able to take away a basic understanding of the differences between mechanical and digital pool timers. As I've stated already, this article isn't meant to tell you which option is better, only to provide you with the information needed for you to make that decision yourself. You just have to keep your priorities straight.