When it comes to affordable and quality pools, Intex Easy Set Pools have been trusted by customers for years.
So if you've decided the garden hose won't cut it for another summer and a portable above ground pool is the way to go, then this detailed Intex Pool buyer's guide will save you a lot of time.
We've compiled Intex Easy Set pool reviews and listed the common and frequently asked questions to save you searching all over the internet.
What are Intex Easy Set Pools?
Intex is a leading brand in pools that have been around for over 50 years. They offer durable pools for an affordable price. And as they are above ground pools, they don't require any professional installation or construction crews for them to be set up.
There are numerous different types of Intex pools to choose from and they include Ultra XTR Frame, Prism Frame, and Metal Frame. These are generally the larger, more permanent options.
Intex Easy Set pools, the focus of this article, are low cost and the easiest of these pools to install, which is why they are so popular. Additionally, because they are portable they can be easily packed away at the end of the summer.
Typically, Intex Easy Set pools cost less than $500.
You should know that these pools often do not come with the same extras as other pools do such as a ladder, pool cover, or ground cloth. Only some will come with a pump and filter and other accessories.
What Sizes Do Easy Set Pools Come In?
The first thing to address here is the common Intex pool sizes that you can choose from. Intex Easy Set Pools are all round in shape. And the diameter and depths they come in are: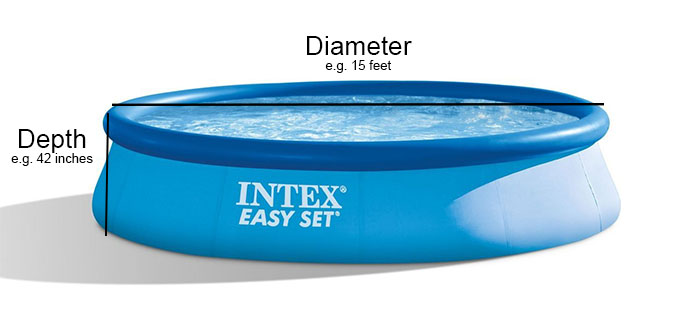 6ft X 20in
8ft X 30in
10ft X 30in
12ft X 30in
13ft X 33in
15ft X 33in
15ft X 42in
15ft X 48in
18ft X 48in
Which is the Best Intex Easy Set Pool?
The Easy Set pool you choose is completely dependent on what you want and what your needs are. Firstly, you have to consider the size of your yard, and where you're going to locate your pool.
You also need to consider how many people will use the pool at once. And make sure that swimmers have enough space to enjoy the pool, rather than being crammed in.
Then the depth of the pool you choose will depend on who will be using it. For example, toddlers aged between 1 and 3 are on average, 20-24" in height. So you might consider the 6ft X 20in model for them – you'll be able to sit in the pool whilst supervising your child. And because the pool doesn't fill to the top, 2-year-olds will be able to stand.
Adults will be able to kneel in the 30" and 33" deep models whilst keeping their head above water. And if you're planning on swimming, pools that are 42" and 48" deep are the way to go.
2021 Summary of Intex Easy Set Pool Reviews (by Real Buyers)
In this section we've checked out hundreds of Intex pool reviews and summarised what people love about Intex Easy Set pools and the common concerns real customers have.
What Customers Love
Easy setup. Really. There are hundreds of reviews that state the pool is easy to set up. With many comments from women who have single-handedly set up these pools with ease (not that women shouldn't be able to do this).

It's a low-cost solution that the kids and adults love to use. Many have reported that although their Easy Set Pool only lasts 1-3 seasons, they're happy to replace it because they love it and the purchase cost is so low.

Being able to cool off in the hot summer weather. Kids will have a blast and can spend many hours swimming and keeping busy while leaving parents to relax.
Common Customer Concerns
It's possible the pool may get a small leak at some point. This is something that can be fixed with the patch kit that normally comes with Easy Set Pools.

Some buyers also reported that their pool was defective on arrival and leaked. This was a very small percentage of the thousands and thousands of reviews (less than 1%).

You'll also see some images and complaints showing Easy Set pools that are lopsided or not sitting straight. This is down to user error rather than a fault of the pool. The ground must be 100% level before installing an Easy Set pool.
2021 Intex Easy Set Pool Models Table
| | | | | | | | | | |
| --- | --- | --- | --- | --- | --- | --- | --- | --- | --- |
| Feature | 6ft X 20in | 8ft X 30in | 10ft x 30in | 12ft x 30in | 13ft x 33in | 15ft x 33in | 15ft x 42in | 15ft x 48in | 18ft x 48in |
| Image | | | | | | | | | |
| Diameter | 6 ft / 1.8 m | 8 ft / 2.4 m | 10ft / 3.1 m | 12ft / 3.7 m | 13ft / 4.9 m | 15ft / 4.6 m | 15ft / 4.6 m | 15ft / 4.6 m | 18ft / 5.5 m |
| Depth | 20″ / 50 cm | 30″ / 76 cm | 30″ / 76 cm | 30″ / 76 cm | 33″ / 84 cm | 33″ / 84 cm | 42″ / 107 cm | 48″ / 122 cm | 48″ / 122 cm |
| Water Capacity | 232 gal / 878 l | 639 gal / 2,419 l | 1,018 gal / 3,854 l | 1,485 gal / 5,621 l | 1,926 gal / 7,291 l | 2,587 gal / 9,793 l | 3,736 gal / 14142 l | 3,736 gal / 14,142 l | 5,455 gal / 20,649 l |
| Pump & Filter | No | Yes | No | Yes | Yes | Yes | Yes | Yes | Yes |
| Other Included Accessories | None | None | None | None | None | Pool Cover | Pool ladder, ground cloth, debris cover | Ladder, Ground Cloth, Pool Cover | Ladder, Ground Cloth, Pool Cover |
| Drain Plug | Yes | Yes | Yes | Yes | Yes | Yes | Yes | Yes | Yes |
| Number of People (it can fit) | 2 to 4 | 2 to 4 | 3 to 4 | 4 to 5 | 5 or more | 7 to 9 | 7 to 9 | 7 to 9 | At least 10 |
| Price | Check | Check | Check | Check | Check | Check | Check | Check | Check |
2021 Intex Easy Set Pool Reviews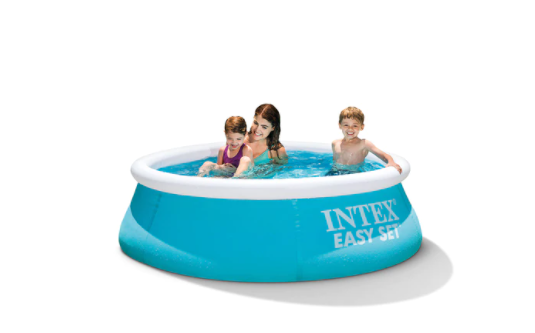 The smallest of the Easy Set pool range coming in at 6 feet in diameter and 20 inches deep. Setting up this one by yourself is easily achievable.
This pool is great for toddlers and small kids. For a 6-year-old, the water will be roughly knee height to waist height.
While this blow up pool is easy to set up and an affordable option, it's better for paddling and lounging rather than swimming.
>> Click here to check the price and read more reviews.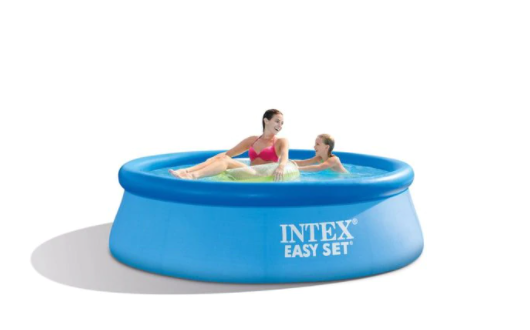 This is the second smallest model in the Intex Easy Set range. Being smaller it makes it very affordable, cheap to fill up and it takes up only a small space in the yard. Again, with this being on the smaller size, set up with one person is easily doable.
This model is perfect for younger kids. They will need help, or a ladder getting in and out. A four-year-old that's 37" (94 cm) tall will be able to stand with the water coming up to around their neck or chin.
For an adult, you can expect the water to come up to your neck whilst sitting (if you're tall – 6' / 183 cm or so). That makes it great for watching the kids and cooling off at the same time.
>> Click here to check the price and read more reviews.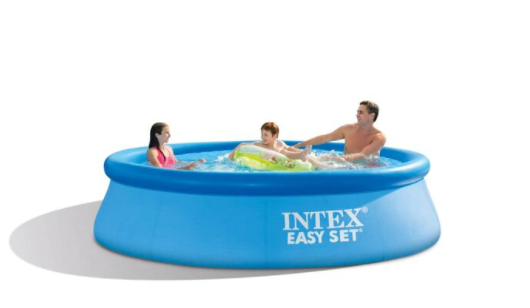 This is the second largest (diameter) in the 30" (76 cm) deep range. Smaller kids will likely need a ladder or step to assist them in getting in and out of the pool.
You'll find this is like a "real pool" for 5 and 6-year-old kids because they'll be able to swim. It will be great for splashing in for elementary school-age children. And it's more of a wading pool for adults. Adults will still be able to keep cool sitting and lounging though.
One buyer reported that their 5 and 6-year-olds loved this size pool and spent over 4 hours a day in it, only taking breaks to eat!
Five or more kids could splash around comfortably in this one.
>> Click here to check the price and read more reviews.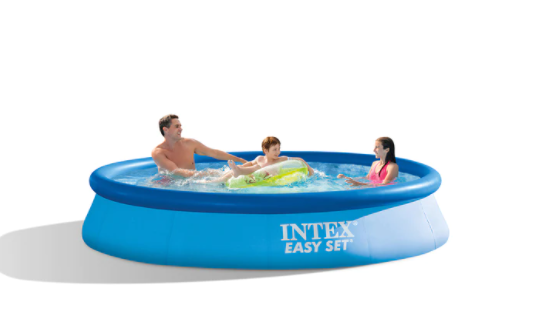 Although this is only 30" (76 cm) deep, smaller kids will either need a ladder or Mom or Dad to lift them into the pool.
It's deep enough for five to seven year olds to swim around and snorkel in.
Being 12' (3.7 m) in diameter, this model is definitely big enough for a couple of adults to lie around on inflatable pool floats. You could comfortably have 4-5 adults sitting in this portable pool.
>> Click here to check the price and read more reviews.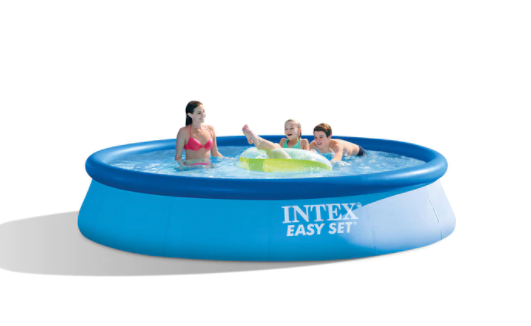 The 13ft x 33in model is only slightly bigger in diameter than the 12ft x 30" model. As with all Easy Set Pools, you won't be able to fill it up to the brim. You'll find you can only fill it within 6" (15 cm) of the top.
Kids will be able to enjoy some swimming, but for adults, this above ground pool is best used as a relaxing way to cool off and paddle around in. Five or more adults will fit in this pool and it's large enough to have a pool lounge or float.
If you have kids, or are on the shorter side, you'll need a pool ladder or step to get in and out.
>> Click here to check the price and read more reviews.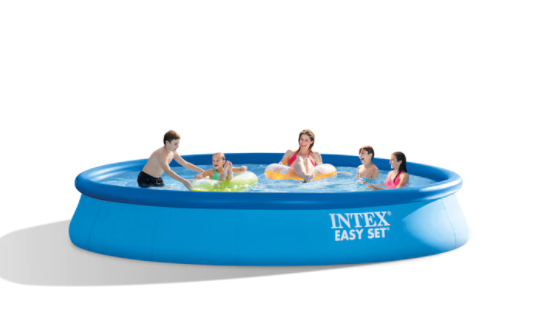 Now we're getting into the largest diameter of the Easy Set Models. At 15' (4.6 m) in diameter, expect to get 5-7 adults in this one or 10 kids!
Coming in at 33" (84 cm) deep, it's best suited for splashing and cooling off for older kids and adults. Younger kids, under 8, will be able to swim and snorkel.
Tall adults and teenagers will be able to step in and out of this pool without a ladder. However, smaller kids and adults will definitely need a ladder or a step.
>> Click here to check the price and read more reviews.
Being a huge 15' (4.6 m) in diameter and 42" (107 cm) deep, you will find it infinitely easiest to set up this inflatable pool with two people.
You can get 5-7 adults in this pool or many kids (9 or more!). And there's enough room to use pool floats, pool lounges and to splash around.
For a 6' (183 cm) tall person, you can expect the water line to come up to your waist or a little higher. And an average height nine-year-olds should be able to stand in this pool.
Due to it's generous size, a pool ladder is essential for getting in and out of this inflatable pool.
>> Click here to check the price and read more reviews.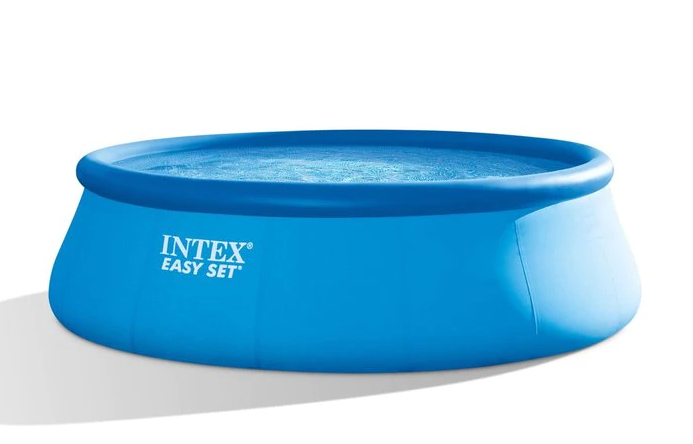 This is the second biggest pool in the Easy Set range. It's the deepest of the 15ft (4.6 m) diameter range. So a pool ladder will be necessary to get in and out. It will also be much easier to set up with two people.
Adults and kids will love splashing around in this one. Although it is big, a serious adult lap swimmer will need a larger pool. Kids will be able to easily swim around and have a blast using inflatable pool floats and pool toys.
Since this is a large pool, you'll need to make sure you keep the water balanced by adding the proper chemicals. And make sure you use the filter pump too and clean under the ring every week to help prevent algae.
>> Click here to check the price and read more reviews.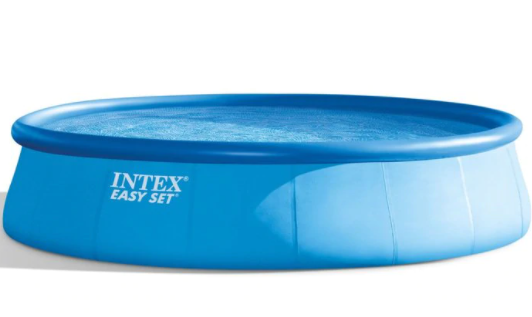 The pool is huge and the biggest in the Easy Set range! It's the deepest and largest in diameter. Although you could set this up with one person, it will be much easier with a helper or two.
It's large enough to get at least 10 people in it – probably more. One buyer reported they had 11 grandkids in their pool.
You'll need an above ground pool ladder to get in and out of this one.
And with a pool this size, you'll need to know how to look after it. Keeping it balanced will prevent algae or cloudy pool water.
The pumps that usually come with this model haven't got a fast enough flow rate so it is beneficial to upgrade to a better pump which circulates the water faster.
>> Click here to check the price and read more reviews.
How Long Do Intex Easy Set Pools Last?
Easy set pools typically last 1-3 years. Many buyers report that they get 3 years or three summers before their pool needs replacing.
There are however some cases where the pool has only lasted a few months. These instances are not very common – less than 1% of online reviewers mentioned this. In addition, this is sometimes down to the way the pool was used or looked after.
To maximise the lifespan of your Intex Easy Set pool you can do the following:
During setup, put something underneath the pool like old carpet, an above ground pool ground cloth, a tarp or foam tiles. You don't want anything sharp poking it or the bottom of the pool rubbing on the ground underneath.

Keep animals, such as dogs, out of the pool. Their sharp claws could tear the plastic.

Choose to locate your pool away from trees. They could potentially drop sticks and pierce the pool. Plus it will be far easier to keep clean.

Pack the pool away after the swimming season (and make sure you thoroughly rinse, clean and dry it first). If you decide to leave it out all year, UV light will degrade the material and eventually it will tear or puncture.

How Long Does it Take to Set Up Intex Easy Set Pool
Intex pools can be easily installed without any special tools or the need to hire a professional.
Set up is straightforward and can be achieved in a few hours provided you have a level area to put the pool – more on above ground pool site preparation later.
What Do You Need to Set Up?
Ground cloth, tarp, foam or carpet (to go under pool)
Level Area (preferably not under trees)
Air Pump
Water to Fill the Pool
How Long Does it Take to Fill with Water?
It will usually take 2-5 hours to fill up an Easy Set above ground pool. This will vary depending on the size of the pool you purchase and your water pressure.
How Much Does it Cost to Fill with Water?
It will cost you anything from $3 to $40 to fill up an Easy Set Pool. The two variables are the water costs in your area and the volume of the pool you choose.
Intex Easy Set Pool water volume is between ~1,000 gal (3,785 l) and ~3,800 gal (14,385 l).
Best Location for Intex Easy Set Pool
The MOST important set up consideration is to ensure that wherever you set up your pool is 100% level. If you don't do this, the pool will be lopsided and may get damaged. Or it may not even fill up properly.
DON'T take shortcuts here. You have been warned!
Intex pools are able to be installed:
On driveways
On concrete patios or surfaces
On an area of your yard that is level
On grass
On gravel
On dirt
In all cases, ensure you use something appropriate underneath the pool to protect the bottom like carpet, a tarp, foam or a ground sheet. Don't use sand as it can wash away and cause an instability later on.
We have a full article on what to put under your Intex pool.
Intex pools should not be installed:
Underneath trees
On surfaces that aren't level or have an incline
Do Intex Easy Set Pools Need Chemicals?
No, you don't need chemicals for the Intex Easy Set Pools.
But…
You have to realize, that in all but the smallest sizes, this isn't just a "kiddie pool" where the water is dumped after a few days of use. You'll likely be keeping the water in this pool for most of the Summer. And without proper care and pool maintenance, you'll end up with swamp water after a week or two.
What Chemicals Do Easy Set Pools Need?
Just like a regular inground pool, Intex Easy Set Pools will benefit from:
Alkalinity increaser
Alkalinity decreaser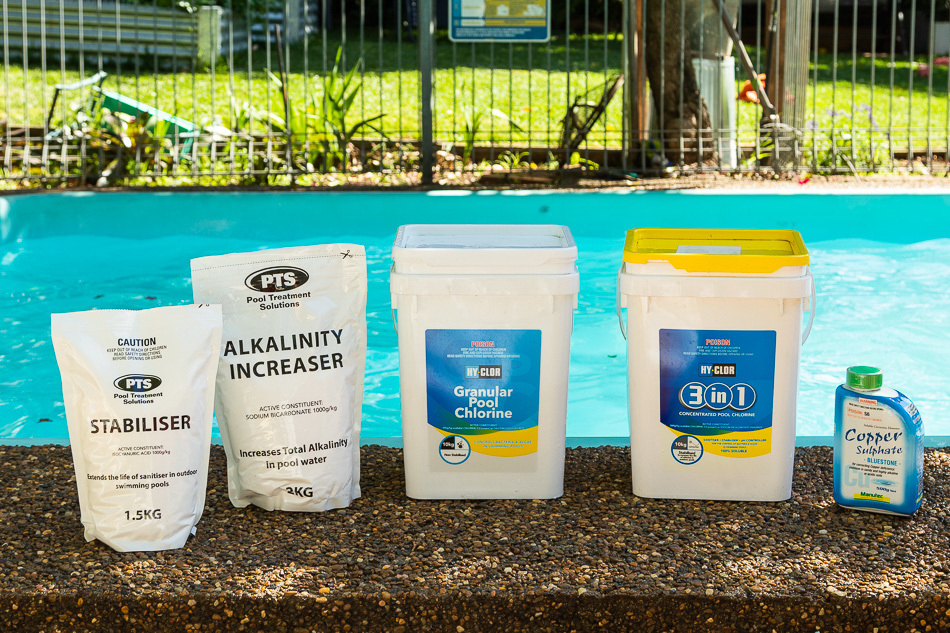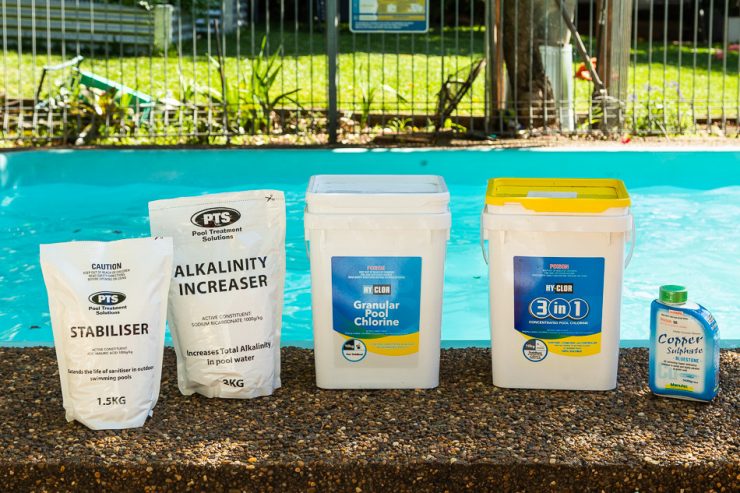 You'll want to get a chemical test kit and test your water a couple of times a week and adjust it as necessary. By keeping your water balanced, you'll avoid algae and other problems.
If you do start getting green or cloudy water, or the pool feels extra slippery, you've likely got algae.
And whilst you could fix it by spending money on chemicals, given the size and amount of water, it's often quicker and easy to drain it, clean it thoroughly and then refill. 
If you want to add chlorine, check out our article: Which Chlorine to Use for Intex Pools?
In addition to adding chemicals, keeping any debris out of the pool will also go a long way to preventing water issues.
Do Intex Pools Need a Pool Pump and Pool Filter?
Strictly speaking, you do not need a pool filter for Easy Set Pools. But having a pump and filter will keep the water much cleaner and help to minimize any algae or bacteria.
Debris (which rots if left) will be filtered out of the water keeping it cleaner for longer. And pool chemicals will be circulated and distributed more evenly throughout your pool.
So yes, it is worth using a pump and filter, particularly for the larger model pools, which are more costly to refill.
What Size Pump Do I Need?
Some of the newer Intex Easy Set models come with a filter and pump already. The downside of the pumps that come with the pool is that the flow rate can be too low (particularly for the larger sized pools).
Your pump should be capable of circulating the entire pool's volume in an 8 hr period. If the flow rate (measured in Gallons Per Hour – GPH) of the pump you have doesn't do this, then consider an aftermarket pump with a large flow rate like this one:
How Much Does it Cost to Run an Easy Set Pool?
If you want to keep your water clean, clear and safe, then you'll need to do a little pool maintenance.
The cost to maintain an Intex Easy Set Pool is around $30 to $80 per month. This is going to depend on the size of your pool and how fastidious you are with your maintenance. Running costs may exceed these estimates if you have issues such as algae occur.
To maintain an above ground pool you will need:
Pool Water Test Strips – $10 – $30 (for the season)
Chlorine – $30 to $150 (for the season)
Other Chemicals – $70
Skimmer and Pool Pole – $15 – $50
Manual Pool Vacuum (plus pool pole) – $15 – $40
Filter Cartridges – $10 – $15 (for the season)
Electricity (to run the pump) – $10 – $40 (p/mth)
Water – initial fill plus top-ups due to splashing and evaporation – $15 – $75 (for the season)
Total Running Costs = $195 to $550* (for a full swimming season)
Keep in mind that the above costs include equipment that you will be able to keep for a few years – such as the pool pole, skimmer net and pool vac. You'll also be able to keep some of the chemicals for future years.

* water, electricity and the cost of pool chemicals varies a lot from state to state.
Best Way to Heat Intex Easy Set Pool in 2021
Having a cold pool just isn't enjoyable. So what can you do to heat up a portable pool?
Use the Sun – make the most of nature by using the free energy of the sun. Choose a sunny position for your pool.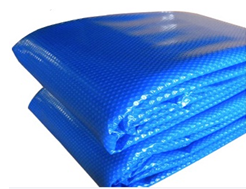 Solar Pool Cover – solar pool covers or bubble covers will help to trap and retain heat in your pool. Whilst they can't turn a freezing pool into bath water, they will add 3-7 degrees Fahrenheit (1-4 degrees Celsius). Keep the pool cover on when you're not using the pool – especially at night.
Solar Mat Heater – these mats are placed outside your pool on the ground. The sun warms the mats. When the water is pumped through tubes in the mats. The heat in the mats is transferred to the water.
They can heat your above ground pool by approximately 5-14 degrees Fahrenheit (2-7 degrees Celsius).
Whilst there are other options available like heat pumps and gas heating, these are more expensive and best for permanent pools like an inground pool or one of the other larger Intex above ground pools.
You can read more in our article Best Heater for Intex Pools – How to Heat an Intex Pool.
Is Intex Good Quality?
How do you know if your Intex pool will last? How do you know if Intex is good quality or not?
Overall, when you look at the online reviews, there are thousands of happy Intex customers. Some report that they have had their Easy Set Pool for several seasons.
What you should be aware of is that Intex Easy Set pools do have a shorter lifespan than the other Intex pools such as the Prism Frame, Metal Frame and XTR models.
Easy Set pools, are like the name suggests, quick and easy to set up.
They are constructed from fairly strong materials but they will not hold up the same as an inground pool or more permanent above ground pools.
That said, these pools are excellent value for money and the quality is high.
Summary
To sum up, Intex Easy set pools are a quick and affordable pool that can be setup with only one person. They can easily be packed away for the season.
They're ideal for renters or for home owners that don't want to install a more permanent swimming pool.
Whilst Easy Set pools won't last forever, they are great value, good quality and you'll find that kids will have a blast swimming and paddling in them all summer.
Hundreds of Easy Set pool reviewers have commented that this is one of the best investments they have made.
Happy Swimming!
Related reading:

Best Heater for Intex Pools – How to Heat an Intex Pool