Maybe you're wanting to create a tranquil nature retreat in your yard. Or, perhaps you want to keep curious hands and noses safe from danger.
But, in what ways can you hide your pool's ugly equipment to keep your yard looking peaceful and relaxing?
The most common ways to hide unsightly pool equipment include:
Wood fencing
Plants and hedges
Enclosed metal boxes
How you choose to hide your pool's equipment will depend on how much equipment you have to hide and what aesthetic you're wanting to achieve. Not including the limit of your imagination and budget.
Before jumping into the deep end, let's have a look at some things to factor in before deciding.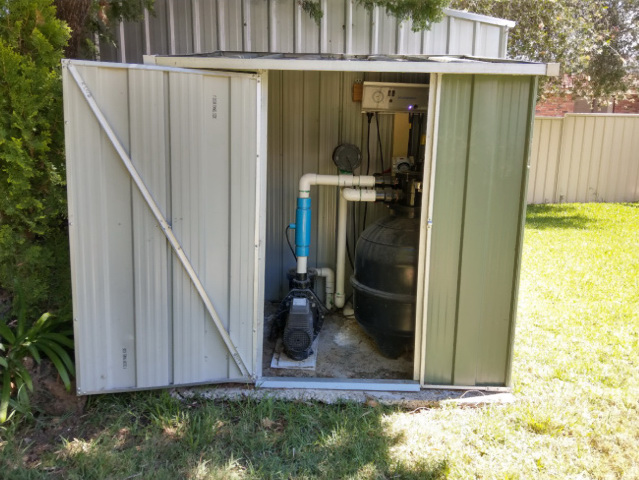 Things to Consider for Hiding Pool Equipment
Before starting, make sure to consider things such as:
Budget
Construction time/difficulty
Ease of access
Noise dampening
It might be obvious to some but can still catch you out.
Budget
Arguably, the biggest determinant of how you choose to hide your pool equipment. Materials like vinyl are usually the most durable, versatile in shape, and inexpensive.
The next is timber which tends to go very nicely with a natural aesthetic. You'll likely need to invest in some wood treatments, like paint, to keep it from rotting or getting infestations.
Although incredibly durable and customizable, the upfront cost of professionally installing brick, stone metal, or concrete covers may be too much for your budget.
And, lastly, there is privacy glass which is the more expensive material but is ideal for completing an ultra-modern luxurious look.
Construction Time/Difficulty
Aside from budget, how long and how difficult it will be to build or install your chosen enclosure is an important factor. It will depend on things like wanting a complete backyard for the pool season.
Unless you're confident in your own DIY skills, choosing a professional installation, at an added cost but quicker completion might be the ideal solution.
The most obvious thinking of construction is regarding stone or concrete. However, don't forget about planting shrubbery or plants and their growing time.
Planting is simple and quick to do. But, you may need weeks, months, or even years before the plants are fully grown.
Ease of Access
Understandably, being able to get to your pool's equipment is crucial for pool maintenance and fixing faults.
So, if you're looking for a fenced or walled cover, make sure there is at least a foot-width border around the pool equipment so you can easily reach any component.
And, if you decide to keep the equipment in an enclosed box or shed, keep this extra space in mind as well to maintain good airflow. For example, a shed with wooden or metallic slats will help with the airflow.
Also, having a hinged door or lid will give you that discreet look at your pool equipment without the hassle of having to squeeze into a tight corner to access anything.
Noise Dampening
Nothing ruins a meditative relaxing swim more than hearing your pool pump noisily working away in the corner.
If you wish to maintain a tranquil escape in your backyard, the best material to dampen pool pump noise is concrete. But if you're thinking of using plants as your cover, planting dense bushes to muffle loud pump noise.
Unfortunately, wood tends to resonate with noise so, even if it suits your aesthetic goal, the amplified noise may take away from the natural look. However, you might look at adding acoustic insulation to the inside of the panels to reduce the noise.
Having a noisy pump can be frustrating. But, if you feel like your pump is noisier than it should be and want to fix it, check out our guide 'Why Your Pool Pump is Noisy and How to Fix It (Quiet it)'.
Further reading: What to Do About Your Neighbor's Noisy Pool Pump & Your Rights
Ways to Hide Your Pool Equipment in Your Yard
Essentially, there are three main types of cover you can use to hide your pool equipment. These are walls, houses, and boxes. And then, within each of these categories, you'll have your choice of material (wood, stone, glass, plants, metal).
Wall Covers
Probably the most versatile and budget-friendly way to hide equipment there is. Creating or installing walls or fencing is highly customizable, depending on the material. And they're great for both small and large pool equipment.
But, don't forget about inexpensive screens (usually made of vinyl or metal) are a great choice if you're budget-conscious. Most privacy screens have stake-like legs so you'll be certain that the screen won't easily shift. But, are also much easier to move when you need to get at your equipment.
House Enclosures
Most suitable for large pool equipment, house (or shed) enclosures are perfect for camouflaging all of the unsightly equipment without detracting from a relaxing backyard feel.
And, if you already have a shed in place you may be able to save money by repurposing it for the equipment.
Whichever material you choose to make your shed from, make sure there is good airflow for your equipment. Your pool pump, and particularly the heater, will generate heat and need airflow to keep them both working perfectly.
The most common material for house enclosures is wood so choosing one with slats is a perfect solution to maintaining good airflow.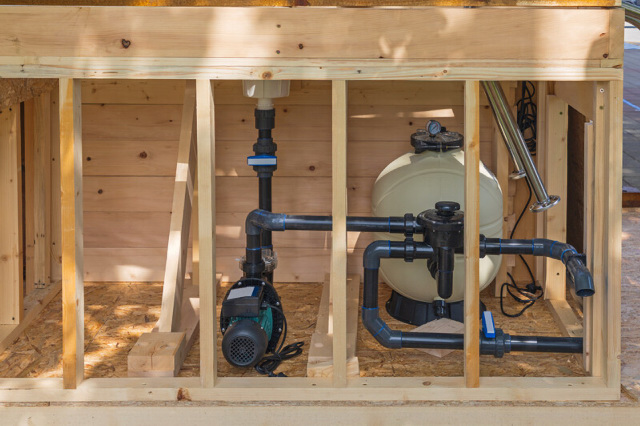 Not only ideal for housing pool equipment, but pool sheds are also a great place to keep pool cleaning tools such as skimmers and pool chemicals. However, if your pool shed is metal, don't store chemicals inside as they will oxidize the metal.
Box Enclosures
Using a box to enclose your pool equipment is another highly-customizable and budget-friendly option, especially if you have a small pump and filter. And with a lid, you have that extra protection against elemental damage that walls don't provide.
As with house enclosure, it's important to consider the airflow around the equipment. And how easily accessible it is for you.
So, make sure to choose a box that has slats or designs with good airflow (lattice or trellis). And, consider picking a box that has a hinged lid with a support bar and/or hinged doors, depending on the size.
Often, pool pump and filters stand against one wall of your house so you only need to worry about 3 sides and a lid. Again, this helps with the budget conscious and those that don't have the space to fit a shed in their yard.
Materials to Hide Pool Equipment
The most commonly used materials for hiding pool equipment are below. But, there isn't a limit to the combination of materials you can use to achieve the look you're dreaming of.
Glass
Glass is arguably the most expensive material to use. But, it is the perfect choice for extending that ultra-modern look into your private luxurious retreat. Choosing privacy glass or even mirrored glass will keep your pool equipment out of sight and mind. Ideal for when you need to decompress after a busy week.
Stone
Depending on what stone you pick and your own DIY skills, stone walls are extremely durable and perfect for any aesthetic you choose. There are plenty of options to choose from. Like big, flat blocks to create a sleek look. Or you might decide to embrace your creativity with different sized and colored rocks.
Concrete
Similar to stone, your DIY skills and access to special tools for building your own concrete wall will influence the cost. It may be worth getting a professional to create the wall. And then, you can personalize it with paint or add designs to it.
Concrete is an incredible noise dampener and is perfect to muffle noisy pool pumps. And to help quieten that noise, consider what material you're using as a pool pad too. Why not check out our pool pad guide here for some inspiration 'What to Use for Pool Equipment Pad & Best Practices'?
Wood
Possibly the most versatile and inexpensive material, wood is almost the perfect material for achieving any look you want. The vast range of wood types and treatments suit any rustic, nature scape, and ultra-modern aesthetic you want.
Wood is the easiest material to work with yourself and doesn't require the same set of skills that stone and concrete need. And it doesn't need the same sort of tools either.
With wood, make sure you pick a hardwood or outdoor-treated wood so it will give you that perfect finish for as long as possible. (Though if you have small children or animals, be mindful of your choice in wood treatment)
But, if you're wanting to dress up your concrete wall, finding wood paneling is a much easier and more cost-effective option. And gives you the best of both a natural look and durable enclosure.
Vinyl
Vinyl is another incredibly durable material and can withstand weather conditions without fading or wearing. Many privacy screens or picket-style fencing are vinyl and are perfect for enclosing small equipment.
However, although many vinyl screens have stake-like legs, they may not withstand stormy or harsh weather conditions. However, they are inexpensive and may be perfect for hiding equipment during a spontaneous summer party.
Plantlife
Although plants may suit natural aesthetics better, the possibilities are endless. Choose from thousands of different species of trees, flowers, grasses, and bushes to hide your pool equipment.
They will naturally give good airflow. And, particularly with bushes, they have the extra benefit of being excellent noise dampeners.
However, unless you're transplanting grown plants, you'll need to factor in the growth time needed to achieve your look. Though, you could combine a privacy trellis screen with a budding plant as you wait.
And, if you'd prefer the look without the maintenance, there is high-quality grass paneling that you can secure to a concrete or wooden enclosure.
Further Reading: 25 of the Best Trees to Plant Around a Swimming Pool
Metal
Metal is similar to wood as it's relatively inexpensive but is much more low maintenance.
If you decide on metal as your material, make sure that the shed/box has slats with plenty of airflows. This will sacrifice some of the noise dampenings but offsets the risk of an overheating pump or heater.
Again, be conscious of storing pool chemicals inside as they can easily oxidize the metal of the enclosure. As well as the metallic components of the pool (pipes, joints, etc.).
Final Thoughts
Even though crucial for your pristine pool, seeing unsightly pool equipment is enough to dent your mood while swimming or relaxing poolside.
Luckily, it doesn't matter whether you have a big budget or not. Or, professional DIY skills or not. The options on how to hide your pool equipment and what materials suit best to achieve your yard sanctuary are endless!