Did you know that learning about the best heater for Intex Pools could change your life?
Picture a hot spring nestled into the valley of some mountain ski chalet, the steam rising out of the warm pool, assuring you, despite the snow and chill, the water is just fine. Well, all that can be yours, specifically, the warm pool part, if you learn how to heat your Intex Pool.
We'll outline the best heaters for Intex pools and give you all the information you need to create your very own swimming oasis regardless of the season. While there is a bit of initial investment to get everything up and running, the extended pool season will be well worth it!
The 7 Best Ways to Heat Intex Pools
When it comes to heating an Intex pool or how to heat your above ground pool you have several options available – 7 to be exact. Although there is no right or wrong way to heat your pool some methods are better and more effective than others.
The best heating options for Intex pools, above ground pools and Bestway pools are:
Solar Pool Heating – Roof System
Solar Pool Heating – Ground Mounted System
Intex Pool Heating Options at a Glance
Type of Heater
Pros
Cons
Cost To Run
Cost To Buy
Cost To Install
Product Lifespan
Suitable For
Heat Pump
Low
upkeep
cost

Long
lifespan
Less
efficient below
50°F (10°C)

More
costly
Install
$0.20 to
$0.70
p/hr
$2000- $6500
$500 – $1000
7-15 years
All Sizes
Solar – Roof System
Minimal
running
costs

Clean
energy
Slow
heating
times

Weather dependant
$0.70 to $1.40 p/hr
$200- $7000
$500 – $2000
7-20 years
All Sizes
Solar- Ground System
Can be
more
effective
than roof
panels

More
flexible installation
spots
More
expensive

Requires
professional
install
$0.70
to
$1.40
p/hr
$200 – $7000
$200 –
$1500
3-15 years
All Sizes
Gas Heating
Low Initial

Cost Fast heating
Expensive
Run Costs

Professional installation required
$4.00
p/hr (natural gas)

$10
p/hr
(pro
pane)
$650 –
$4000
$500 –
$1500
4-7 years
All Sizes
Solar Pool Cover
Inexpensive

Easy to
install
Slow
heating

Very
weather dependant
Nil
$40 –
$400
Nil
1-7 Years
All Sizes
Electric Heaters
Less
impacted by air temperature

Inexpensive
Costly to operate

Suggests professional Install
$0.15
to
$0.70 p/hr


$50 –
$1000
$0 –
$1000
2-10 Years
All Sizes
* Running costs of the best pool heating options for intex pools varies greatly and depends on the cost of electricity in your state and the size of the pool heating system.
** Costs are USA based.
Reviews for the Best Heaters for Intex Pools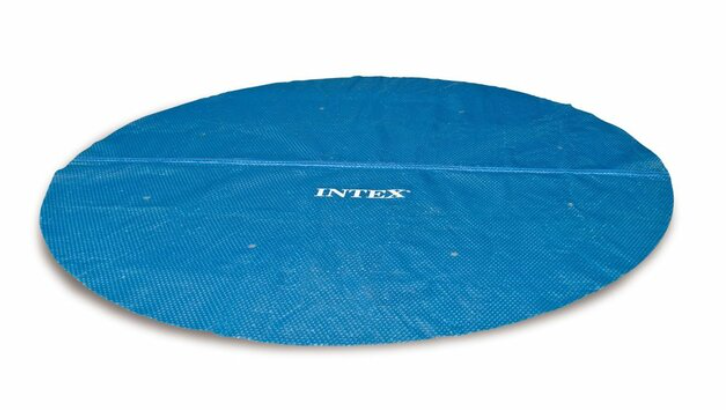 If you want to save water and reduce heating costs, we recommend the Intex Solar Cover for your Intex pool. Intex pool covers come in all different sizes. We've focused on the 12ft size here.
Suitable for 12ft Diameter Easy Set and Frame Pools, this unit is a passive solar heater perfect for your above ground pool. Easy to use and easy to store, this durable cover will warm your Intex pool to the temperature that you enjoy.
The solar cover will help to retain heat and will even work to keep the heat in on overcast days. We recommend you use a solar cover in conjunction with your other heating system to maximise the heat and efficiency.
Customer Feedback:
It takes only a few minutes to get on or off the pool
Impressed with the heat that this cover collects
Common Concerns:
Unit is not designed as a debris blocker, but it does function like one
This is an effective solar heater cover; daily use may make your pool exceptionally warm
It will only warm the pool a few degrees but is the cheapest option
>> Click here to check the price and read more reviews.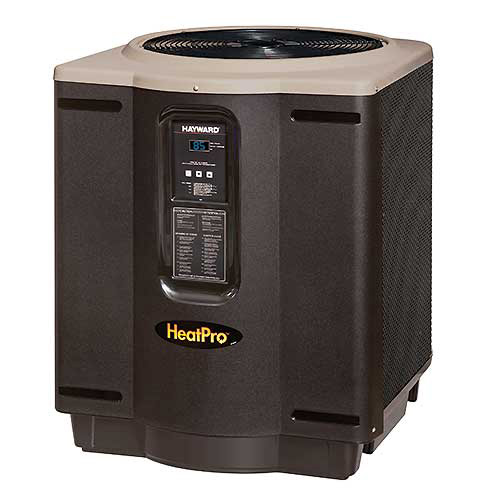 Yet another way to heat your above ground pool for continuous use, without spending a fortune on electricity is the Hayward W3HP21404T Pool Heat Pump. This Hayward heat pump provides continuous heating for your pool while being quiet and efficient.
Producing around 140,000 BTUs this pool heat pump is especially welcome in colder climates where it can help to provide an abundance of swimming enjoyment. Easy installation is a prominent feature of this rugged unit.
Customer Feedback:
Unit has surpassed my expectations and has put all my pre-purchase concerns about heat pumps to rest
Easy to install, heats quickly and runs quietly
Common Concerns:
This unit is designed for above ground pools but has been used for heating in ground pools
This unit may take a day or so to heat a large pool which is a standard time frame for most pool heat pumps
>> Click here to check the price and read more reviews.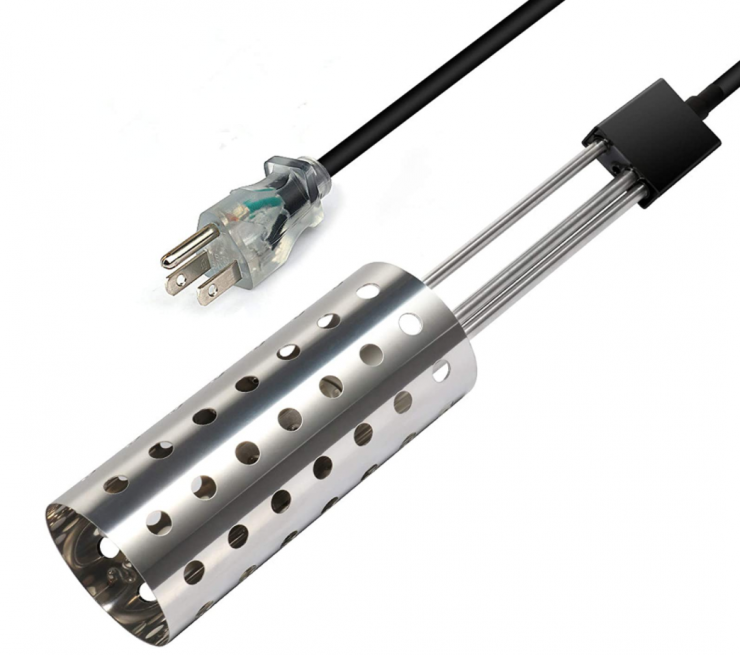 If you are looking for a great way to heat a small hot tub, kiddie pool or a small Intex Easy Set Pool then we highly recommend using a 1500W Immersion Heater for the job. Easy and safe to use, simply plug the unit into the nearest grounded standard socket carrying 15A.
Capable of heating 5 gallons of water in mere minutes, this is ideal for small scale applications. This bucket heater comes with a thermostat and automatic shutoff.
Customer Feedback:
Effective way to heat small amounts of water like spas and tubs and kiddie pools
Can achieve 105°F (40.56°C) in an hour or two (for a small kiddie pool)
Common Concerns:
Don't let the heater touch anything that will melt – the outside gets extremely hot
Not good for large amounts of water
>> Click here to check the price and read more reviews.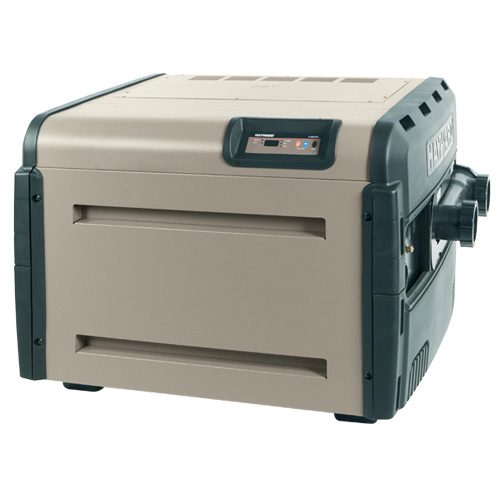 This unit is a beast! A large above ground pool requires a significantly larger unit to heat it. Enter the Hayward W3H400FDN Universal H-Series 400,000 BTU Pool and Spa Heater.
This pool heater is perfect for large Intex pools and uses natural gas to heat your pool quickly. There is also a model that runs with propane, so be sure to choose the correct model.
Unlike solar or smaller electrically powered units, Hayward W3H400FDN Universal H-Series 400,000 BTU Pool and Spa Heater can keep your pool effectively heated year round.
Gas heaters are well known to heat large pools quickly.
Customer Feedback:
The unit heats my 13,000 gal above ground pool quickly and it is very quiet
Awesome unit at a great price!
Common Concerns:
A small number of units have arrived without the 1 ½" caps but the supplier delivered spares promptly
Unit does not come with the mounting kits which are supplied separately
>> Click here to check the price and read more reviews.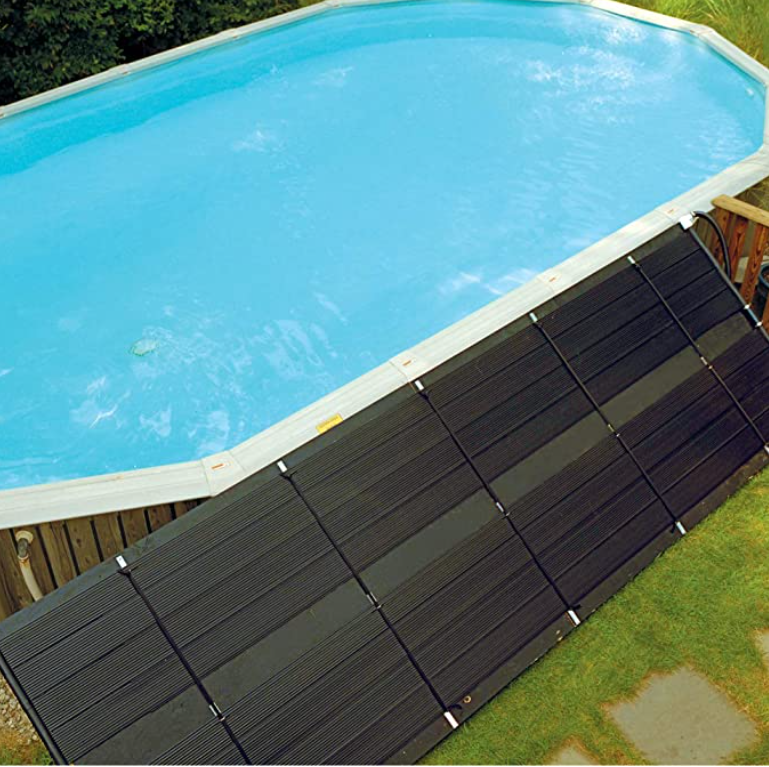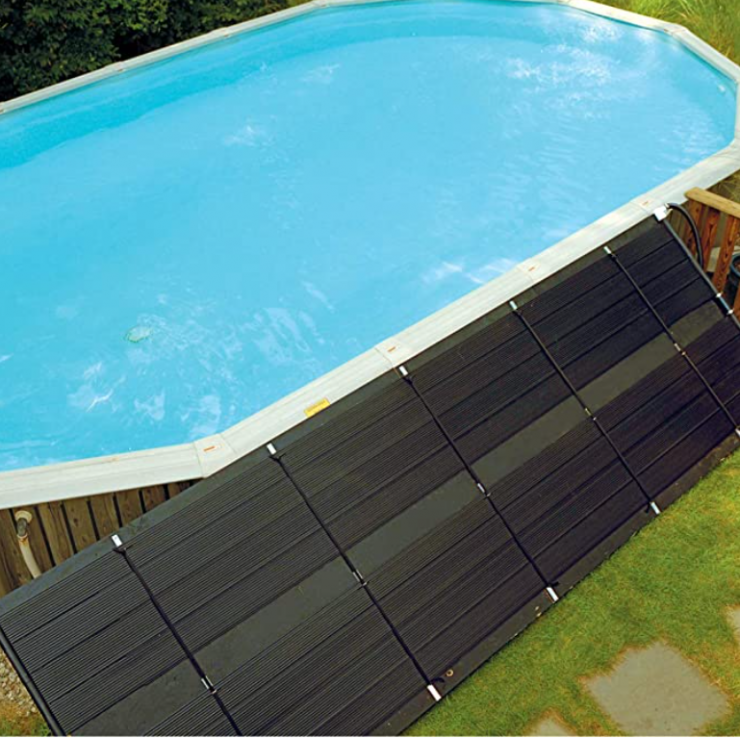 Heating a pool using solar heating is very popular due to the low running costs and excellent heating.
This ground mounted solar heating panel is ideally suited to above ground pool applications. It can be mounted on the ground right next to your pool minimizing the need to run extra pipes. Alternatively, you could also mount it on the roof of your house.
The Sunheater Solar Pool Heater for Above Ground Pools delivers the goods and is perfect for most Intex pool systems.
Customer Feedback:
Many users are extremely happy and recording 15-20°F (-9.44°C to -6.67°C) rises in temperatures
Extremely low running costs – one buyer used to spend $200 p/mth on their gas heater. Now it's almost nothing.
Common Concerns:
The pump that comes with Intex Easy Set pools is not powerful enough – a 1HP pump is ideal
Mounting hardware isn't included
>> Click here to check the price and read more reviews.
Pool Heat Pump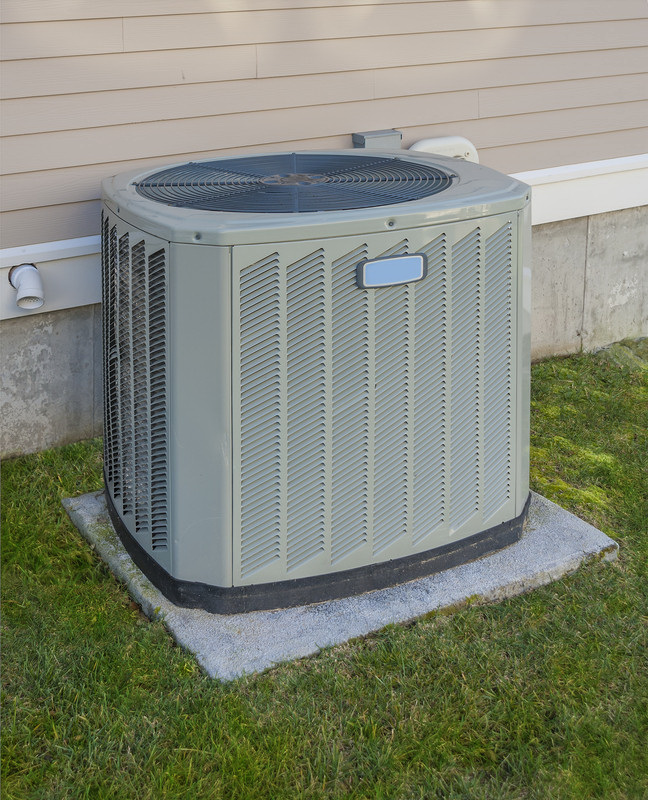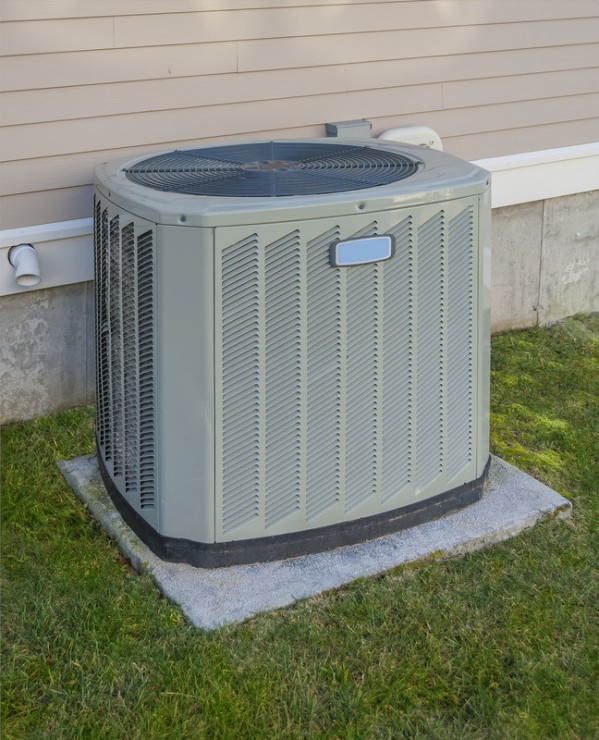 Heat pumps are a great option to heat your Intex pool and are becoming more and more popular. They are also perfect for above ground pools, Bestway pools and inground pools.
These are efficient heaters when the outside temperature stays above about 55°F (13°C). The colder the outside air temp, the less effective heat pumps are. They won't heat the water if the temperature is below 55°F (13°C) or 50°F (10°C).
This is because heat pumps work by intaking outside air that is then directed over the evaporator coil. The coil absorbs heat and passes this to the refrigerant gas which is inside the coil. The gas is then passed through a compressor. The compressor increases the heat and sends it through the condenser, where the cold pool water is circulating through the heater. This heats the cold water and returns it to the pool warm.
Heat pump pool heaters cost more than gas pool heaters to purchase and install however they have much lower running costs than gas heaters. They also heat the water much faster than solar heating and are effective on days when there is cloud cover.
A properly sized heater should be able to heat your pool 1-2°F (0.5-1°C) per hour, even faster with a cover.
Heat Pump Lifespan
A heat pump pool heater should last between 7-15 years.
Heat Pump Cost
The prices vary state to state, but you should expect to spend between $2000-$6500 plus installation. The majority of the charge is labor, so make sure you hire an installer you trust to do the job right.
Heat Pump Pros:
Lower running costs than gas
Faster heating than solar
Works on overcast days (solar loses effectiveness)
Doesn't take up roof space (unlike solar)
Heat Pump Cons:
Upfront purchase cost is much more expensive than gas
Will not heat when outside air temp. is below 55°F
More expensive to run than solar heating
Solar Pool Heating – Roof System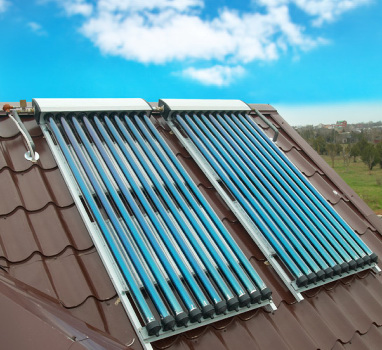 Solar pool heating systems for Intex and above ground pools are becoming very popular.
There are two types of systems: roof-mounted and ground-mounted solar systems. We'll focus on the roof ones here and touch on ground-mounted ones in their own section below.
Solar pool heaters need a fair amount of space and a sunny roof, specifically a roof that gets direct sunlight for 4-6 hours a day.
The rule of thumb is that you want at least half of your pool's surface area to match the surface area of your solar panels. As an example, if you had a 24′ pool with a surface area of 452', you would need six 4×10' solar panels.
It will usually take about three warm days (>75°F / 24°C) days to heat the pool. However, once the pool is up to temperature, maintaining it is much easier and essentially free as your energy is coming from the sun.
There are many factors affecting how warm your pool will get, but as a general rule you can expect your pool to be 4-18°F (2-10°C) warmer over a non-heated pool.
Solar (Roof System) Lifespan
A solar pool heating roof system will last, with maintenance, 7-20 years depending on which system you go for. Some are better than others.
Solar (Roof System) Cost
The installation cost is, on average, about $5000 but can be as low as $200 (for a DIY solar pool heating system) and as high as $10,000, so be sure to compare prices.
Solar (Roof System) Pros:
Lowest ongoing running costs (only the cost of running the pump which is minimal)
Environmentally friendly (no emissions unlike gas)
Long lifespan
Solar (Roof System) Cons:
Takes up roof space (you may need the space for solar power)
Slower heating than gas or heat pumps
More expensive to install than gas
Doesn't work in winter and isn't very effective in overcast conditions
Solar Pool Heating – Ground Mounted System
If you don't have a south-facing roof, the right angle of roof, or if you have shadows cast by neighboring homes, chimneys or trees etc., then solar ground mats or a solar ground mounted system might be right to heat your Intex pool.
Solar pool heating mats or or solar pool heating ground systems are placed on the ground in your yard. They are usually less effective than solar heating roof systems.
They are essentially black colored mats of panels with tubing in them. The sun heats up the panels, like when you leave a garden hose in the hot sun, the pool water then passes through them and picks up the sun's energy heating the water.
Your pool will likely be 4-18°F (2-10°C) versus a non-heated pool.
Solar (Ground or Mat System) Lifespan
A solar pool heating roof system will last, with maintenance, 3-15 years depending on which system you go for. Some are better than others.
Solar (Ground or Mat System) Cost
Costs start from just $200 for a self installed system, but don't expect to get 10 years out of a low cost system like this. They go up to about $10,000 for a professionally installed system.
Solar (Ground or Mat System) Pros:
Lowest ongoing running costs (only the cost of running the pump which is minimal)
Easier to install than solar roof systems
Environmentally friendly (no emissions unlike gas)
Lowest upfront cost
Solar (Ground or Mat System) Cons:
Take up yard space
Less effective than solar roof systems (smaller in size & they don't benefit from the heat of the roof)
Gas Pool Heating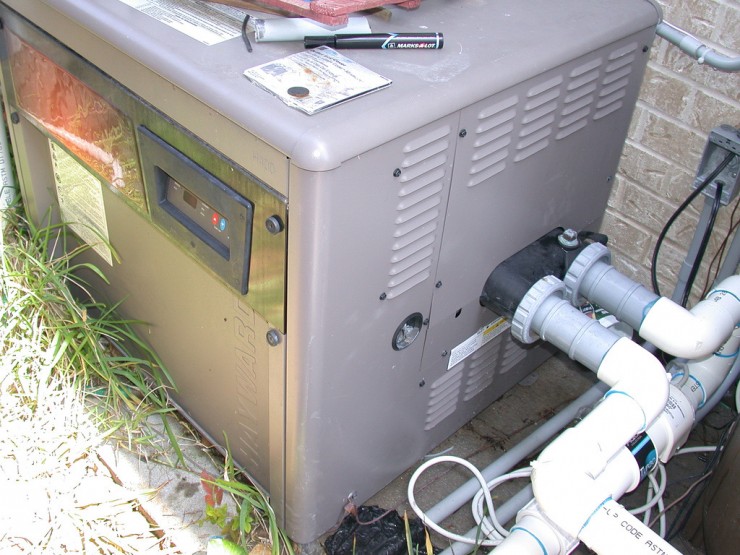 Using gas heating for your Intex pool is the fastest and not weather-dependent pool heating system – unlike the other pool heaters on this list. They are the absolute best way to heat an Intex pool if you're looking for fast heating and year round warm water.
A 12,000-gallon pool should be up to temperature in 8-14 hours with a gas heater. You can virtually heat a gas pool to any temperature (if your wallet is large enough).
But…..and it's a big but.
Gas pool heaters cost a lot to operate. If you're not careful you could be spending hundreds or thousands of dollars each year to heat your Intex or above ground pool.
Gas Pool Heater Lifespan
A gas pool heater will last, with maintenance, 4-7 years.
Gas Pool Heater Cost
Typically gas heaters also tend to be less expensive to install upfront and should only cost between $650-$4,500 plus professional installation (it's not a DIY job).
Gas Pool Heater Pros:
Fastest heating time out of any system
Not weather dependant
Doesn't take up roof space (unlike solar)
Gas Pool Heater Cons:
Most expensive to run and heat water
Not eco friendly
Solar Pool Cover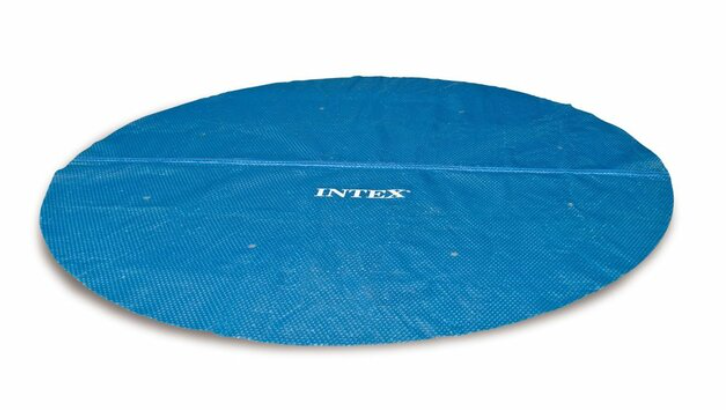 Solar pool covers (also known as solar pool blankets) are one of the best ways to heat an Intex pool. They are low cost and easy to install. They also retain heat overnight and generate some natural heat from the sun.
Solar pool covers work in two ways. First they reduce evaporation by over 90% – evaporation is the main reason for heat loss. The second thing they do is trap the heat of the sun thus warming the water.
Don't confuse solar pool blankets for mesh, winter or debris pool covers which don't retain the heat well. Solar covers have the bubbles and are normally blue in colour.
Solar blankets can really only be expected to raise the temperature of your pool by 8-15° Fahrenheit (3-7°C) after 6 hours of direct sunlight.
You can install this option yourself, so there is no labor cost to pay for.
Pro tip: Combine a solar pool cover with another heating system like gas, a solar roof system or a heat pump to greatly increase the effectiveness and efficiency.
Solar Pool Cover Lifespan
Solar pool heaters will last anything from 1 to 7 years. The cheapest covers tend to only last a season as they use less UV inhibitors – these prevent the sun's UV rays breaking the cover down.
Solar Pool Cover Cost
Solar pool covers for Intex pools cost start at just $50 and go up to a few hundred dollars. The cost depends on the size and quality.
Solar Pool Cover Pros:
Very low upfront cost
No ongoing costs
Can be used standalone or combined with another heating system
Solar Pool Cover Cons:
Rely on the sun and warm weather
Only small heat gains are possible (unlike gas, heat pumps or solar)
Cheaper brands only last a year
Electric Pool Heaters
While electric pool heaters work similarly to heat pumps, the important difference is an electric heater is generating the heat with an element, which is far less efficient than other pool heating systems such as heat pumps, solar or gas heating.
This means an electric pool heater for an Intex pool is not reliant on the weather. However they will cost the most in terms of running costs.
Electric pool heaters come in different types. The simplest and cheapest is an immersion heater which is suitable for kiddie pools, spas and small inflatable pools. These units are placed directly in the pool (like a fish tank heater).
There are other larger models which can be plumbed into your pool's pipes. Electric heaters are best suited for small pools, spas and kiddie pools. Don't expect these types of heaters to be effective on larger above ground pools. Stick with solar, gas or a heat pump for large pools.
Electric Pool Heater Lifespan
An electric pool heater will last between 2 years and 7 years.
Electric Pool Heater Cost
Electric immersion heaters start at $50. Larger electric heaters cost a few hundred dollars.
Electric Pool Heater Pros:
Fairly low upfront cost
Heats all year round and isn't reliant on the weather

Electric Pool Heater Cons:
Not eco friendly
Expensive to run (most expensive out of all the options.
Unable to heat large pools quickly and efficiently
Intex Pool Heating FAQ's
How to Choose the Best Intex Pool Heater?
All of the options above are excellent choices for heating your above ground pool, but the best choice will depend a lot on your priorities, pool size, budget, weather and temperature expectations.
If you want fast heating for your larger sized pool and want all year round warm water and can afford higher heating costs, gas is the way to go.
But if you only want to extend the swimming season by 1-3 months at the, a solar heating system or a heat pump will work well.
For a quick and portable system, try a solar pool heating mat or ground mounted solar heating.
For small pools like kiddie pools, try an electric immersion pool heater.
The best universal advice is to use a solar pool cover with any of your heating efforts to maximise the efficiency and heat retention.
Are Above Ground Pool Heaters Safe?
Absolutely, above ground pool heaters are safe! However, professional installation is the best way to make sure your setup is safe and up to code.
How much do Heaters for Intex Pools & Above Ground Pool Heaters Cost?
On average, you can expect to pay less than $150 for a solar cover and roughly between $2,000-$6,000 for professionally installed solar panels, heat pumps, or gas heaters.
Electric heat pumps and gas heaters will have utility costs associated with running them, while solar will have very little ongoing costs.
How Can I Heat my Inflatable Pool?
A solar cover is a great option. With inflatable pools, you can also install a small solar heater (heat mat) or use an electric immersion heater. But be careful with immersion heaters.
How Long Does it Take to Heat a Pool Without a Heater?
You can expect your pool to rise between 5 to 15°F (3°C to 6°C) after several days of sunny weather without a pool heater or solar cover. However this will depend a lot on the materials your pool is constructed from, the ambient air temperature and if you get full sun all day.
Summary
Any of the heaters listed here are great options for your Intex pool. Gas and electric heaters will work the fastest and are more reliable than solar panels purely because they don't rely on sunny weather. If you live somewhere with consistent sun exposure, you can take advantage of solar panels to save yourself money in the long run.
Many people also combine pool heating and may have solar and gas, or solar combined with a heat pump. That way you can get the best of both worlds.
The best way to stop heat theft from the elements or cool nights is to use a pool cover, and you can expect to use more gas and energy in colder months.
Which heating system are you considering and why?
Further Reading:

Intex Easy Set Pool Reviews 2020: A Detailed Buyer's Guide