One of the sturdiest brands of smartwatches (comparable to other products), Garmin has sold over 1 million smartwatches since 2019. They're excellent at tracking multiple workouts, but are they waterproof? Can they withstand a water workout, or something more extreme, and work perfectly afterward?
Although there are many Garmin series of watches, none are waterproof. However, the most popular smartwatch series, Vívoactive, Venu, Forerunner, Instinct, and Fēnix, are much more water-resistant than other branded smartwatches or trackers. Depending on the model, they can withstand depths of 164 ft (50 m) or 328 ft (100 m).
With maximum depths of 164 ft (50 m), Garmin watches can handle swimming, snorkeling, and water diving. At a higher capability, the maximum depth of 328 ft (100 m) allows for high-speed water sports as well as the former abilities.
Deciding which series you want to choose will depend on your activity needs and budget. So, let's see where each of these popular smartwatches stands, keeping water resistance in mind.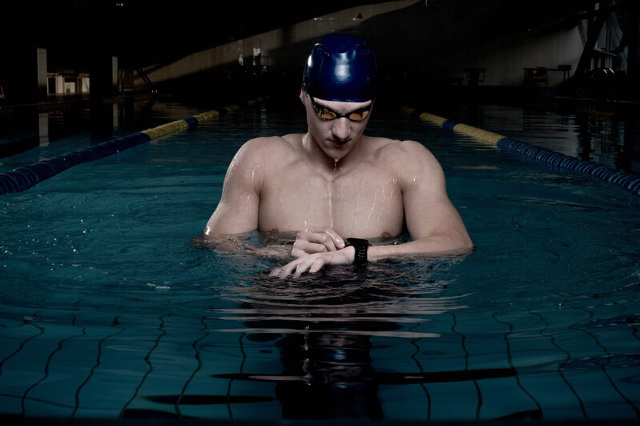 Are Garmin Watches Waterproof?
Even though waterproof terms seem to be interchangeable, it's important to understand what each definition is.
Waterproof prevents any water from leaking into the watch. It's also important to know that almost no manufacturers rate their waters as waterproof. But many are safe to use in the water.
Water resistance is how deep and long a watch can remain underwater without sustaining damage. Garmin rates their smartwatches with various ratings of water resistance. Sometimes companies use swim-proof or splash-proof, but this usually means water resistance.
So, what does Garmin say of their watches?
| | | |
| --- | --- | --- |
| Garmin Watch | Waterproof | Water Resistance |
| Vívoactive Series | No | Up to maximum depths of 164 ft (50 m) |
| Venu Series | No | Up to maximum depths of 164 ft (50 m) |
| Forerunner Series | No | Up to maximum depths of 164 ft (50 m) |
| Instinct Series | No | Up to maximum depths of 328 ft (100 m) |
| Fēnix Series | No | Up to maximum depths of 328 ft (100 m) |
A lot of other branded smartwatches have water ratings of much lower maximum depths (e.g.,19.5 ft [6 m]) and are usually restricted to 30 minutes.
If you're curious about what water resistance limits your current watch/tracker has, why not check out our articles here: Can I Swim with Apple Watch? Will It Damage It? or Can I Swim with a Fitbit Watch? Will It Damage It?
However, Garmin's water rating on these series is on a bigger scale and doesn't mention any time limits being underwater with their watches.
Is the Vívoactive Series Waterproof?
The Vívoactive series consists of the Vívoactive 4 and 4S. They focus on everyday health and fitness tracking.
The Garmin Vívoactive 4 and, its smaller counterpart 4S, isn't waterproof. However, they are both able to withstand depths of up to 164 ft (50 m) in water. Garmin doesn't state if there is a time limit on how long they can be underwater.
Vívoactive 4 has a battery of up to 8 days whereas the 4 S has a battery life of 7 days.
Is the Venu Series Waterproof?
Garmin's Venu series consists of 5 models. This is another range that focuses on everyday health while having a sleeker look than the Vívoactive series.
All 5 models of the Garmin Venu series aren't waterproof. However, like the Vívoactive series, they are all able to withstand depths of up to 164 ft (50 m) in water. With this water resistance, there is no mention of an underwater time limit on Garmin's website.
Being another everyday fitness-focus series, Venu also includes a music edition watch for those that love listening to music during their workout. Depending on the model, you can expect a battery life of at least 6 days up to 11 days.
Is the Forerunner Series Waterproof?
Kicking it up a notch, there are 7 models of the Forerunner series. This range focuses on runners and includes coaching support and other running support.
The entire Forerunner series isn't waterproof. But, they all have the same water resistance of maximum depths of up to 164 ft (50 m). Just like the others, there isn't any time limit on how long they can stay underwater.
Forerunner 945 and Forerunner 55 have batteries lasting up to 2 weeks. Whereas, the rest of the series has a battery life of up to 7 days.
Is the Instinct Series Waterproof?
With the biggest selection, the Instinct series has 19 different watches to choose from. This series focuses on more rugged adventures, feature solar protection, and is of more durable material too.
The Instinct series of Garmin watches are resistant to water to maximum depths of up to 328 ft (100 m). Although they have double the maximum depth, they aren't waterproof. But, they don't have any stated underwater time limit either.
Depending on the model, the battery life ranges from up to 14 days to 28 days before needing a charge.
Is the Fēnix Series Waterproof?
Having 18 different smartwatches to choose from, the Fēnix series focuses on pushing the limits of your multisport performance.
Although all Garmin Fēnix smartwatches aren't waterproof, they have the same resistance as the Instinct series. The Fēnix series are capable of maximum depths of up to 328 ft (100 m) in water. Again, Garmin makes no mention of underwater time limits for the Fēnix series.
Because of the wide range of Fēnix watches to pick from, there are differences between battery lives. Depending on the model, Fēnix smartwatches have battery lives ranging from up to 9 days to up to 28 days.
Does the Garmin Watch Warranty Cover Water Damage?
Garmin offers a one-year warranty but doesn't have any extended warranty options. As part of their warranty, they do not cover accidental damage, including water damage.
Although Garmin doesn't cover water damage, there may be 3rd party insurance companies that will cover your watch against water damage.
To make the most of your Garmin watch, looking after it after using it in water is crucial in preventing water damage.
Will Pool Chlorine Damage Garmin Watches?
Garmin watches are amazing for accurately tracking workouts and health measurements. And, they can withstand greater water pressures than other brands. However, can the chlorine in pools damage them?
Simply put, there is an extremely slim chance that pool chlorine will damage your Garmin watch. That is, so long as you take the proper steps post-water activity to clean your watch. Make sure you rinse your watch in freshwater.
However, if you worry about your watch, one Reddit Garmin watch owner suggests dropping your watch in a bucket of pool water to see if there are any issues. This is particularly handy advice to follow while your watch is under warranty. No harm in double-checking these things while you can.
Will Saltwater Pool Systems Damage Garmin Watches?
If you're one of the growing saltwater pool owners, you'll know that saltwater pools sanitize themselves with the addition of salt. Even though these pools are still chlorine pools, they are less maintenance and more cost-efficient.
If saltwater pools pique your interest, why not find out more about the cost differences in our comparison guide here Salt Water & Chlorine Pool Costs | What's cheaper?
Stating the obvious, saltwater pools contain salt which opens up the risk of corrosion or rust building up on your watch.
Just like chlorine pools, it is safe to wear your Garmin watch while in a saltwater pool. Due to the addition of salt, there is an added risk of damage to the metallic and rubber elements of your watch. Rinsing your watch with fresh water afterward is vital to prevent corrosive damage.
When left to dry, the salt in the water crystallizes and erodes metal and rubber elements. Although Garmin watches have reinforced glass, this salt can still wreak havoc on the watch face, scratching it. And can corrode the metallic joints and rubber elements to the bands.
So, cleaning your watch after water use is essential to preserve the integrity of your sturdy Garmin watch.
Cleaning a Garmin Watch After Swimming
Following Garmin's own guide to cleaning your watch, the following steps are important for keeping your watch's recording capabilities stay as accurate as possible.
After use, run your watch under clean, low-pressure, freshwater over the sensor port.
Then, use a soft toothbrush to clear away any dirt around the charging ports and any recesses on the watch.
Do not use canned air to blow dirt out of the sensor port. And, never put any objects into the right side sensor port.
Shake any excess water and let the watch dry fully.
If you're not able to clean your watch straight away, tip the watch, so the right side of the watch is facing down. And, gently shake it to get rid of excess water.
What Can I Use To Swim with Garmin Watches?
Garmin designs their watches to be as sturdy as possible while using them for simple tracking as well as the more extreme sports out there. With that, there aren't too many alternative components you need to worry about.
However, if you're wanting to make the most out of your Garmin watch, the following are great options to prolong your smartwatch's life.
Rated 4.7 stars out of 891 Amazon ratings. These fasteners are compatible with many models within the different series below (excluding the Instinct series). What these fasteners add is an extra level of security to prevent your watch from slipping or unclasping.
However, some customers found that the fastener didn't properly fit their watch model.
4-Pack Blue Oversized 12″ x 12″ Microfiber Cloths
Rated 4.8 stars out of 3.958 Amazon ratings. These oversized microfiber cloths are specifically for screens and watch faces. Microfiber cloths don't hold onto dirt particles like other cloths. So, when you're cleaning your watch face, you're sure that your cloth is only wiping away rather than scratching it with trapped dirt particles.
Though, some buyers found the cloth left streaks on bigger surfaces.
Final Thoughts
Garmin began its journey in 1991 selling GPS receivers aimed at the marine market. Since then, the range of products they sell has exploded.
The five series discussed in this article are just a small sample size of the range of watches and other monitoring products Garmin sell.
Now that you know you're safe to use your watch in a chlorine or saltwater pool, the only problem you face is choosing which one to buy or upgrade to!