Maybe you already have an Apple Watch or you're looking to get one, but you're not sure if it'll be safe when you're swimming. Perhaps you've seen the new Apple Watch, Series 7, has been released and one of the perks is that it's water-resistant. Are all Apple Watches water-resistant? What about swimming in the pool, will chlorine damage it?
You can swim with Apple Watch Series 1-7 and SE because these are all water-resistant. Series 1 is water-resistant for 30 minutes in up to 1m (3.3 feet) of water but not swim-proof. Series 2 is water-resistant up to 50 m (164 feet) but not swim-proof. Whilst series 2-7 are water-resistant up to 50 meters (164 feet) and are swim-proof.
As for any potential damage from chlorine to your watch, the chances are slim as long as you take care of the watch properly after your swim.
In this article, you will read Apple's official stance on the water-resistance of their Apple Watches, and tips and tricks to make the most of keeping your watch perfect and pristine while swimming.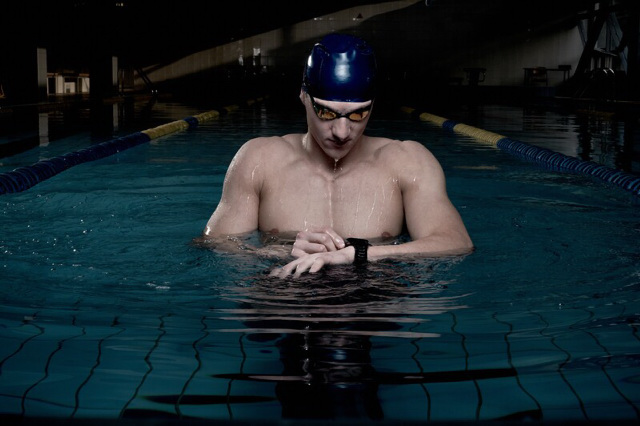 Are Apple Watches Waterproof?
First thing, it's important to clarify the differences between waterproof, water-resistant, and swim-proof. Most people use them interchangeably (myself included) but there is a slight but crucial difference.
Waterproof completely protects the watch from water. Water-resistance makes it very difficult for water to penetrate, but it still can. Swim-proof protects the watch from full submergence in the bath, sea, or pool at shallow depths.
So what is Apple's stance on their watches?
| | | | |
| --- | --- | --- | --- |
| Apple Watch | Waterproof | Water-resistant | Swimproof |
| Series 1 | No | Up to 30 minutes in 1 meter (3.3 feet) of water | No |
| Series 2 | No | Up to 50 meters (164 feet) of water | No |
| Series 3 | No | Up to 50 meters (164 feet) of water | Yes |
| Series 4 | No | Up to 50 meters (164 feet) of water | Yes |
| Series 5 | No | Up to 50 meters (164 feet) of water | Yes |
| Series 6 | No | Up to 50 meters (164 feet) of water | Yes |
| SE | No | Up to 50 meters (164 feet) of water | Yes |
| Series 7 | No | Up to 50 meters (164 feet) of water | Yes |
As you can see, all Apple Watches aren't waterproof. After all, it is a difficult thing to guarantee for any product from any company.
In fact, it's a very similar situation for Fitbit and Samsung watches. If you're wondering if you can swim with them, check out these articles:
Can I Swim with a Fitbit Watch? Will It Damage It?
Can I Swim With Samsung Watch? Is It Waterproof?
So, let's look a little deeper into each series so you know where you stand if choosing to purchase or upgrade your watch.
Is Apple Watch Series 1 Waterproof?
The S1 is one of the first smartwatches to break into the market back in 2015. Now, it is quite a simplistic model compared to its newer counterparts. The features of the S1 are quite limited today.
The Apple watch series 1 is not waterproof, and out of all the Apple watches, has the most limited capabilities when it comes to water. It's rated at 1 m (3.3 feet) depth of water for up to 30 minutes.
Despite that, one scuba-diving S1 wearer would regularly dive to 30-35ft depth with no issues and only parted ways with it when a loosened strap meant it fell off in the water.
Apple has discontinued selling new models of Series 1 and no longer supports system updates to it.
Is Apple Watch Series 2 Waterproof?
Series 2 hit the scene in 2016 and had greater improvements to its features.
The Apple Watch Series 2 is water-resistant up to 50 meters (164 feet). Apple does caution that it should only be used within a 50 meter (164 feet) depth and not used at lower depths or high-velocity water activities like water skiing. Therefore, it's not considered to be swim-proof.
However, a long-term user of the Series 2 has spent most of their summer days in the pool with no issues, which included fully submerging the watch as well as playing water games (splash-resistant) and cannon-balling.
Apple have also discontinued selling new S2 models, but currently, send regular updates to all S2 models. They support updates for most of their products for 5 years post-release, so the updates may stop when the year ends.
Is Apple Watch Series 3 Waterproof?
Series 3 was released in 2017 with better improvements in technology. It has the same water resistance as the S2 and the same caveat as well.
The Apple watch series 3 is rated by Apple for being water-resistant up to 50 meters (164 feet). Like the series 2 Apple watch, Apple says it should only be used up to a 50-meter (164 feet) depth and shouldn't be used for water activities like water skiing or even surfing. Apple rates it as swimproof.
Even though it is designed for pool use (swimming workout function), a few Series 3 fans saw their watches die after their inaugural swims, setting them back a couple of hundred dollars in repairs.
Apple continues to sell new models of the S3 in a GPS-only capacity. There is no cellular connectivity with them. You can still purchase fully capable second-hand S3 models and they most likely will be supported until the end of 2022.
Is Apple Watch Series 4 Waterproof?
Introduced in 2018, the Apple Watch Series 4 is the newer, more improved model of the S3.
The Apple Watch Series 4 is swim-proof. Like the series 3 and 2 watches, Apple rates it as water-resistant up to 50 m (164 feet). It shouldn't be used for water skiing or other high-speed water sports, like jet skiing or wakeboarding.
Spending hours in the pool and sea while wearing theirs has had no effect for a few S4 users. Unfortunately, for one, they lost their S4 while surfing because of a broken band.
Again, it has been discontinued by Apple but refurbished models are still being sold and are regularly updated.
Is Apple Watch Series 5 Waterproof?
Released in 2019, the S5 is more technologically advanced than the S4. When it comes to the water-resistance and swim-proof capabilities, it mirrors the Series 4.
The Apple Watch Series 5 is swim-proof. Like the series 4, 3, and 2 watches, it is water-resistant up to 50 m (164 feet), as rated by apple. Apple advises avoiding high-velocity sports such as jet skiing, wakeboarding, water skiing.
Our research shows that when S5 wearers have had issues, it's generally after swimming in saltwater, sea or saltwater pools. Either prematurely degrading the seal or getting salt ions stuck in the digital crown. It is loved by one customer for accurately measuring lane distance and lap counts, though.
The series 5 watch has also been discontinued by Apple, but second-hand models are still available for purchase.
Is Apple Watch Series 6 & SE Waterproof?
These two models were released together in 2020. The SE is the more affordable of the two as it has fewer features and runs off of the Series 5 processors. It has the same water limitations as the S5, but improvements in technology have helped improve its durability in water.
Apple Watch Series 6 & SE are not waterproof, but they are rated as being water-resistant to 50 m (164 feet). They are also rated by Apple as swimproof. Which means you can use the watch for swimming. They are limited to using for low-speed water activities such as swimming and shouldn't be used for water skiing, jet skiing or wakeboarding.
Although most comments about swimming with a Series 6 or SE have been good, a few Apple lovers have noticed their S6/SE not working after the first swim, causing irreparable damage and high cost in replacements.
The SE continues to be sold as new on Apple, but the Series 6 has been discontinued following the release of the newest Apple Watch member, Series 7.
Apple Watch Series 7
The newest model, released in October 2021, is the most advanced Apple Watch yet. That being said, it has the same water limitations as the S6 and, some other older models like the S5, S4 and S3.
The series 7 Apple Watch is rated as being swimproof by Apple. And it is water-resistant to a depth of 50 m (164 feet). Apple advises it shouldn't be used for fast-moving water sports.
Because it's brand new to the market, there isn't much real-life activity on its ability to function in pools. I imagine it will have some good and bad reviews to it like most products tend to get.
Does the Apple Watch Warranty Cover Water Damage?
Water damage isn't covered under any Apple Watch warranty. Regardless of if you have an S1, S2, S3, S4, S5, S6, SE or Apple Watch Series 7, none of the models are covered by Apple's warranty.
So care is a must to get the most out of a swim with your watch.
Will Pool Chlorine Damage Apple Watches?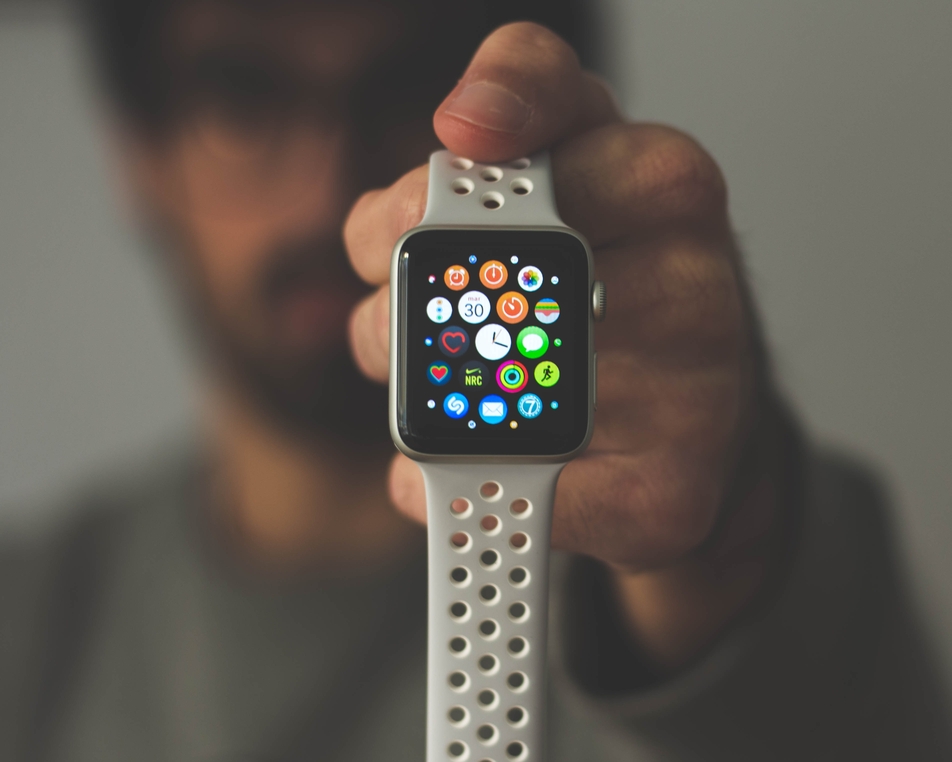 Now that you understand what you're dealing with when it comes to each model, it's time to consider if swimming in your chlorinated pool is going to damage your watch.
It is safe to swim with Apple Watch models Series 3 to 7 and SE in a chlorinated swimming pool. Apple class these watches as swim proof and safe for swimming. Although they do not provide warranty cover for water damage.
Although Apple Watches aren't classed as waterproof, they are extremely well protected from water. Regardless of if it's water from the sea, lake, or chlorinated pool water.
The watch itself holds up well in pool water if you're mindful to clean it once you've finished swimming with it. One S3 wearer is a lifeguard, and they haven't had any issues with theirs since purchasing.
Another S2 wearer has noted that there is some degradation around the watch seal after years of hot tub water exposure. Maintaining the integrity of your watch does come down to post-swim care.
Where the damage can become a big issue is with the wristband you decide to use. Metal bands, like stainless steel, can be damaged much more easily from prolonged exposure to chlorinated water. Switching to a rubber band or a sport band while using the watch in the pool is the perfect solution to keeping your watch safe.
Will Saltwater Pool Systems Damage Apple Watches?
Although salt-water systems aren't as common as chlorinated pools, the difference in water composition is something to take note of, especially if you're considering swimming in one with an Apple Watch.
The big question is, is it OK to wear your Apple Watch in a saltwater pool?
Apple Watches can be worn in saltwater swimming pools for all models except the Series 1 and Series 2 watches as they are not rated as being swimproof. Saltwater can however damage the rubber parts and the metal parts of the watch, so it's essential to rinse the watch in freshwater after swimming.
Saltwater has the potential to cause more damage than chlorinated pools. In saltwater, there are microscopic salt particles that can scratch and wear down your watch. Especially if you forget to clean it after a dip in the pool. Dried salt solidifies and increases the scratching potential of the particles.
Even though Apple Watches have reinforced glass, this glass isn't impervious to being worn down. Plus, salt and metal do not work together well. The encroaching rust on your band is another good reason to look into getting saltwater-friendly bands.
Curious to see how you treat your pool without chlorine? Check out these chlorine alternatives!
What To Do If I Swim with An Apple Watch?
Excluding the Series 1, all the Apple Watches released so far have great water-resistant capabilities. So this is something you don't need to particularly concern yourself with when you decide to go for a swim.
From Series 2 and newer, Apple included a feature called 'water lock' to their watches. When you start a swimming workout, your watch will automatically lock itself to prevent any accidental taps. Use the Digital Crown (dial on the side) to unlock it when you're finished and wipe off excess water. Easy as Apple pie.
The attachments and the post-swim care are what you need to be concerned with. To get the most out of your Apple Watch while swimming, it's best to invest in a few different types of bands including specially made for sport and rubber-based ones.
When it comes to wiping down the watch face and bands, make sure that what you're choosing to clean with is made for screens and isn't abrasive. Some cleaning kits and wipes can be more abrasive than you might think. You could cause more damage to your watch than the pool water could.
Cleaning an Apple Watch After Swimming
It might seem like common sense on how to clean your watch after swimming in a pool, but there can be hidden dangers if you don't use the right methods.
If you're using wipes or a cleaning spray, make sure to thoroughly wipe/spray down the watchface, buckle and straps first. If you're rinsing the water, ensure it's fresh water.
When you're drying your watch, using a specifically designed cloth for screens or glasses is ideal. Some cloths or towels contain microscopic dirt or fibres which can scrap away at the glass.
It's vital to dry your watch properly, especially if it's after coming out of a saltwater pool. If you leave it to air dry, some untouched dirt/salt particles can dry and lodge in small gaps, increasing the chances of wear and tear of the band and watch itself.
What Can I Use To Swim with Apple Watches?
As you've seen, Apple Watches do a great job of holding up against pool water, whether it's chlorine or a saltwater-based. The tricky part is deciding what alternative bands to use. And what specific cleaning kits and screen protectors you can use to truly protect your Apple Watch, no matter the model.
Alternative Wrist Band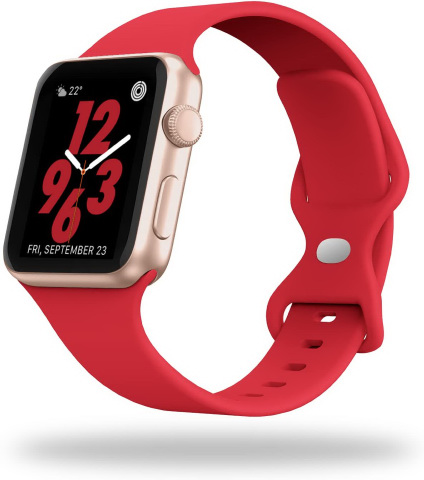 Click here to check the price >>
This sports band is rated 4.3 stars on Amazon of which 70% of customers awarded it 5 stars. It is compatible with Apple Watch Series 1-7, and the SE as well. Because the straps are made of pure silicon resin and elastic rubber, they are durable, soft, and most importantly, waterproof, ocean proof and swimming pool proof.
Some customers have had issues with the color they chose. They seem to differ quite a bit from the pictures. Other buyers have also found the band to be too thin to support the watch, or too long to comfortably fit their wrists.
Cleaning Kit for an Apple Watch
Click her to check the price >>
This cleaning kit is rated 4.7 with 82% of reviewers giving it 5 stars. Although it isn't the most highly rated (249 reviews), this kit is designed to work on Apple products. Other cleaners can strip off the oleophobic (oil repellent) coating of Apple screens whereas this kit doesn't.
The main reason for customers giving poor reviews on this is because of the packaging. A few of the packages have caused the screw to loosen on the bottle, causing the liquid to leak and soak the entire package.
Screen Protector for an Apple Watch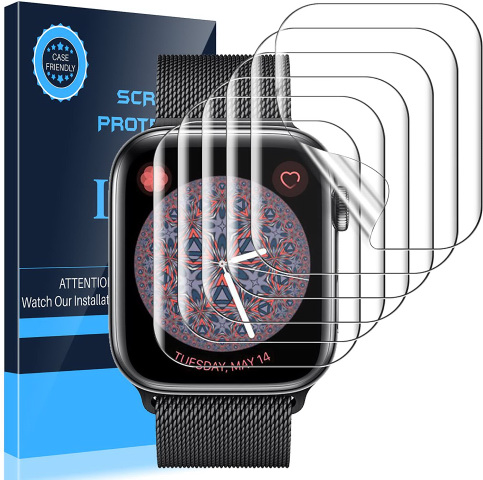 Click here to check the price >>
This 6 pack screen protector bundle is rated 4.2 stars out of over 26,000 reviews. It's designed to protect Apple Watch Series 4-6 (including SE) as well as work for the new Series 7 model too. It's only 0.1mm thick so it won't interfere with the touch sensitivity, and it provides maximum coverage.
However, some buyers have noticed that their protector doesn't last very long or comes away from the watch easily (one reviewer went through 3 protectors in a week). Others have found difficulty in being able to apply the protector easily in the first place.
Final Thoughts
Unless you have or are opting for the Series 1, whatever model you choose to buy or upgrade to will be okay in your pool (as long as you clean the watch afterward). It can be difficult to decipher what a company means when they use the terms waterproof, water-resistant, and swim-proof interchangeably, so hopefully this has helped clear things up.
If you want get the best out of swimming with your Apple Watch, it wouldn't be a bad idea to invest in some alternate metal-free bands, protectors, and Apple specific cleaning wipes/kits.
But be happy in the knowledge that you can safely swim in your pool while wearing your Apple Watch come day or night.
Discover the best reviewed pool lights for your evening swim with this review guide!