There's no doubt stains on your pool are unsightly. They might even deter people swimming in it. By now you've probably Googled "how to get rid of stains in a pool". And the number one method which comes up is often acid washing.
But, before you rush out to your yard and acid wash your pool, consider these five gentler and less harsh alternatives to acid washing.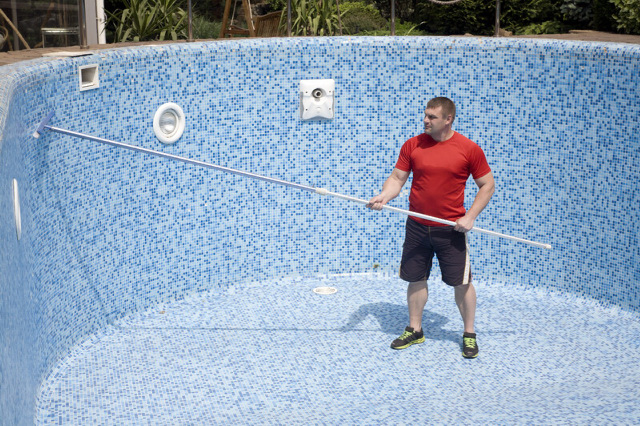 1. No Drain Acid Wash
No drain acid washing is a popular alternative to remove stains from your pool over traditional acid washing. As the name suggests you don't need to drain the pool. You'll be back doing your laps in no time.
Essentially what you're going to do is make the water extremely acidic. Allow the acid to do its work and remove the stains, then restore the pool's balance ready for swimming again. Easy!
This is not suitable for vinyl liner pools or above ground pools like Intex, Summer Waves or Best Way. It may or may not work on Fibreglass pools. You could try a small test area.
Here's what to do.
1. One week ahead prep the pool. Add a metal sequestrant.
2. Now add twice as much sanitizer as usual. Also filter and vacuum twice as much as usual.
3. Top up the pool to the highest water level. Then turn off the pump and pool filter.
4. Drop the pH level using pH decreaser. When you test the water, the Total Alkalinity (TA) should be zero. If not, add more pH decreaser or muriatic acid. 
5. Brush the pool walls with a steel brush each day to assist the stain removal process.
6. After 3 days the surfaces will be clean. Now you can adjust the alkalinity and pH back to the right levels.
As with all chemicals, be careful with handling and storage. Also, do not use your automatic pool cleaner or run your pump until you have the pool back to the correct levels of pH and chlorine or you'll damage it.
Check the weather forecast too, rain will literally rain on your parade.
Cost of No Drain Acid Wash: As low as $50 for the DIY approach. To get a professional in it will cost $200 – $400.
Recommended Products:
2. Diamond Polishing
If acid washing seems too harsh, the great news with diamond sanding or polishing is that you'll get rid of the stains as well as any rough surfaces. You know the ones which snag your bathers or your feet (acid washing can cause these).
This is only suitable for concrete pools.
Here's how it works.
A water powered grinder is used to polish the pool walls until they are as smooth as glass taking any stains, rough surfaces and damaged plaster away with it.
You might be wondering if you need to drain your pool to diamond polish it? You do not need to drain your pool to diamond polish if it's just a small patch. The pros can use Scuba gear and work underwater. If it's a large area you may need to partially or fully drain your pool.
The quick turnaround of this option will have you back in your pool with little downtime.
Cost of Diamond Polishing: Professionals charge $500 to $3000. If you're doing it yourself, it would be best to hire the water grinder and be prepared for some hard work.
3. Replastering Your Pool
If you've got a pool that has a plaster surface, no matter how well you maintain it, there'll come a time when it needs replastering – usually every 5-10 years or so.
Usually you shouldn't need to replaster your pool to remove stains. Replastering is a big investment in both time and money. Acid washing, brushing and stain removal chemicals are far less drastic, take a fraction of the time and are much cheaper.
However, if your pool's plaster is showing signs of age (cracking, delamination) you may take care of the stains and the ageing plaster at the same time by replastering.
If the original plaster is in good condition, you can usually go over the original plaster. However if the original plaster is badly deteriorated or already has two coats of plaster, then the plaster will need to be stripped off completely before replastering – adding a lot of extra expense.
Replastering your pool is a major undertaking and is best left to the professionals. Unless you're skilled at plastering, the DIY approach will likely leave you with a rough uneven finish. Not great for your feet.
Cost of Replastering: For a professional – approximately $3,000 – $7,000.
4. Brushing the Pool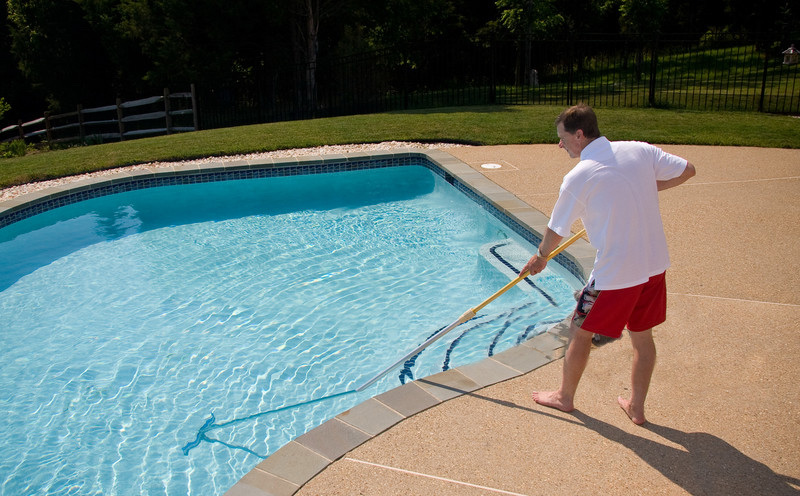 To remove a stain from your pool it may be as simple as scrubbing the stain off with a brush. Like all cleaning, it's best to keep on top of it. By brushing your pool weekly, you'll cut down on having to take radical stain removal processes like acid washing.
Here's what you do:
1. For vinyl liners, fibreglass pools and painted concrete only use brushes with Nylon bristles. For gunite and unpainted concrete pools steel brushes are the best.
2. Don't scrimp, get wide brush heads for the main pool area and smaller corner brushes for around ladders, lights and into corners.
3. Unless you're planning to be Aquaman, get a sturdy telepole for reaching into the center of the pool.
4. Be methodical and don't miss any sections of the pool. While it's tempting to just brush the visible stains, it is important to do all the pool as what's invisible today can become a stain tomorrow.
5. Your pool's filtration system will remove any debris brushed off.
The upside of this manual labor is you'll be buffed up and feel satisfied when you are lazing around your pool.
Cost of Brushing: Equipment cost $50 – $150.
5. Stain Removal Chemicals
Depending on what the stain is, you may be able to use a localized stain remover or an abrasive stain removal method all without draining your pool.
For small stains on a plaster pool, you could try the Purity Pool Stain Remover. This product holds about a cup of muriatic acid which can be applied directly to the stain without draining the pool. It should take off the stain in about 20 mins.
Another method for concrete plaster pools or tiled pools is to use a pumice stone. A pool pumice stone can be used to rub off calcium stains and other stains from tiles or plaster.
Recommended Products:
6. Bonus: Pressure Wash Instead of Acid Wash
One final and far less harsh alternative to acid washing your pool is to use a pressure washer to remove stains.
This method will work on surface stains however it may not work on deep embedded stains. It's definitely worth trying over acid washing as it is far gentler and cheaper to do.
To pressure wash your pool you'll need to drain the pool first, then you can get to work. This method is not suitable for vinyl liner pools or fibreglass pools. It works for concrete, gunite, exposed aggregate pools, and aggregate or pebble (aka pebblecrete) pools.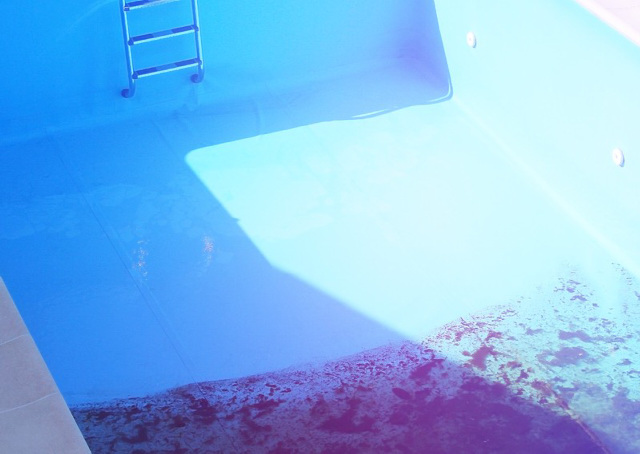 Benefits and Disadvantages of Acid Washing a Pool
If you're going to use acid washing to get rid of stains, you'll use muriatic acid (also known as hydrochloric acid). You get a sense of the strength of the chemical by the name. This is a strong chemical which is both good and bad.
Pool Acid Washing Pros
Removes metal stains and calcium buildup
Cheaper than replastering or diamond sanding
Great for restoring pools that have turned into a swamp (removes algae, stains)
Pool Acid Washing Cons
Need to drain the pool (could cause structural damage if not done properly)
Can leave pool walls and floor feeling rough if not applied correctly
Costs money to refill the pool and open the pool up again (add and balance chemicals)
Can Acid Washing / Muriatic Acid Damage Concrete?
Muriatic acid will damage concrete if it touches the concrete undiluted. Muriatic Acid is a highly corrosive and dangerous product.
Applying muriatic acid to concrete is known as acid washing. It can be used to clean concrete surfaces and swimming pool surfaces. However if you don't apply it in the proper way you will be left with a rough surface. And the runoff will harm whatever it touches around the treated area.
There are other less harsh ways for you to clean your concrete or pool surrounds than using muriatic acid, such as pressure cleaning and less potent chemicals.
Final Thoughts
Before you rush out to acid wash your pool, consider the alternatives above and if you still can't get rid of those nasty stains, acid washing will clean them up.