The 5 Best Robotic Pool Vacuum Cleaners for 2022
So, you have a robotic pool vacuum on your shopping list? Tired of manhandling that pool vacuum and pole? Or untangling the hose on the suction cleaner? Without a doubt, a robotic pool vacuum is your answer.
This piece of electronic wizardry has got your back. So that you don't have to bend it. Now you can take in those 18 holes on the weekend, or spend more time tending the barbecue. This is a pool man that doesn't talk back. Just quietly gets on with the job.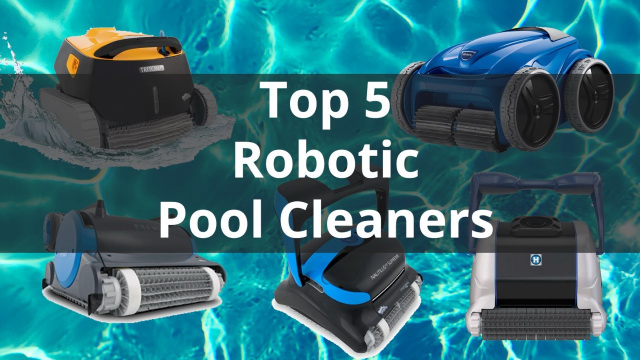 What is a Robotic Pool Vacuum?
It's a robot. It cleans your pool. So that you don't have to. It works alone. No hoses and no tangles.
Some units have a mains electric cord to power the motors. Some have batteries and are truly hands-free.
How Does a Robotic Pool Vacuum Work?
A robotic pool vacuum is, mostly, totally self-contained. It usually has two motors. One that drives the scrubbing brushes and the wheels or tracks and another that pumps water through a filter to collect the debris and dirt.
It does not need suction or pressure from your pool pump. It has a bag to store the collected waste. This, you need to clean occasionally. That's all you need to do.
Here are the 5 Best Robotic Pool Vacuums
Chart comparing the top 5 robotic pool vacuum features.
Top Choice Overall
Ideal for Large Pools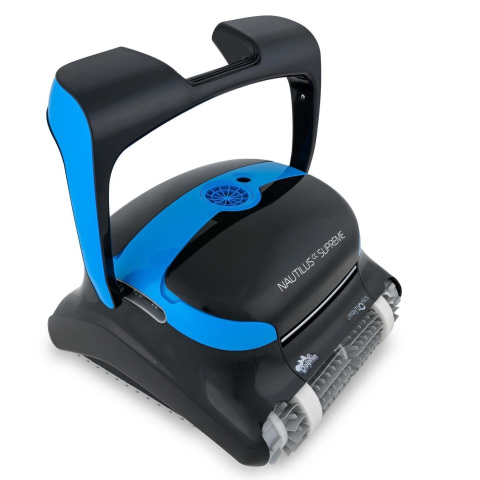 The Dolphin Nautilus CC Supreme is the flagship of robotic pool vacuums. With three cleaning brushes, three cleaning cycle options, and Wi-Fi, this is the machine to have.
Although it's at the top end of the price scale, this machine is so packed with features that it's still the best buy out there.
With its Wi-Fi capability. the Dolphin Nautilus CC Supreme is almost completely hands-off. A smartphone app allows fingertip control of the Supreme. You can choose from the three cleaning cycle options:
Quick – This 90-minute cycle mops up the floor in one of the shortest cycles available.
Standard – In 2.5 hours this cycle will clean the floor, walls, and waterline.
Enhanced – With extra scrubbing action, this cycle deep-cleans your pool in 3.5 hours.
You can set a weekly cleaning schedule right down to the hours and the days. In case the Supreme has missed a spot, you can engage Manual Drive and get into those hard-to-reach places.
All of this from wherever in the world you are; as long as you have an internet connection.
Pros
Dynamic Dual-Drive for 360° turning improves efficiency
360° swivel cord to prevent tangles
Effortless cleaning with top-loading filters
Wi-fi controllable cleaning cycles and schedule for super convenience.
Cons
Doesn't do particularly well on steps but considering all the other features, this is a minor drawback.
A hefty price tag but absolutely worth the investment
>> Click here to check the price and read more reviews.
The Dolphin Premier is, overall, an outstanding pool cleaner.
With dual brushes and four different filter options, this robot does a superb job. At 22 lbs, though, it is a little heavy and this does detract slightly from its performance on walls and steps.
Featuring Maytronics' SmartNav mapping system, it scans the pool and optimizes the cleaning path to ensure a quick and efficient process.
You can swap the filters on the fly making it simple to deal with different types of debris and dirt. The debris bags are also capable of swallowing larger debris like leaves and twigs. An LED display alerts you when the bag needs emptying.
With HyperGrip rubber rollers, it sticks like a leech. Even on the walls. And it will power over the drain without getting stuck.
A 60-foot swivel cord ensures that the Premier will keep moving and complete the job without snagging.
The three-year warranty will give you longer lasting peace of mind and reduce the total cost of ownership.
Pros
All the filters and bags are included at no additional cost.
Very good at picking up larger debris saving manual spot cleaning
Cons
The caddy is an optional extra, although it does make it a whole lot easier to shift and store the robot.
The price is quite high but the warranty is better than most other cleaners.
>> Click here to check the price and read more reviews.
Best for irregular shape pools
Ideal for very large pools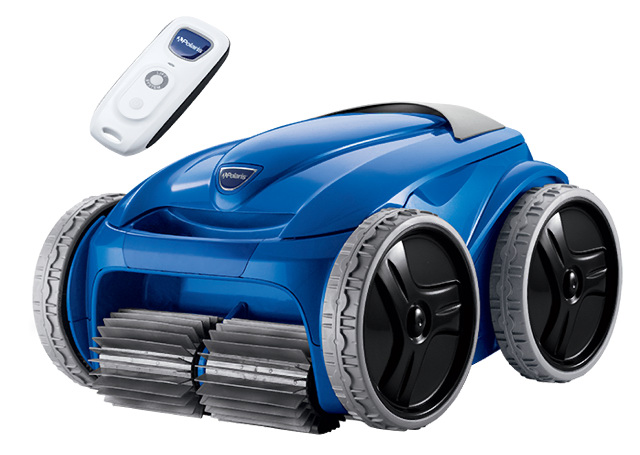 The feature-rich Polaris F9550 Sport Robotic Pool Vacuum is one of the best in its class. The F9550 is completely programmable and remote-controlled. Programs include:
Cleaning intensity level
Cleaning mode
Pool shape
All of this means that you can set up your F9550 for optimum performance specific to your pool.
You can set the cleaning schedule for up to seven days. Or you can start and stop it directly from the remote control.
The remote control also allows you to activate the Lift System. This instructs the robot to stop cleaning and move to the side. It will then climb up to the waterline and wait for you to pull it up. You don't have to reel it in by the cord.
The F9550 has a navigation system that will work out the best cleaning path. This ensures the most efficient cleaning job. You can, however, steer the F9550 manually with the remote control to clean up any spots it has missed.
With its Waterline Only mode, you can target the most difficult-to-clean part of the pool on its own. This is a big plus. The waterline is usually the most unsightly part of a pool and requires a lot of effort to clean by hand.
Pros
Easy to clean canister. Without getting your hands dirty.
Caddy included. Easy to transport and store.
Cons
The remote is a bit slow to respond. However, it does have a manual control option that other cleaners don't have.
Wheels instead of tracks but the Vortex Vacuum technology keeps it firmly where it should be.
>> Click here to check the price and read more reviews.
Best for medium-sized pools
The Hayward RC9950GR TigerShark is powered by a 24V motor which is more economical than conventional motors. It's also a lot safer.
The standard cleaning cycle is 3 hours. This will scrub the floor, walls, and waterline sparkling clean. You do, however, have the option of a quick 90-minute cycle if you're in a hurry.
The Hayward TigerShark does not have a navigation system. It follows a random path around the pool but usually covers the entire area during a standard cleaning cycle.
The filter canister is super easy to clean. Just rinse under running water and you're back in business within minutes. The reinforced filters will last longer too.
Due to the random cleaning path, the Hayward TigerShark is equally at home in free-form pools as it is in conventional rectangular pools.
The extra-large suction inlet enables the Hayward TigerShark to pick up larger pieces of debris. At 40 lbs this is one of the heavier robots on the market. This, however, gives it a little more stability in the pool, preventing it from flipping over.
Pros
24 Volt motor is more efficient and cost-effective
Circulates a massive 13,500 gallons in a 3-hour cycle. A great backup for your pool filter.
Cons
It is not programmable but still very easy, even if a little more hands-on, to operate manually.
The caddy is optional at an extra charge, but the added convenience is worth the investment.
>> Click here to check the price and read more reviews.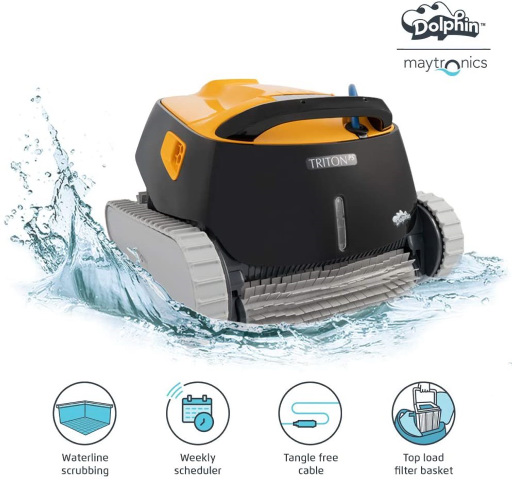 The Dolphin Triton PS is a veritable underwater tank. Albeit somewhat of a ninja. It's one of the quietest robots on the market.
At 16.5 lbs it's also one of the lightest. And with a top-loading wastebasket, this one is a cinch to clean. The extra-large bucket also means you won't need to clean it out that often, leaving you free to enjoy your free time.
The oversized tracks and an array of sensors, enable the Triton PS to move effortlessly and efficiently through the entire pool. Water jets on either side of the unit allow it to turn on a dime and maneuver around most obstacles.
The Triton PS can be programmed to clean daily or every second or third day. With PowerStream Technology, it grips like glue and ensures an even clean, even over uneven areas and obstacles.
With a standard 2 hour cycle, this is an energy-efficient machine that will take over the drudgery of pool cleaning and leave you free to enjoy your pool.
Pros
Lightweight and very easy to handle.
Time-saving, large, easy-to-clean debris bucket
Amazing suction and great at climbing the walls for a completely clean pool
Cons
Does not have a swivel cord, although users report very few tangling incidents
>> Click here to check the price and read more reviews.
5 Features to Look for in a Robotic Pool Vacuum
Waterline cleaning feature. Not all cleaners can do this and it is usually the most stubborn dirt in the pool.

Long Cable. The length of the cable is particularly important as that will give you an indication of the size of the pool the robot vac will clean. E.g. you won't have much luck cleaning a 70′ pool with only a 40′ cable.

Anti-tangle cord. Without this, you will, quite frequently, have to get up and release your stranded robot.

Tracks rather than wheels. Tracks have been proven to provide better grip and propulsion.

Lightweight. Some cleaners can be heavy making them difficult to get in and out of the pool. Choose a lightweight robotic cleaner to make your life easier.
Robotic Vs Pressure-side Vs Suction-side Pool Cleaner?
Robotic is undoubtedly the best option for a hands-off cleaner. They are mostly self-contained and programmable to work with little or no oversight. Some models also contain brushes which scrub the pool floor and walls at the same time – saving you manually doing it.
For pressure-side pool cleaners you will need a booster pump and special plumbing in your pool. They are great if your pool get's large debris and has a smaller main filter pump. You will need to regularly empty the bag (on the pool cleaner itself) and also connect the pool hose to it.
Suction-side pool cleaners use the main filter pump to suck up any debris. They are effective if you have a larger filter pump (larger than 3/4 hp). Whilst they don't have a debris bag attached to it, you'll need to clear our your skimmer basket and also use the pool's suction hose.
How long do robotic vacuums last?
The average robotic vacuum should last at least 3-5 years. Some products have a 3-year warranty to support this.
Prolong its life by taking it out of the pool after every cleaning cycle.
Replace wear and tear parts when you see signs of fatigue.
Are robotic vacuums worth it?
Resoundingly, yes! Robotic vacuums are not inexpensive. But the trade-off is the saving in effort and enjoyment of your free time. Some people say it's the best purchase they've ever made and love how well they clean with minimal effort from them.

With a robotic vacuum, you really can spend more time in your pool rather than alongside it.
How much do robotic pool vacuums cost?
Robotic pool vacuums are not cheap. They require a fairly substantial investment between $600 and $4000. The average cost for a robotic pool cleaner is $1400. For many people, they are well worth the investment, for the time and effort you can save.
Summary
You should now have some pointers to help you with your choice. If you are still undecided, we can strongly recommend the Dolphin Nautilus CC Supreme. This is simply the best robotic vacuum ever made. And, an investment it is indeed. It will serve you diligently for years to come.
When all is said and done, and you have made your choice, do let us know what you have decided.
Related Reading:
Robotic Pool Cleaners
Automatic Pool Cleaners
Top 10 Automatic Pool Cleaners for 2014